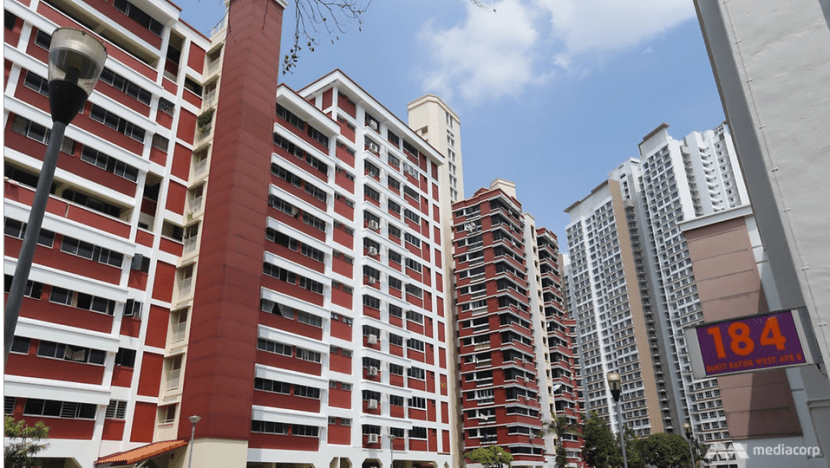 SINGAPORE: Prices of resale flats in Singapore fell 0.9 per cent in 2018 compared to the year before, flash estimates released by the Housing and Development Board (HDB) on Wednesday (Jan 2) showed.
In the fourth quarter of 2018 alone, prices fell an estimated 0.2 per cent, according to HDB's resale price index.
The index, which provides information on the general price movements in the resale public housing market, fell from 131.6 in the third quarter to 131.4 in the October to December period.
HDB has said it plans to launch 15,000 new flats for sale in 2019. About 3,100 flats in Jurong West, Kallang Whampoa and Sengkang will be offered in the first Build-to-Order (BTO) sales exercise in February, it said.

ERA Realty's key executive officer Eugene Lim said HDB resale demand is expected to be resilient in 2019.

Prime Minister Lee Hsien Loong addressed concerns regarding the depleting leases of older resale HDB flats in his National Day Rally speech last year, where he introduced the Voluntary Early Redevelopment Scheme (VERS) and the new Home Improvement Programme (HIP), he added.

Mr Lim said residents' minds should be put at ease as the lease decay issue has been largely addressed by VERS, while Minister for National Development Lawrence Wong also announced that the ministry is looking into increasing the flexibility of the usage of Central Provident Board (CPF) funds for the purchase of flats with shorter leases.

"The cooling measures will affect the private residential market more, and this could have the side effect of driving more buyers to the HDB resale market, especially those who are on a tighter budget," he said.
PropNex Realty CEO Ismail Gafoor said prices could rise by 1 to 2 per cent this year as more en bloc sellers looking for replacement homes enter the HDB resale market. 

OrangeTee's head of research and consultancy Christine Sun said that moving forward, resale prices could dip further as more HDB flats reach their Minimum Occupation Period. 
Still, the market could see some respite with fewer BTO flats being launched for sale this year and the Government possibly allowing buyers to use more CPF in their purchase of older flats.
"The tweaking of various government policies pertaining to HIP II and VERS may also bring some cheer to the market, although the positive impact may only be felt later. As such, prices may trend between 0 and -2 per cent for the whole of this year," she added. 

The resale price index for the full quarter, together with more detailed public housing data, will be released on Jan 25, said URA.