SINGAPORE: The number of resale transactions for flats rose nearly 19 per cent in the third quarter of this year as prices remained flat, according to figures released by the Housing and Development Board (HDB) on Friday (Oct 26). 
Resale transactions jumped from 5,941 cases in the second quarter to 7,063 cases in the July to September period, an 18.9 per cent increase. On a year-on-year basis, resale transactions for the third quarter were 21.6 per cent higher.
The resale price index dipped slightly by 0.1 per cent from 131.7 in the second quarter to 131.6 in the third quarter. 
Resale prices for HDB flats have been on the decline over the last year. Prices fell 0.7 per cent in the third quarter of 2017, 0.2 per cent in the fourth quarter of 2017 and 0.8 per cent in the first quarter of this year, although they inched up 0.1 per cent in the second quarter.
Ms Christine Sun, head of research and consultancy at OrangeTee & Tie, noted that resale transactions for the period is the highest quarterly sales since the third quarter of 2010.
"The strong resale transaction has defied the onslaught of market disruptions in the quarter including various policy changes, ongoing discussions surrounding the value of older flats, the hungry ghost month and July's property cooling measures," Ms Sun said.
Looking ahead, she expects demand to remain firm as homebuyers who are unable to afford private property following additional cooling measures implemented by the government in July turn to the HDB market.
"Some HDB upgraders may turn their buying interest to HDB resale flats since their affordability could have been affected by the more stringent Loan-To-Value limits," she said.
"Well-located, large-sized HDB resale flats may continue to be attractive to some displaced en bloc owners given their price affordability and large spaces."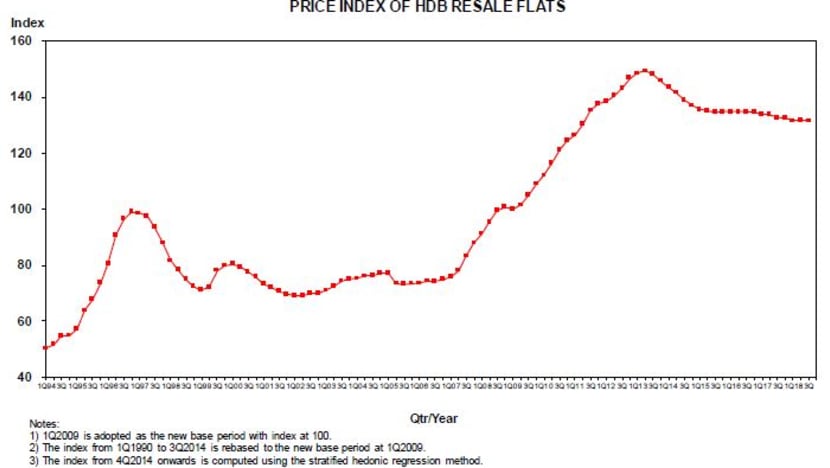 PropNex Realty CEO Ismail Gafoor, on his part, noted that the continuous demand, especially for 5-room and Executive units, likely drew interest from former en bloc owners attracted by their size and affordability.
He foresees that transactions for the resale segment will see close to 24,000 transactions by the end of the year, an increase of 8 per cent from 2017.
3,800 BTO FLATS ON OFFER
The HDB also announced it will offer about 3,800 Build-to-Order (BTO) flats in Sembawang, Sengkang, Tampines, Tengah and Yishun. 
Those in Sembawang, Sengkang and Yishun will have a shorter waiting time of two-and-a-half years, instead of the typical three to four years, for the flat buyers, HDB added.