'Job is never done': PM Lee says health, education policies must evolve even after topping global index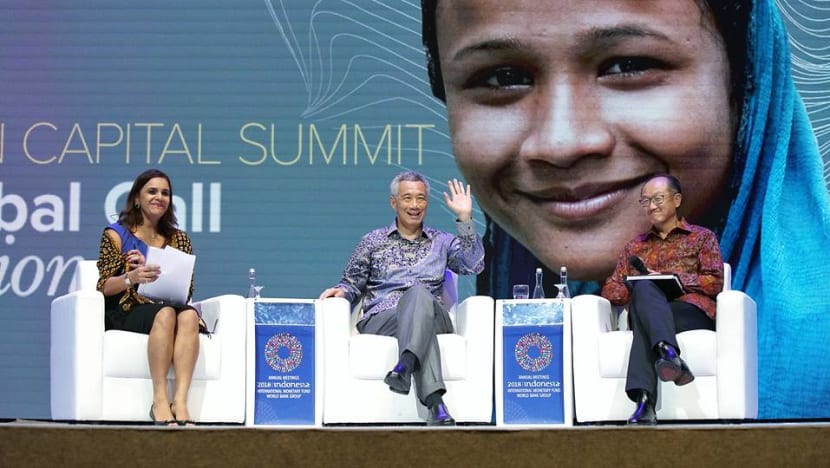 BALI: Singapore must continue to evolve its policies in education and healthcare, said Prime Minister Lee Hsien Loong on Thursday (Oct 11), even as the country topped global rankings which cover these areas.

Mr Lee, who was at the Human Capital Summit dialogue alongside World Bank president Jim Yong Kim, said that despite the progress made in these fields, "the job is never done" as new expectations and new challenges will develop.

Singapore topped the World Bank Group's Human Capital Index, which ranks 157 countries based on the productivity of the next generation's workers. 
The rankings, based on health, education and survivability measures, assess the future productivity and earnings potential for citizens of the World Bank's member nations, and ultimately those countries' potential economic growth.

Mr Lee highlighted that while Singapore has a good education system, there is still scope to improve pre-school levels. 

"Children come at the age of six to school at quite different levels, some able to read, some able to write, but some barely literate or able to recognise letters of the alphabet," said Mr Lee. 

"We want to bring everybody to a good starting point as early as possible in life, regardless of whether you are rich or poor, whether your parents are advantaged or disadvantaged," he added. 

Meanwhile for healthcare, Mr Lee said Singapore is looking to boost step-down care facilities, as some of the country's older generation may be unwell, but they do not require intensive medical treatment. 

"We've got old folks in their 70s and 80s who are learning to dance ballet and doing not badly, and they're much healthier and happier for it," he said. 

When asked how countries can replicate Singapore's achievements, Mr Lee said the "first starting point for the government must be ... to improve the lives for all of the population, not just some of it." 

"If you do that, then as people's basic lives improve and they have control over their lives, a roof over their heads, they can start thinking about their future and what they want their children to do."

"Then you can talk about public health and about improving and optimising your healthcare system, and you can talk about having a good education system," he said. 

He was also asked how Singapore has come so far since its independence 53 years ago. Mr Lee mentioned how, during the initial years, it had to implement family planning programmes to bring down the birth rate and introduce health care policies requiring patients to co-pay medical prescriptions.