Contactless lie detector, automatic urine collector: How Home Team could fight crime in near future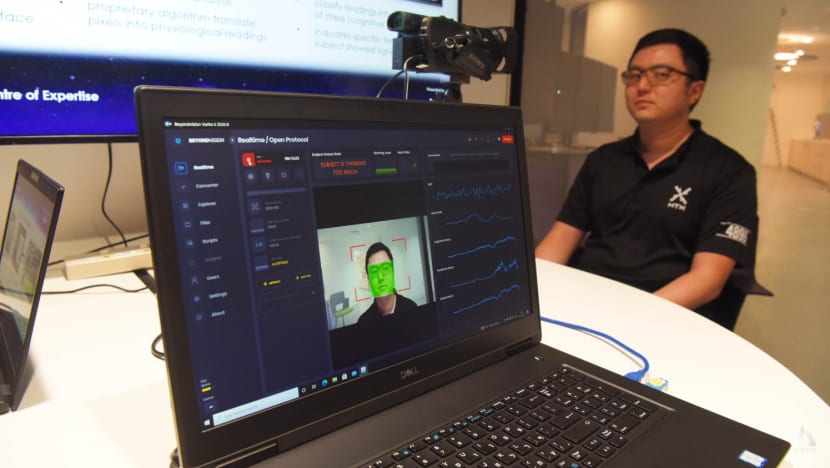 SINGAPORE: A concerned traveller at Changi Airport spots someone in the arrival hall acting suspiciously, so he calls the police.
At the police operations command centre, which takes 999 calls, the officer on the phone does not need to type the details out. The call is being transcribed in real time with almost 100 per cent accuracy. The speech-to-text system is tailored to local speech, and can detect a mix of English, Mandarin and Malay.
Back at the airport, the person acting suspiciously is carrying drugs. He gathers enough resolve and joins the queue to clear immigration. But the long wait has rattled his nerves again.
He begins fidgeting and his eyes shift from side to side. Cameras near the immigration counters pick up these signs and automatically alerts the Immigration and Checkpoints Authority (ICA). Officers pull the man aside to search his belongings and further question him.
Drugs are discovered in his suitcase. The Central Narcotics Bureau (CNB) is alerted, and its officers arrive to arrest the man and take him in for a more detailed interview.
A hidden high-definition camera records the interview and analyses the footage in real time. The man insists he did not put the drugs in the suitcase, but a back-end system detects subtle colour changes in his face when this is said. The system indicates this is probably a lie, and CNB officers press him further on that point.
The man eventually admits to smuggling the drugs into Singapore. The case goes to the courts, where he pleads guilty and is sentenced to imprisonment.
Fast forward a few years, and the man is serving the tail end of his sentence in the community. Like other supervisees placed on community-based programmes, the man is required to report for routine urine tests.
Instead of visiting the usual centre in Selarang, Changi, the man can head to one of the police division headquarters for the test. There, the Singapore Prison Service (SPS) uses a system that automatically collects and tests the urine samples.
It looks like a portable toilet, but with cameras and mechanisms in the back that places a dipstick in the urine sample to detect the presence of drugs. The result is captured and recorded automatically, all without SPS officers needing to intervene.
This is a hypothetical scenario of how the Home Team might fight crime using cutting-edge technology in the next few years, as agencies work with less manpower to perform tasks faster and better.
The systems described above were developed by the Home Team Science and Technology Agency (HTX), which held its inaugural TechX summit on Tuesday (Apr 5).
"These technologies aim to empower the Home Team to solve crimes, save lives, enhance public safety and security, secure borders and safeguard data and systems," the agency said in a news release.
SPEECH TO TEXT
One of these technologies is a speech-to-text system that will transcribe emergency calls in real time, allowing officers to focus on listening to details.
The system also automatically reduces background noise in the transcription, as callers might be outdoors.
"Ops centre officers have to perform multiple duties such as actively listening to the callers, taking down key information and thinking about what resources to dispatch," said Mr Kokul Siddharth Venkateswaran, a data scientist at HTX.
"So for these callers, the speech-to-text capabilities help them transcribe the calls and reduce the cognitive load, so they can actually focus more on the calls."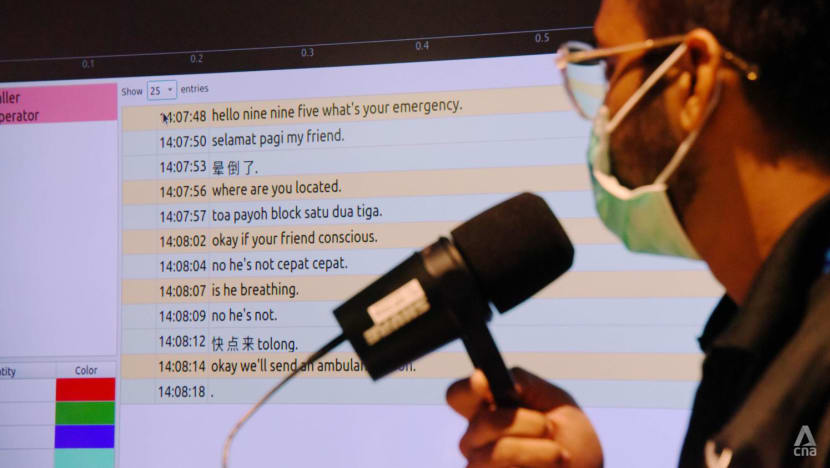 The technology was first showcased during the Singapore Civil Defence Force (SCDF) workplan seminar in 2019.
It is now more accurate and can transcribe callers who speak in Malay, on top of English and Mandarin, customising it for locals' tendency to code-switch. The accuracy rate for English is close to 80 per cent, while Mandarin and Malay is about 70 per cent.
CNA tested the system by making a mock emergency call and naming a few places in Malay and Chinese. While the tool successfully transcribed "Jalan Ahmad Ibrahim", it had more difficulty with "Ghim Moh". 
The team has validated the system using recorded 995 calls over the past two years and is currently testing it at the SCDF ops centre. The plan is to deploy it operationally – and also at the police ops centre – when accuracy rates improve.
To get there, HTX scientists need to feed the system with more recorded emergency calls taken in various languages and let machine learning do its job.
This allows the system to understand specific vocabulary used during situations like a fire or medical emergency, as opposed to commercial text to speech tools that use existing language and speech databases.
The requirement also explains why the team has not yet included Tamil in the system. Besides a general lack of emergency calls taken in Tamil, the language is usually spoken without pauses, making it harder for the system which relies on word segmentation.
AUTOMATED PROFILING
The next technology focuses on behaviours instead of languages. Called the next-generation tell-tale indicators for automated profiling, the system uses cameras and other sensors to automatically detect visual cues like fidgeting and shifty eyes to alert officers to suspicious behaviour.
"If you look at it operationally, both at the checkpoint and airport, there'll be droves of travellers coming through our gates day in and day out, especially now that the travel restrictions have been lifted," said Mr Kee Ein Cern, a deputy director for the profiling division at HTX.
"Out of so many people, who should we take a closer look at? So it is through this first cut – we call behavioural tell-tale indicators – that we can pick up a few, ask them a few more questions and slice (the numbers) up further."
The system, however, is still at the developmental stage, as HTX scientists have just finished creating a list of and "codifying" these tell-tale indicators.
Over the past eight months, HTX spoke to Home Team officers, reviewed literature and analysed case studies of actual perpetrators – including looking at actual surveillance footage of smugglers in Singapore – to come up with these indicators.
"The codification of suspicious behaviours is the cornerstone of this initiative and was not done previously," Mr Kee said.
The next step is to develop the actual system, including the algorithms that detect these indicators. This process could take one-and-a-half years, meaning the first prototype should be ready by the end of next year before being pitched to Home Team agencies.
The plan is to incorporate this new technology into existing Home Team sensors and cameras, reducing the need to overhaul existing systems at, say, the land checkpoints, Mr Kee said.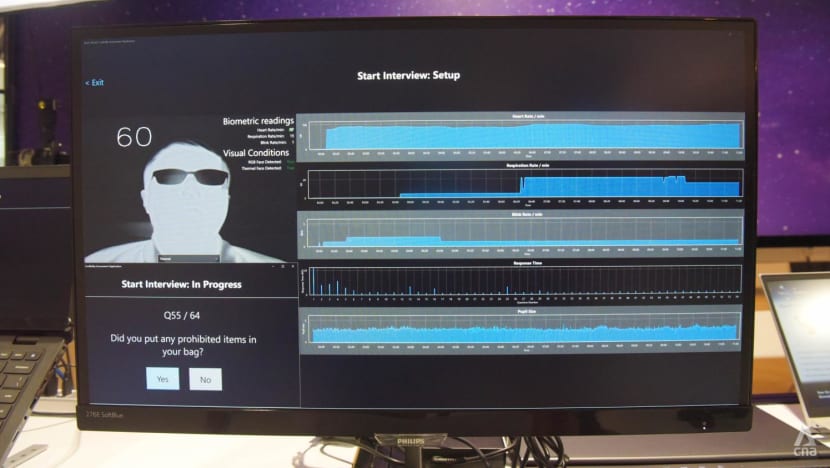 Beyond behavioural traits, HTX is also conducting a related study looking at the physiological reactions of someone with something to hide.
This involves getting people to conceal contraband items like duty-unpaid cigarettes in their luggage before answering related questions in an automated interview. "Legitimate travellers" with nothing to hide make up a control group.
Participants are paid S$30 and the incentive can be varied depending on the success of the "smuggling" to increase realism. The contraband item can also be switched to drugs to increase tension.
A system comprising a high-definition camera, eye tracker, thermal imager and light then captures the person's physiological reactions.
"So, what they respond is immaterial. What is material is the involuntary physiological reaction emanated from their body, such as blinking, heart rate, pulse rate, reaction time, etcetera," Mr Kee said.
"Should anything show up on the body – flushing on the face, increased blinking – they'll be picked up. I will then compare the reactions from the smugglers to the good guys."
The sensors can even pick up respiration rate, by detecting the varying temperatures of air as someone breathes in and out.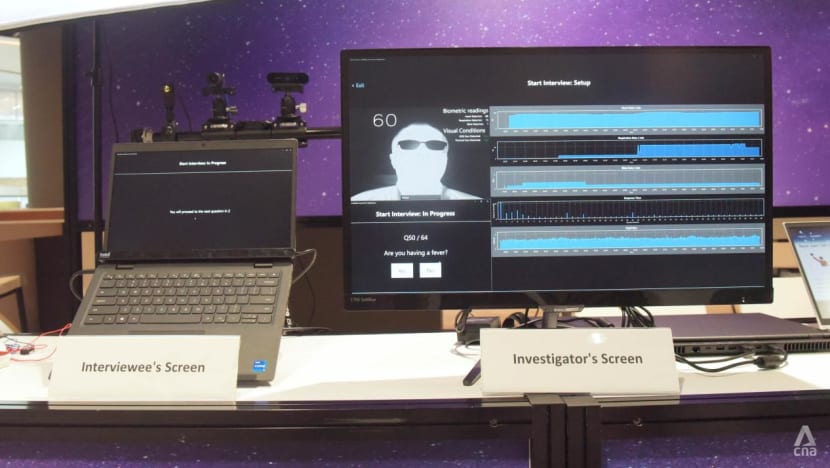 Early results have shown that people who took on the persona of smugglers tend to blink more frequently and have increased heart rate fluctuation, Mr Kee said, adding that the actual experiment will take place with 80 participants from next month.
While the experimental set-up – with its numerous cameras and large light – looks bulky and intrusive, director of HTX's biometrics and profiling centre of expertise Willy Lee said he does not expect the checkpoints to look like that.
"We are putting all these sensors here so that we can start to collect behavioural markers and amplify or replicate these into the front-end sensors that are already deployed at the checkpoints or public premises," he said.
When asked whether the system will discriminate innocent people who naturally show suspicious indicators, Mr Kee said "we don't want to let go of this 5 to 10 per cent that may be a threat eventually".
"We don't want to take the risk; we want to take a closer look at them. We are not saying that anyone who rubs their nose or has shifty eyes are definitely dubious or criminals," he added.
LIE DETECTION
HTX is also conducting trials with agencies on what it calls visual stress analysis in the form of a contactless lie detector.
Bought commercially, this system detects possible lies using a high-definition camera that captures colour changes in an interviewee's face caused by changes in heart rate and blood flow.
While the contactless system requires 10 to 15 minutes for a complete assessment as opposed to two to three hours on a normal polygraph test, results are almost 90 per cent comparable, HTX said.
The system, comprising a laptop and camera inside a Pelican case, is also more portable and easier to operate. Officers can be trained to use it in a few days, whereas polygraph tests can only be administered by professionals who need months to get certified.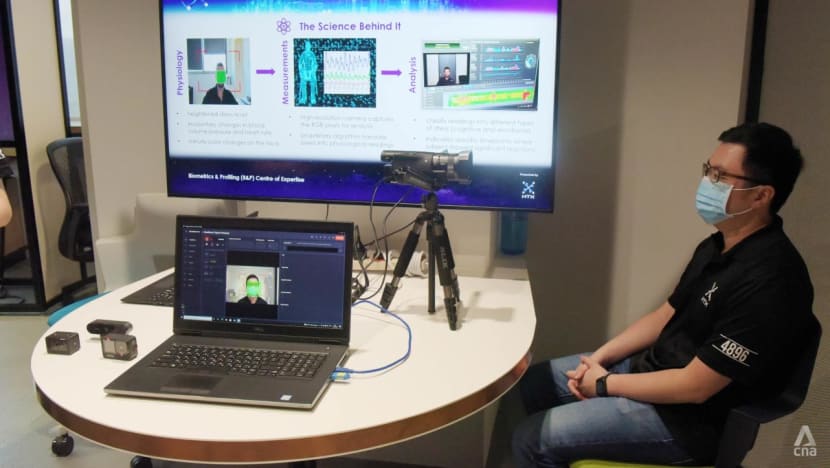 An interviewee sits in front of the camera and answers questions that alternate between casual and related to the subject matter, while the system produces a graph on the laptop that compares the different levels of colour change in their face.
"The algorithm uses an optical technique to analyse colour changes on the face, undetectable by the naked eye, and translate the pixels into signals that are correlated to stress levels," HTX said, adding the levels could be defined as cognitive stress or emotional stress.
Cognitive stress refers to increased mental activity like when the interviewee is coming up with lies, while emotional stress can indicate a fear of getting caught, irritation at being doubted or relief after fabricating a good answer.
"The interviewer can use the video playback function to see what is the question or answer that caused the subject to experience this elevated stress level. Afterwards, they can decide whether they want investigate further in those specific directions," HTX engineer (profiling) Vivi Chew said.
HTX's role in this is to help users make sense of the data presented in the graph, especially as the field of lie detection is complex and subjective.
The agency is also evaluating whether it is feasible to deploy the system in the field and how it can be be improved. For instance, the relatively large camera can be "intimidating" for an interviewee, Ms Chew said.
"Therefore, we went to the market and sourced for various smaller form factors, like this one which can fit in your palm, and this will help put the subject more at ease during the interview," she added.
URINE COLLECTION
The last, but not least, piece of technology is called the prison automated screening system, which HTX calls a first-of-its-kind system that automatically collects urine samples and screens them for drugs.
Currently, SPS officers conduct about 5,000 urine tests a month on supervisees placed in community-based programmes.
The process is labour intensive as it requires officers to manually register supervisees, oversee urine collection and drug test the sample. They are also exposed to biohazards.
With the new system, which looks like a portable toilet, a supervisee steps inside and the doors automatically close and are locked. His identity is verified using an iris scan and the system ensures it is the correct appointment date and time.
Instructions are read out over a speaker and shown on a screen, telling the supervisee when to deposit his urine. The urinal itself has a shutter that automatically raises and drops before and after the sample is collected. There are no cameras inside for privacy.
The door, however, is transparent to discourage foul play. The system is also fitted with undisclosed features to prevent cheating.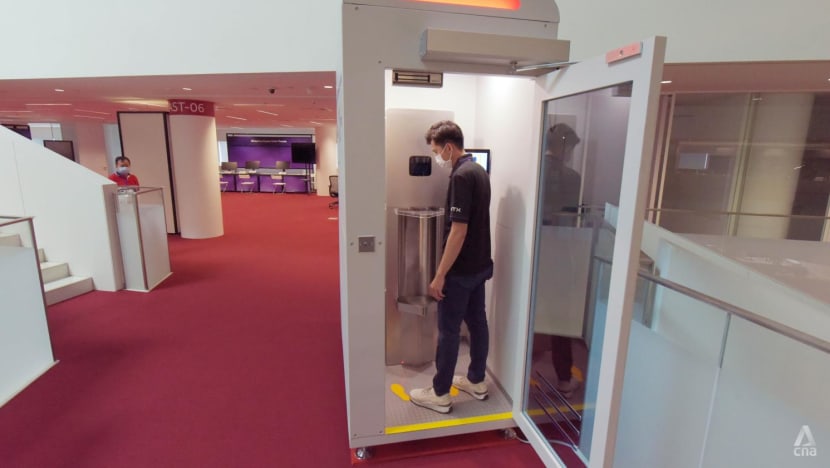 In the back of the system, robotic machines collect the urine in a bowl – excess is drained away – and insert a dipstick to test for drugs and adulterants. This dipstick is then raised in front of small cameras that interpret and record the result.
"We make use of deep learning to interpret the results," said Mr Tee Wen Kai, lead engineer (aerial systems) at HTX.
"So with the automation in place, the officers only need to attend to the supervisees when there's a positive case or when there's a technical fault."
This includes refilling the system with dipsticks after all 40 have been used up.
To prevent cross-contamination, the system is flushed automatically before and after every use.
"The flushing system and the urinal and back-end urine collection bowl are also carefully designed to ensure that flushing is thorough and effective," Mr Tee said.
"Should a urine sample be tested positive, an additional test using a new test kit will be done after flushing to check that there are no residual traces or contamination before a new urine sample is deposited."
How long the entire automated process takes depends on how quickly the supervisee deposits his urine sample, but it is roughly around 10 minutes.
"We do save some transitional time because currently they have to proceed from one stage to another like registration, urine procurement then drug testing. But we combine everything into one system," Mr Kee said.
"The benefit of our system is we can increase more throughput by increasing more cubicles."
The system will be first rolled out to the current Selarang Park community supervision centre, to be tested with selected supervisees for four months from September. The trial will start with 50 to 100 supervisees and be progressively increased.
If successful, it will be deployed at various police land divisions for more convenience.
When asked whether the system – currently designed for men who can pee while standing – will include women in the future, Mr Tee said more than 95 per cent of supervisees are male.
"So, we tackle the majority first."
Editor's note: Some quotes in this story have been updated following clarifications by HTX.