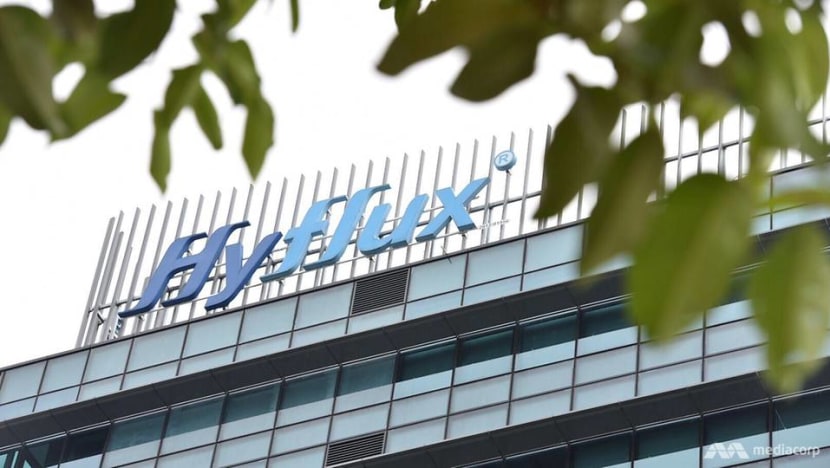 SINGAPORE: Water treatment firm Hyflux has been granted a four-and-a-half-month extension to its debt moratorium until Apr 30, 2019. 
The embattled company's six-month moratorium, which grants it a reprieve from creditors, was originally set to expire on Dec 18. 
In a court hearing on Monday (Nov 26), Hyflux's legal advisors from WongPartnership said the firm will spend the next one to two months discussing terms of the scheme of arrangement with different groups of creditors. 
The discussions will allow Hyflux to gather enough input to formulate the terms of the scheme and then, apply to the court for leave to convene a meeting. 
Hyflux said it will make an announcement on the Singapore Exchange (SGX) once the formal proposal for the scheme of arrangement is finalised. It will also prepare an application to be submitted to the court for leave to convene creditor meetings for considering, and potentially adopting, the scheme of arrangement. 
This comes as Hyflux secured a white knight in the form of a consortium made up of Indonesia's Salim Group and Medco Group (SM Investments), which has offered a S$400 million equity injection for a 60 per cent stake in the firm once it has paid off all its debts. 
The consortium is also granting Hyflux loans to help finance it through the restructuring.
During the two-hour long hearing on Monday, WongPartnership lawyers said Hyflux has until Apr 30 to get creditors on board with its restructuring proposal, failing which SM Investments can walk away from the restructuring agreement that was signed. 
NUS Business School associate professor Lawrence Loh said the latest developments made it crystal clear what Hyflux needs to direct all of its focus on. 
"The main concern for Hyflux is to get the understanding and accommodation of the creditors," he said. 
"Obviously, a scheme is still a scheme, the creditors will still have to be agreeable before the scheme can go on. It's the main hurdle for them to clear, even before they can actually get the investors to be involved. 
"At this point in time, Hyflux is not in a situation where it is spoilt for choices. They actually have to make do with what is best and available on the table, day by day, month by month." 
He also said it is understandable should the creditors continue to raise any concerns or objections during this process. 
"Obviously if you look at it from the creditors' point of view, they have to protect their interests and uphold the objective of getting their money back. Given the situation now, the waters will be very stormy and it's expected that the creditors will push to the maximum limit for what they can actually squeeze out of these circumstances." 
NOT YET READY FOR FINALISED RESTRUCTURING PROPOSAL
In a filing to SGX on Friday, Hyflux said it is still working towards putting together the terms of a scheme of arrangement involving creditors. 
According to the statement, Hyflux also dismissed recent media articles claiming the purported details of a restructuring plan shared with its senior unsecured financial creditors as "mere speculation". 
"The company and its advisers will engage with various stakeholder groups to obtain their views on the intended scheme of arrangement to be proposed to creditors, and this process is currently underway and expected to continue over at least the next one to two months and will progressively extend to the various stakeholder groups," Hyflux said. 
The firm said that it will need to, from time to time, sound out the various stakeholders involved to try to understand which options and permutations may be viable. 
But for now, the company is not in a position to put forward a "finalised and definitive restructuring proposal". 
Meanwhile, Hyflux had received on Nov 8 a second deadline extension until Nov 29, from its largest secured lender Maybank, to find a buyer and sign a binding agreement for its Tuaspring Integrated Water and Power Plant. 
Hyflux was first originally given until Oct 15 to find a buyer for the Tuaspring plant. It later asked for a two-week extension until Oct 29 and received an in-principle approval from Maybank.