I won't replace humans with a machine, says food entrepreneur Daniel Tay
To take his Asian-inspired cheesecakes to the global market, the pastry guru is investing in automated technology – but not at the expense of jobs, he pledges.
SINGAPORE: The cheesecake, with its soft filling and crusty bottom, is a dessert synonymous with New York. But homegrown food entrepreneur Daniel Tay is hoping his Asian twists on it will soon make it a uniquely Singaporean product abroad.
With cheesecake variants like yuzu and lychee, the Singapore-inspired Milo Dinosaur and durian, the French-trained award-winning pastry chef wants to excite consumers in the United States and Australia.
"I think they will love it. I think some flavours which they have never tasted before, they would say, 'Wow this is Singapore. Singaporeans can really make great cakes'," said Mr Tay, 46, during an interview at his 14,000 sq ft central kitchen in Kampong Ampat.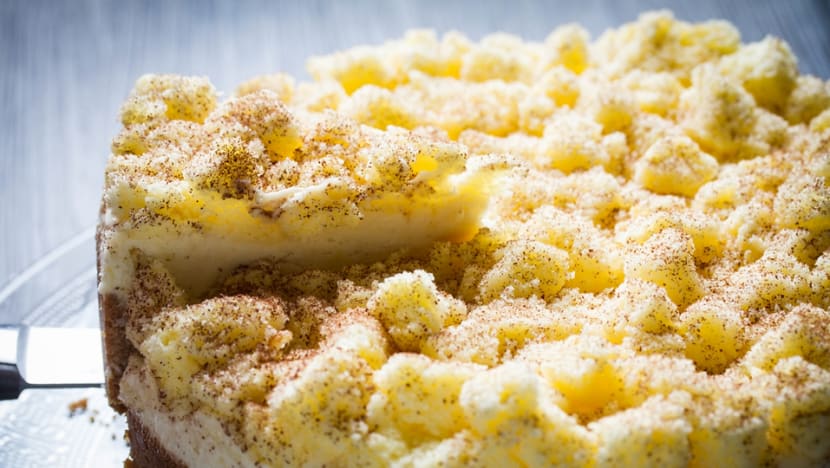 The kitchen is home to his wholesale manufacturing and baked goods supplying company Foodgnostic, and its sister company Cat And The Fiddle, the online retail arm of his cheesecake business.
Within its walls lies the technology that has enabled him to produce his cheesecakes in enough quantity and consistency to supply to regional markets. Since April, Mr Tay has been testing the China market, sending samples to restaurants and hotels there.

"We're taking things slow in China. Our strawberry and coffee-flavoured cheesecakes are doing well. We have one restaurant ready to deal with us. Things are too early to tell, but if they (the consumers) like it, it will be massive," he said.
Foodgnostic also has a factory in Malaysia which produces halal cakes under the Cat And The Fiddle brand. It's still at the stage of "testing the waters" of the Malaysian market and studying the logistical challenges.
Mr Tay says he is also looking to produce cheesecakes for markets in Myanmar, Cambodia and Vietnam.
Watch: The story behind Daniel Tay's global ambition
With 500 to 1,000 cheesecakes being produced a day from his Foodgnostic kitchen floor, Mr Tay said: "We are trying to ramp it up to 2,000 or 3,000 in the next year, and hopefully when we get our new line, we maybe (could bake) 10,000 a day."
This year alone, "S$600,000 to S$700,000" has been invested in Foodgnostic's technology as he seeks to innovate and leverage on robotics, he revealed at a recent panel discussion for Channel NewsAsia's year-end special, Singapore Review 2016 (which airs Friday, Dec 30, at 8pm).
Mr Tay established his name on the local culinary scene when he founded patisserie-café chain Bakerzin in 1998, after a stint as pastry chef at French restaurant Les Amis. He sold off Bakerzin in 2007 and resigned as its chief executive in 2013 to start Foodgnostic.
STILL A JOB FOR HUMANS
But Mr Tay's investment in kitchen automation at Foodgnostic has been viewed by some with jaundiced eyes.
"There are times when I talk about robotics, there are some negative comments, like, 'Oh, so you are not paying, so you are retrenching people', he said.
"I said, 'No, we never retrench unless someone did something very bad to the company. We never ask people to leave. And we would not replace humans with machines. We will never, never replace.'"
He added: "This company is definitely not buying a machine and saying, 'Hey, I think you do not have a job.' That's definitely a no-no."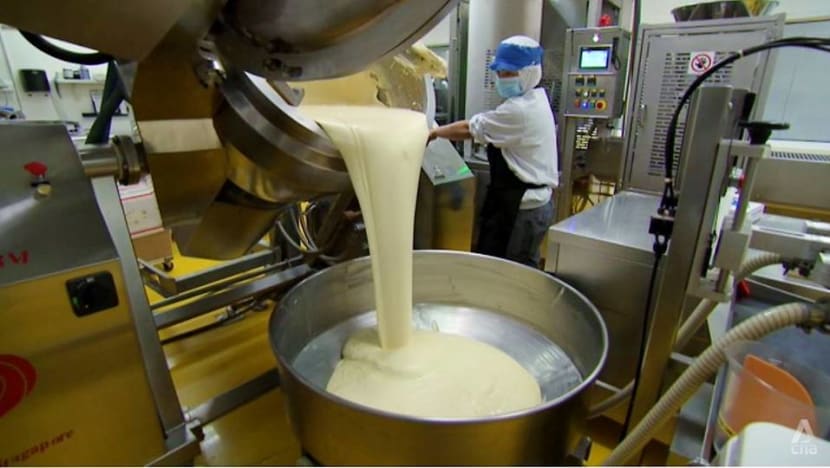 Rather, he said, he embraces technology with the aim of improving the productivity and efficiency of each worker. "It is just an addition for them to produce more.
"If I buy the machine with the same amount of staff that I have, (the question is) how much more can I produce? Can I produce three times more, four times more, and still sell?
"A reduction of staff and an increase in productivity are two different things. We have to make it clear that buying machines is not to replace humans. It is to make our employees more productive."
IF HAAGEN-DAZS CAN DO IT...
And he's pushing ahead with the confidence that there will be a receptive international market for his uniquely-flavoured cheesecakes.
"It is like if Häagen-Dazs can ship their ice cream all over the world and sell their brand, then it is the same thing that I want to do. I want to sell the Singapore taste," he said.
"I believe we can now use the 'Made In Singapore' brand… because we are popular enough to sell our local-flavoured cheesecake overseas and educate (others) about our country's unique flavours."
Although, he admits that Americans might not be quite ready for durian cheesecake yet. But, "Milo Dinosaur, that is very Asian. So we are going to make it a little bit louder, a little bit bolder and tell them, 'Hey this is our cheesecake, try it'."
Singapore Review 2016 looks at the economic challenges and opportunities for entrepreneurs. It premieres Dec 30, at 8pm (SG/HK), with an encore telecast on Dec 31, 6pm.