Core principles of Japan's Free and Open Indo-Pacific Strategy align well with Singapore, ASEAN's priorities: PM Lee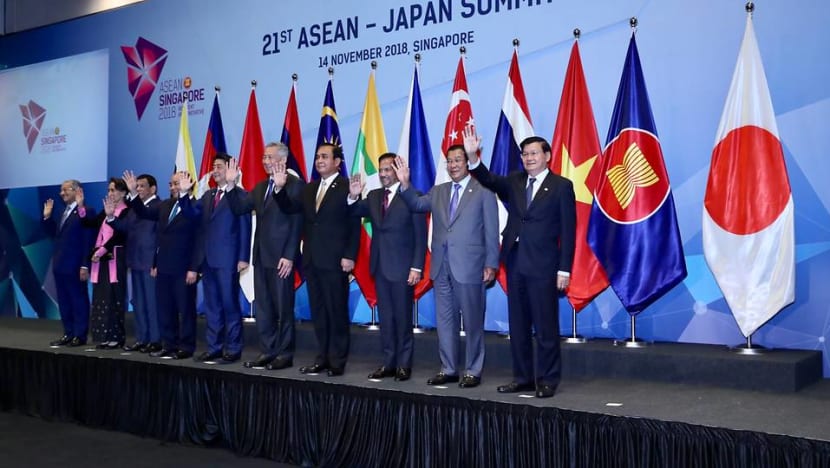 SINGAPORE: The core principles of Japan's Free and Open Indo-Pacific Strategy align well with Singapore and with the priorities of the Association of Southeast Asian Nations (ASEAN), Prime Minister Lee Hsien Loong said on Wednesday (Nov 14).
Speaking during the 21st ASEAN-Japan Summit, Mr Lee said that Singapore appreciates Japan's efforts to articulate its Free and Open Indo-Pacific Strategy to ASEAN members and its willingness to take in feedback.
He pointed out that on this issue, ASEAN is guided by three main considerations: Whether it supports ASEAN unity and centrality, whether it facilitates trade, investment and connectivity in the region, and whether it espouses a rules-based world order anchored on international law.
"The end result must be an open and inclusive regional architecture, where ASEAN member states are not forced to take sides," he said.
During the summit, Mr Lee also noted Japan's "active participation" in the ASEAN Smart Cities Network (ASCN) and thanked Japan for its offer to host a high-level meeting of the ASCN in 2019. The ASCN is one of the key initiatives under Singapore's ASEAN chairmanship.
Mr Lee also expressed appreciation to Japan for its continued support for ASEAN community-building efforts.
In his opening statement, Japanese Prime Minister Shinzo Abe noted that it has outperformed its commitment of 2 trillion yen (S$24.3 billion) in five years, by providing a higher level of assistance to ASEAN "while honouring the unity and centrality of ASEAN".
Japan had announced its commitment of this amount in official development assistance during the ASEAN-Japan Commemorative Summit meeting in 2013.
SOUTH KOREA'S NEW SOUTHERN POLICY STRONG COMMITMENT FOR KOREA TO CO-PROSPER WITH ASEAN
Speaking at the 20th ASEAN-ROK Summit earlier on Wednesday, South Korean President Moon Jae-in said that a policy he introduced at the last ASEAN-Republic of Korea summit is a "strong commitment" for South Korea to co-prosper with ASEAN. 
He said he had set up a presidential committee on the New Southern Policy, as well as created a comprehensive blueprint which underlies South Korea's strategies and tasks as steps towards building a solid foundation for cooperation.
South Korean embassies in ASEAN countries have also been staffed up "significantly to this end", Mr Moon added.
He referred to a 6 per cent increase in ASEAN-Republic of South Korea trade and a 17 per cent increase in the number of mutual visitors as fruits of such labour.
Mr Moon also proposed that South Korea host an ASEAN-ROK commemorative summit in 2019, to commemorate 30 years of dialogue relations.
Speaking during the summit, Mr Lee said this commemorative summit would be a timely opportunity to strengthen collaboration in mutually beneficial areas of interest. This includes trade and economic links, improving connectivity, and smart cities.
In particular, Mr Lee said he welcomes South Korea's support for the ASCN, and hopes to tap on its strong expertise in smart cities and urban solutions to bring about "concrete and innovative improvements" to peoples' lives.
Mr Lee also noted that the maintenance of peace and security is critical to the region's prosperity. He said that Singapore welcomes the positive developments brought about in the inter-Korean Summits and the Trump-Kim Summit in June.
"We urge all parties concerned to continue working towards the realisation of lasting peace and stability on a denuclearised Korean Peninsula," he said.