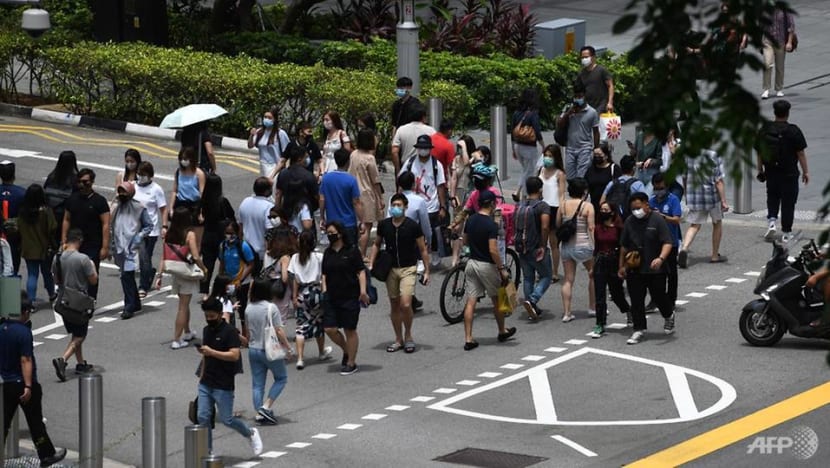 SINGAPORE: The Jobs Growth Incentive (JGI) helped 27,000 firms to hire 130,000 local workers over three months, said the Ministry of Manpower (MOM) in its latest Jobs Situation Report on Wednesday (Mar 31).
The wage subsidy scheme encourages companies to hire more Singaporeans and permanent residents amid the COVID-19 economic fallout. It was first announced in August last year and meant to last for five months, before being given an additional S$5.2 billion boost in Budget 2021 and extended until September.
The JGI has helped to boost the hiring of locals in some companies to "levels higher than in 2019", said MOM.
From September to November last year, the 27,000 firms hired a median of two local workers, compared with the median of one local hire in the same period a year ago.
Nearly six in 10 of the firms hired one to two local workers, while the remaining hired more. 
Almost all of these firms were small- and medium-sized enterprises (SMEs) – a trend that Manpower Minister Josephine Teo said her ministry was "very encouraged" about. 
"It shows that SMEs have quite a lot of vitality and some of them are growing. It also shows that the JGI is providing them with a certain support and encouragement to expand their hiring," she said.
Top hiring sectors include food services and retail, which hired one in five workers between September and November. Growth areas like wholesale trade, professional services as well as information and communications, accounted for nearly four in 10 of those employed.
MOM said companies hired from "a wide pool of job seekers", including mature workers and those who were unemployed or from a different sector.
For instance, about half of the 130,000 workers were not employed at the point of hire. More than a quarter had been out of work for more than six months.
Six in 10 were previously employed in a different sector. The same ratio also earned the same or higher wages compared with their previous jobs.
Almost half of the workers were mature workers aged 40 and above, while one-third were aged 50 and above. 
The Manpower Ministry said it encourages companies "to be more open-minded" towards job seekers from diverse backgrounds, as unemployment rates decline and with the job market seeing "pockets of tightness". "This will better enable them to fill their vacancies and support their businesses," it said.
Under the JGI, companies receive a 25 per cent subsidy of the first S$5,000 of local hires' gross monthly salaries for up to 12 months. This translates to up to S$15,000 of wage support for each local hire, said MOM.
Employers who hire mature workers, people with disabilities and ex-offenders receive more support – up to S$54,000 per hire with effect from Mar 1, said the ministry.
Mrs Teo was asked about how the Government aims to maintain the momentum of the JGI. In its update last month, MOM said more than 110,000 local job seekers were hired by 26,000 firms in September and October, meaning that the scheme added just 20,000 job seekers in the month of November.
This moderation in pace is expected, she replied, noting that the scheme benefited from "low-hanging fruits" during the first two months of implementation.
First, many businesses that had to let go of their employees during the "circuit breaker" period were restarting operations and looking at ramping up hiring quickly.
Second, it was also "easier" to match job seekers to jobs due to less stringent skills requirements from employers and more job seekers in the market.
"We had always expected that beyond the first few months, it is likely that the pace will moderate. What's important is whether we can sustain the pace throughout 2021," Mrs Teo said, citing an "uneven" economic recovery ahead.
More efforts in terms of jobs and skills matching will be needed, which is why the JGI was designed to be "stackable" with other schemes like the career conversion programmes.
LOGISTICS SECTOR HIRED 4,000 WORKERS UNDER JGI
The minister was speaking to the media following a visit to Pacific Logistics Group (PLG) on Wednesday morning.
PLG is one of the many employers that have tapped on the JGI, as it restructured business operations and ventured into new areas to make up for falling demand due to supply chain disruptions, MOM said. 
Over the past few months, the local company has hired 55 new employees under the JGI, including those who with no working experiences in the logistics sector. These include employees from Singapore Airlines and a former banker.
Mr Kelvin Lim, who founded PLG in 2000, said these employees had relevant experiences and skills that his team lacked and also fitted into areas that the company is exploring, such as overseas operations. The JGI has given his firm "confidence" to expand its workforce amid the pandemic, he added.
Overall, the logistic sector has seen the hiring of more than 4,000 local workers under the JGI, said MOM.
To help employers in the sector meet their manpower needs, Workforce Singapore offers various professional conversion programmes that comprise classroom sessions, structured on-the-job training as well as mentorship for new mid-career hires over nine months. 
More than 170 employers, including PLG, have tapped on these career conversion programmes to hire about 320 mid-career workers last year, said MOM. These were for roles such as business development manager, logistics solutions analyst and supply chain technology manager.