Johor Chief Minister's 'unauthorised visit' to Pedoman vessel was 'provocative act': Singapore MFA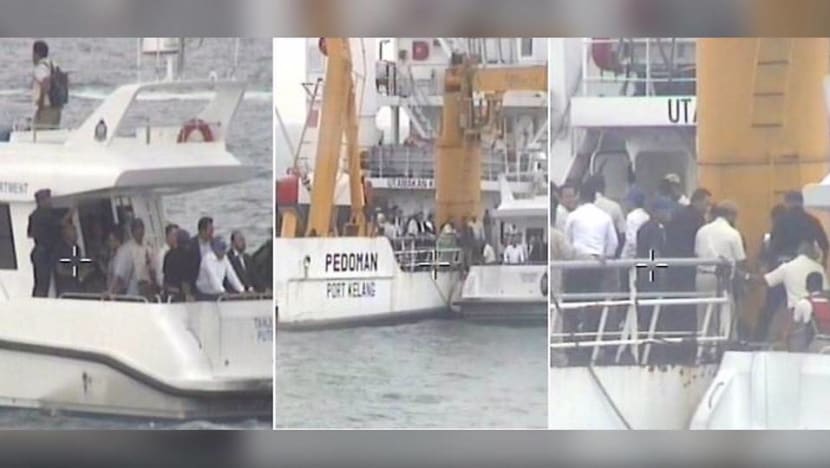 SINGAPORE: Johor Chief Minister Osman Sapian's "unauthorised visit" last week to Malaysian vessel Pedoman in Singapore waters was "a provocative act" that went against the spirit of an agreement by both countries to resolve bilateral issues in a calm and constructive manner, Singapore's Ministry of Foreign Affairs (MFA) said on Sunday (Jan 13).
The MFA also said that it had sent a diplomatic note to Malaysia on Friday to protest the "unauthorised visit" by Johor Chief Minister Osman Sapian to the Pedoman on Jan 9.
"Such a provocative act went against the spirit of the agreement reached a day earlier by Singapore's Minister for Foreign Affairs Dr Vivian Balakrishnan and his Malaysian counterpart, Dato' Saifuddin Abdullah, to resolve bilateral issues in a calm and constructive manner," said MFA.
It reiterated that the intrusion by the Johor Chief Minister created an atmosphere unconducive to hold the 14th meeting of the Joint Ministerial Committee for Iskandar Malaysia (JMCIM), leading to Singapore's decision to postpone the meeting.
The meeting was originally scheduled for Jan 14, but Singapore's MFA on Saturday announced that Singapore had proposed cancelling the meeting and that Malaysia had agreeed.
However, MFA said, Malaysian Minister of Economic Affairs Mohamed Azmin Ali's initiative to make a bilateral visit and his upcoming meetings with Singapore ministers on Sunday and Monday is still welcome.
MFA's comments on Sunday were made in response to its Malaysian counterpart's press release earlier in the day.
In its release, Malaysia's MFA confirmed the postponement of the joint ministerial committee talks and said that Mr Azmin's upcoming meeting with Singapore's National Development Minister Lawrence Wong and Foreign Affairs Minister Vivian Balakrishnan was to discuss "other bilateral issues".
The ministry added that both foreign ministers are "in communication and agreed that both sides should remain calm and not sensationalise the matter".
The comments by both Singapore and Malaysia's MFAs come amid an airspace and maritime dispute between the two countries.
Malaysian government vessels have made repeated incursions into Singapore territorial waters in recent months, after Malaysia extended the Johor Bahru port limits in October, encroaching into Singapore territorial waters off Tuas.
Singapore has protested the port limit extension and the movements of the vessels. Singapore's Transport Ministry also extended Singapore's port limits off Tuas on Dec 6 in response.
Transport Minister Khaw Boon Wan also said then that there had been as many as 14 intrusions by Malaysian vessels in the two weeks before Dec 6.
On Tuesday, tensions appeared to ease as both countries' foreign ministers met.
Singapore Foreign Affairs Minister Vivian Balakrishnan and his Malaysian counterpart Saifuddin Abdullah said in a joint statement on Tuesday that the countries had agreed to establish a working group to study and discuss legal and operational matters relating to the maritime dispute, in order to provide a basis for further discussions and negotiations.