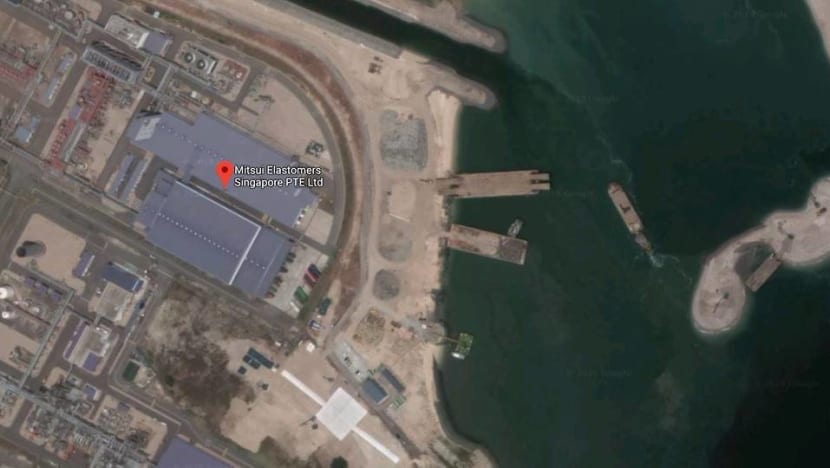 SINGAPORE: Four workers were taken to hospital with burn injuries after a fire broke out at a chemical plant on Jurong Island in the early hours of Tuesday morning (May 28).
The fire occured at one of Mitsui Elastomers Singapore's plants at around 2am, according to a Mitsui Chemicals spokesperson.

The Singapore Civil Defence Force (SCDF) deployed about 50 firefighters and 15 vehicles to the plant at 701 Ayer Merbau Road, it said, and the blaze was extinguished around 4am by the SCDF and the in-house company response team.
According to SCDF, the fire involved a petro-chemical leak from a heat exchanger unit within the plant, but the cause of the fire is still under investigation.
Mitsui Elastomers manufactures and sells elastomers and other plastic materials.

The four workers were on duty at the time of the incident, Mitsui Chemicals said, adding that they were admitted to Singapore General Hospital (SGH) with burn injuries.
SGH confirmed that one of the men was in the Intensive Care Unit while another was in a high-dependency ward. Two others were in the general ward.

All four workers were in a stable condition when visited in hospital on Wednesday morning by Minister of State for Manpower and National Development Zaqy Mohamad.
"This morning, I visited the four workers who suffered burns while working on or around a drain valve along a process pipeline at their workplace in Jurong Island when a fire broke out," he wrote in a Facebook post.
"I am glad to know they are all in stable condition and am grateful for the good work of our doctors and the medical team from the Singapore General Hospital."

The Ministry of Manpower (MOM) has stopped all works at the affected unit of Mitsui Elastomers Singapore while investigations are ongoing, Mr Zaqy said. 
"We will also look into the steps taken by the company to address or reduce safety risks to ensure the safety and health of our workers," he added.

"Our workers must always be assured of their safety so that (they) can return home safe to their loved ones. 
"I would like to remind all employers to take all reasonably practicable measures to address hazards at the workplace. MOM will not hesitate to take action against parties found responsible for workplace incidents.
"My thoughts are with the family members of our workers who were awoken in the early hours of yesterday morning with such news." 
MOM will work with the injured men and their family members to provide the necessary support, the minister said.