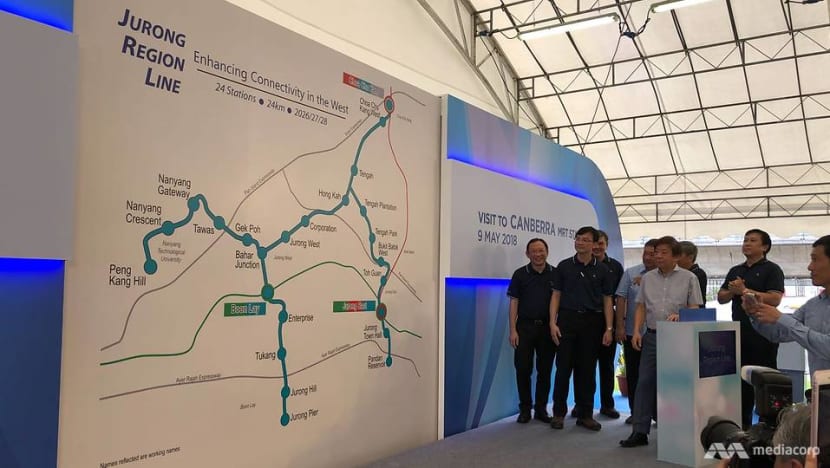 SINGAPORE: The new Jurong Region Line (JRL), Singapore's seventh MRT line, will open in three phases starting from 2026, said Transport Minister Khaw Boon Wan on Wednesday (May 9).
JRL will be 24km long with 24 stations above ground, Mr Khaw said, adding that the line will connect with the North-South Line and East-West Line with interchange stations at Choa Chu Kang and Boon Lay.
It will serve five key locations in the West namely Choa Chu Kang, Jurong East, Boon Lay/Jurong West, Jurong Industrial Estate and Nanyang Technological University (NTU).
The stations are expected to put 60,000 more households within a 10-minute walk from a train station, said the Land Transport Authority (LTA) in a media briefing on Wednesday.
SHORTER TRAVEL TIMES
The new line, which will open in three stages starting 2026, is expected to serve more than 200,000 commuters when the line is fully operational after 2028.
Ridership is expected to grow to 500,000 when the Jurong Innovation District, Tengah area and Jurong Lake District are fully developed, said LTA.
The first phase will see the stations between Choa Chu Kang to Boon Lay and Tawas station open. Followed by seven stations between Tengah and Pandan Reservoir in 2027. 
In the last phase, three stations in NTU, as well as stations from Boon Lay to Jurong Pier will open in 2028, LTA said.
JRL will shorten travel times within the western part of Singapore. For instance, a commuter staying in Woodlands and working in Jurong Island will be able to reach Jurong Island Checkpoint in 45 minutes as opposed to 80 minutes today.
For the construction of the line, one HDB carpark at Blk 303 Choa Chu Kang Avenue 4 will be acquired, along with slivers of land affecting 19 buildings on those lots. 
A temporary car park will be set up and more details will be made available later. 
3-CAR TRAINS "SMALLER THAN CIRCLE LINE, BUT BIGGER THAN LRT"
Three-car trains will be used on the JRL, powered by the third rail system, said LTA.
These trains can be expanded to add a fourth car when ridership increases with developments in the Jurong area. All 24 train stations will be built to accommodate four-car trains, LTA said.
Speaking during a visit to the worksite of Canberra MRT station on the North-South Line, Mr Khaw said the JRL will improve the resilience of the entire MRT network and provide commuters with alternative travel routes.
"This will help to distribute and relieve train loading between Choa Chu Kang and Jurong East stations, so that commuters can enjoy more comfortable rides," Mr Khaw said.
He added that the JRL will help develop the Jurong Lake District into the largest commercial hub outside the central business district. It will also support the development of the Jurong Innovation District into a next-generation industrial estate.
"Together with the upcoming Kuala Lumpur-Singapore High-Speed Rail, commuters will have convenient connections not just within western Singapore, but also to Malaysia. When all these plans come together, Jurong will be a waterfront business hub nestled in greenery, served by good public transport connections, as well as amenities to support active mobility. This is our vision for Jurong," he said.
INDUSTRIAL SECTOR TO BENEFIT MOST FROM JRL
The new JRL is likely to have the most positive impact on the industrial sector, due to the improved accessibility to the Jurong Innovation District, Jurong Industrial Estate, International Business Park, and CleanTech Park, said Ms Christine Li, senior director of research at Cushman & Wakefield. It will also indirectly improve the linkage of these areas to the Tuas mega port via the East-West Line.
As a result, industrial rents in these areas will experience an uplift, said Ms Li.
The commercial sector is also likely to see some benefit, as will the retail sector, with major malls at interchange stations such as Jurong Point, JEM, and Westgate likely to experience an increase in footfall and sales, Ms Li added.
The announcement of the JRL also complements the planned KL-Singapore high-speed rail (HSR).
"With both the JRL and HSR in operation, Singaporean and Malaysian businesses will have the added incentive to site their offices and manufacturing activities in the Jurong Lake District and surrounding industrial estates," Ms Li said.
The residential sector, however, could face some pressure.
"Existing residential areas may not see significant improvement as they are already in close proximity to existing stations on the EWL and NSL. Residential rents may also be depressed over the next decade due to noise from the construction activities," Ms Li said.