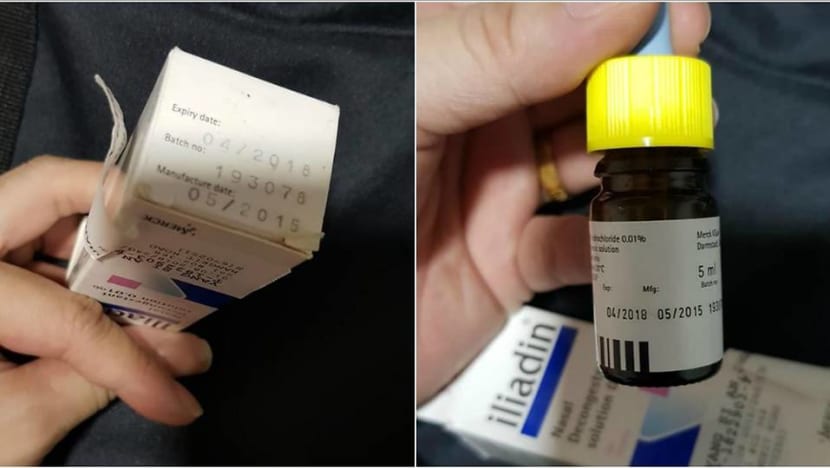 SINGAPORE: KK Women's and Children's Hospital (KKH) on Thursday (Oct 11) apologised for dispensing expired medication to an infant girl last week.
It also said that it has engaged an independent review panel to improve its system.
KKH's comments come after the mother of the newborn claimed last week that her daughter was prescribed a nasal decongestant four months past its expiry date. 
In a Facebook post on Oct 1, Ms Judy Teo, said that she had been "horrified" when she discovered the expiry date, adding that her daughter was "barely one month old" when she was prescribed the medication.
Pictures Ms Teo posted of the medication, which she claimed was prescribed on Aug 25, showed the expiry date as April 2018.
"We were wondering why is it so that she did not get better despite using the medication for one month plus," she had written. 
KKH on Thursday acknowledged that the medication, iliadin, was past its expiry date when it was dispensed, and may not have been effective.
"We acknowledge that the nose drop was past its stated expiry date, with the possible loss of its effectiveness. We sincerely apologise for this," Mr Alson Goh, chief operating officer of KKH, told Channel NewsAsia.
KKH is currently engaging the staff involved, and has also reinforced appropriate measures.
"We have done a thorough check on all in-stock medications and staff have also been reminded to check expiry dates before issuing medications," Mr Goh said.
"Additionally, we are engaging an independent review panel to identify opportunities for further strengthening and improvement of our system in this regard," he added.
The hospital has also "clinically followed up with the patient" and is rendering the necessary support, it said.
Ms Teo, the mother of the baby, said in an update to her original Facebook post that she brought her daughter to KKH for a consultation on Oct 3.
During the visit, the medication that was prescribed on Aug 25 was collected and replaced. Charges were waived "as goodwill and recovery work", said Ms Teo.
A follow-up consultation was scheduled for Oct 24, the fees for which will be waived by the hospital as well, Ms Teo wrote in the update.