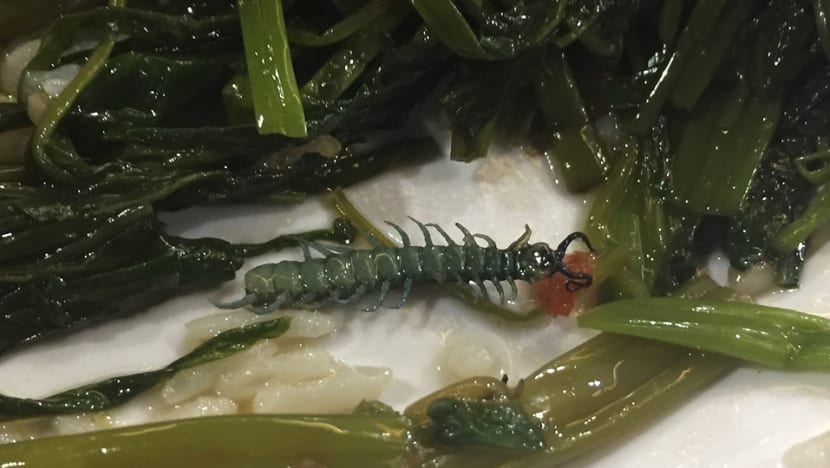 SINGAPORE: Food court operator Kopitiam has issued a written warning and imposed a penalty on a mixed rice stall at its Plaza Singapura outlet after a customer found a dead centipede in his food on Tuesday (Oct 23).

The incident occurred at about 2.30pm, according to Mr Faz Yusof, who said that he saw the store continue operations later that evening. 

He and his colleagues showed the food to the staff members at the stall who threw it away and offered them a refund of S$3.50, he wrote in an email to Channel NewsAsia.

He added that he has reported the incident to the National Environment Agency.
Kopitiam told Channel NewsAsia that the food court took action quickly.
The affected dish, a plate of kangkong, as well as other food on display, were discarded, said Kopitiam corporate communications manager Vincent Cheong on Wednesday.
"Kopitiam's hygiene department was activated to conduct a comprehensive inspection of the food stall," said Mr Cheong.
"No evidence" was found to suggest that the incident was down to poor housekeeping, he said.
"(There was a) high probability that it was hidden among the vegetable supplied and was missed out during the washing and sorting process," Mr Cheong said.

The investigation included reviewing the stall's housekeeping, food storage methods, food preparation and food handling procedures. 

Kopitiam said that the stall will continue to be closely monitored, and that a thorough spring cleaning of the food stall was conducted as a precautionary measure. 
"Good food hygiene and food safety standards are of utmost importance to Kopitiam. We do not condone any lapses and will not hesitate to take drastic action against any errant stall holders," said Mr Cheong.