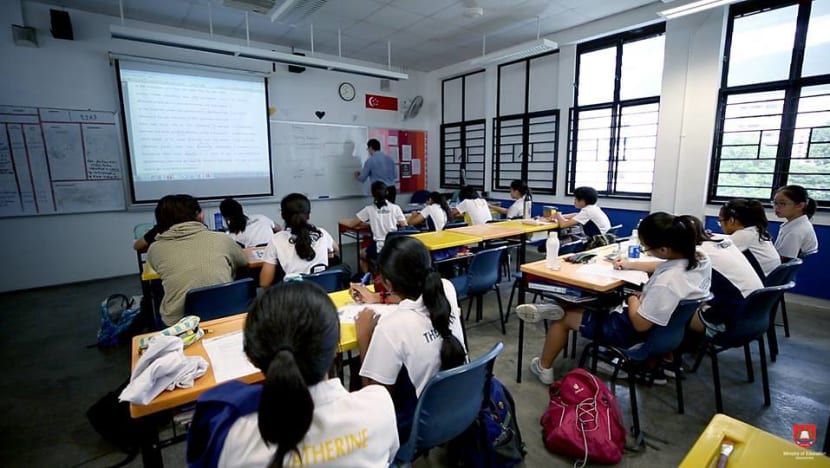 SINGAPORE: The language elective programme (LEP) will be introduced in selected secondary schools for the first time, as part of an effort to deepen students' interest in languages, Education Minister Ong Ye Kung said on Tuesday (May 28).
First introduced in 1990 at the junior college level, the LEP will be expanded next year to 15 secondary schools – nine schools will offer Chinese LEP, three will offer Malay LEP and another three will offer Tamil LEP.

Secondary school students taking the two-year programme will study literature in their mother tongues, as well as take part in local camps, overseas immersion trips and school-based activities such as "literary lectures".

The move is part of efforts "to support students in pursuing their passions and interests, and to deepen students' mastery of mother tongue languages and literature", the Ministry of Education (MOE) said.

"Our schools will continue to help our students go as far as they can in learning languages, by pitching language learning at a level suited to their abilities," said Mr Ong, adding that the number of students taking Higher Mother Tongue at O-Levels has been rising.

All O-Level students enrolled in the programme must sit the O-Level literature exam in their respective mother tongues, while students from the Integrated Programme must study a school-based mother tongue literature subject.
Through this, MOE said it hopes to nurture a base of students who can progress to either LEP at JC level or mother tongue-related diplomas in polytechnics.

"Over the years, the LEP has successfully produced a core group of effectively bilingual and bicultural graduates," said Mr Ong.
"Many built their professional careers on their bilingual skills, in education, journalism, communication, diplomacy or translation," he added.
THREE MORE JUNIOR COLLEGES TO GET LEP

The LEP will also be expanded at the junior college level from next year, with two more JCs – National Junior College and Raffles Institution (JC) – offering the programme in Malay. 
A new Tamil LEP will be introduced in two JCs – Anderson Serangoon and National JCs – for students who excel in the language to pursue their passion for and interest in Tamil, said MOE.

Currently, JC students who want to take up Tamil LEP have to go to the Umar Pulavar Language Centre under the National Elective Tamil Programme (NETP).

"There is a certain perception that the study of mother tongues deeply, through the LEPs or NETP, are only for a select group of students," said Mr Ong. 
"We need to move away from that. Instead, it should be the more the merrier, and a larger group of students should feel confident that they can do this."

All JC students taking the LEP must sit exams for H2 Language and Literature in their respective mother tongues at the A-Level examinations. Students can also choose to study H3 Language and Literature as a non-examinable subject, and subsequently choose to sit the H3 A-Level examination.

Currently, for students who wish to take the Chinese or Malay LEP in JCs, they would have to obtain at least:
Grade B3 in Higher Chinese (HCL)/Higher Malay (HML)
Grade B4 in HCL/HML and B3 in Literature in Chinese/Malay (Full or Elective) or
Grade A2 in Chinese/Malay
Those who are selected can get two bonus points for admission to schools which offer LEP.