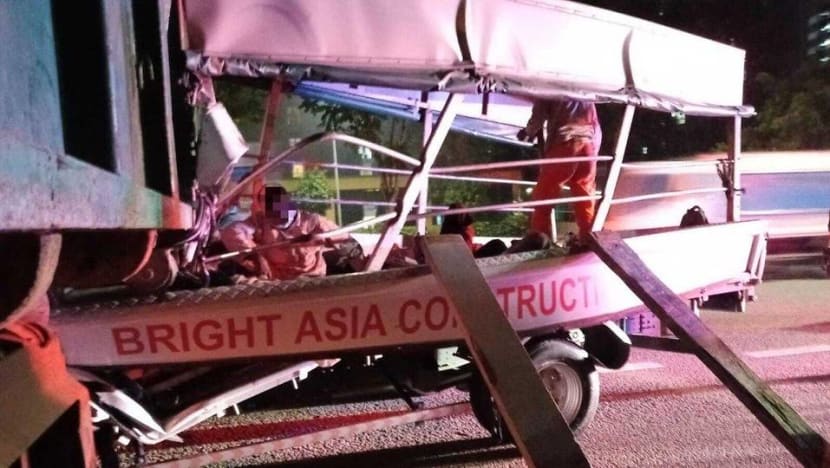 SINGAPORE: A passenger of a lorry died and another 16 passengers were taken to hospital after an accident on Tuesday (Apr 20) morning.
The police said they were alerted to the accident at about 6am. 
The lorry had collided with a stationary tipper truck along the Pan Island Expressway (PIE) towards Changi Airport at the Jalan Bahar exit, said the police.
Seventeen lorry passengers - two of whom were unconscious - were taken to the National University Hospital and Ng Teng Fong General Hospital. A 33-year-old passenger later died from his injuries.
The lorry driver, 36, was arrested for careless driving causing death, said the police.
The Singapore Civil Defence Force (SCDF) said two people were trapped at the rear compartment of the lorry, and were rescued using hydraulic rescue equipment.
CNA reader Thomas Oh, who was at the scene, said he saw some workers sitting by the road shoulder and some inside the lorry, waiting for help.
Some of the injured appeared to be bleeding and had head injuries. Some were "screaming in pain", he said.
In response to CNA's queries, the Ministry of Manpower said that officers from its Assurance, Care and Engagement (ACE) Group are working closely with the employer and the Migrant Workers' Centre (MWC) to care for the affected workers. 
In a Facebook post on Tuesday night, MWC said that of the 16 injured workers, nine have since been discharged from hospital while seven remain warded.
Two of the hospitalised workers are in the intensive care unit, it added.
MWC said it will work with the hospitals and employer to visit the affected workers and provide them with the necessary care and support.
"As the accident took place while the workers were en route to the worksite, they should be protected under the Work Injury Compensation Act (WICA)," said the centre.
"MWC will also be contacting the loved ones of the deceased to offer our sympathies as well as to extend interim financial assistance to the family as it will take some time for WICA to be paid out."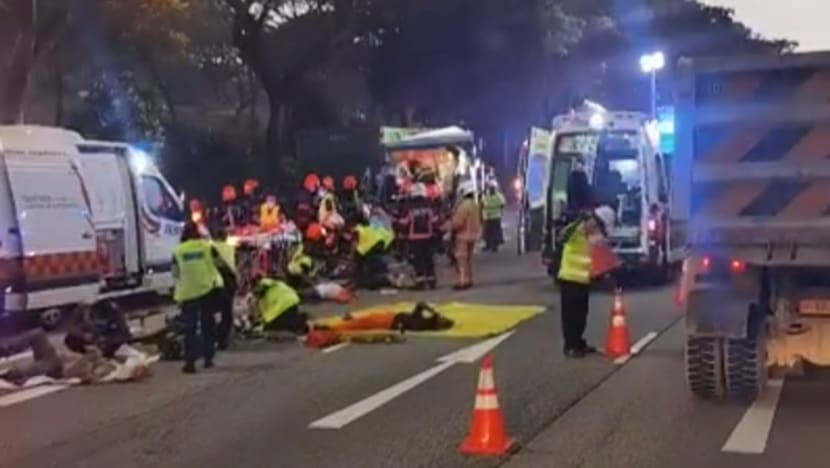 Members of the public who wish to help the affected workers can contribute to the Migrant Workers' Assistance Fund, which is the charity arm of MWC, said the centre.
Police investigations are ongoing.
This story came from a reader tip-off. If you would like to send in photos or videos of something newsworthy, WhatsApp our Mediacorp news hotline at +65 8218 8281 or message us on Facebook.