SINGAPORE: The Land Transport Authority (LTA) said on Monday (Oct 29) that it would award licences to six bicycle-sharing operators after their full payment of licence fees.
Full licences have been granted to ofo, Mobike and SG Bike, and sandbox licences to Anywheel, Grabcycle and Qiqi Zhixiang, LTA said last month.

Under the new licensing scheme, Mobike will be allowed to operate a maximum fleet of 25,000 bicycles, becoming the largest bicycle operator in Singapore by fleet size.
ofo was granted a maximum fleet size of 25,000 bicycles, much lower than their original application of 80,000, but have now asked to cut this to 10,000 bikes. 

In a response to a Channel NewsAsia query, ofo Singapore country manager Isabelle Neo said that the move was a "business decision" and a "strategic step to adapt to the set of measures implemented by LTA".
Ms Neo added: "We are committed to our users in Singapore and will use this as an opportunity to align our local business model to the new set of regulations. We look forward to applying for the license to increase our fleet size in January 2019."
"ofo subsequently requested to operate a reduced maximum fleet size of 10,000 bicycles instead, and LTA has agreed to this request," LTA said in a press release.

SGBike will be allowed to operate a fleet of up to 3,000 bicycles, with Anywheel and Grabcycle allowed to operate a maximum of 1,000 bikes each, while Qiqi Zhixiang will be permitted to operate a fleet of 500.
This will bring down the total amount of bikes in Singapore to 40,500, once the regulations kick in.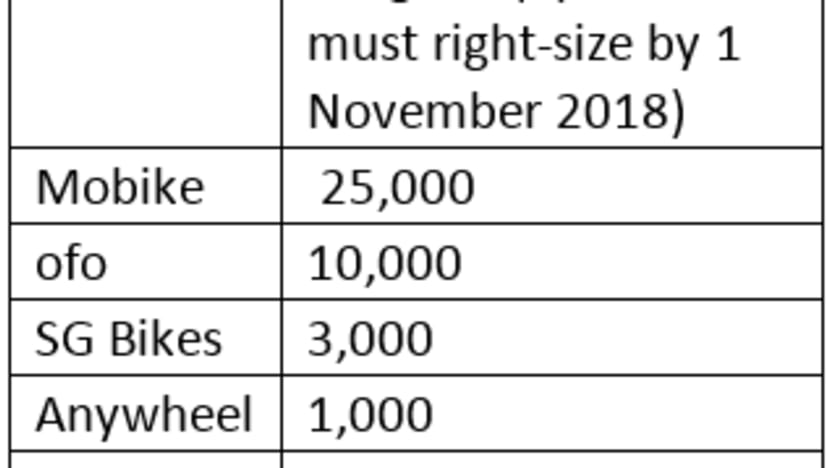 Operators will have until Nov 1 to reduce their fleet size, said LTA, adding that they would consider imposing regulatory sanctions on licensees that fail to meet the deadline.
LTA pledged to regularly review the fleet sizes of the six operators, taking into account factors such as the operators' performance and user demand. 
The next window for operators to apply for new licences or increases in fleet size will open in January next year.