Lucky Plaza accident: Emotional scenes as family, friends attend wake of victim Arlyn Nucos in Singapore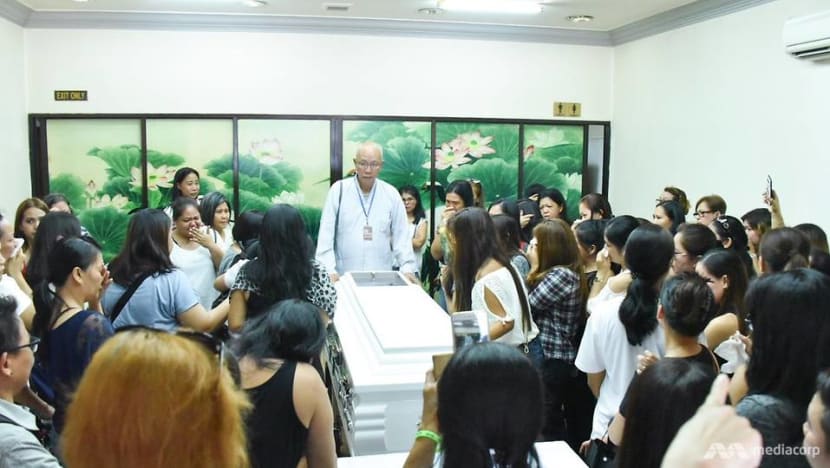 SINGAPORE: About 100 friends, family and members of the Filipino community in Singapore attended the wake of Philippines national Arlyn Picar Nucos on Wednesday (Jan 1).

Ms Nucos, 50, was one of the six victims involved in Sunday's accident at Lucky Plaza.
Also present at the wake were her employers, who were seen at the funeral parlour at Sin Ming at about 11.40am. 

Ms Nucos had worked for them since 1992, said Bernard Menon, the director of the migrant workers' segment at the National Trades Union Congress (NTUC), which oversees the Centre for Domestic Employees (CDE) and the Migrant Workers' Centre.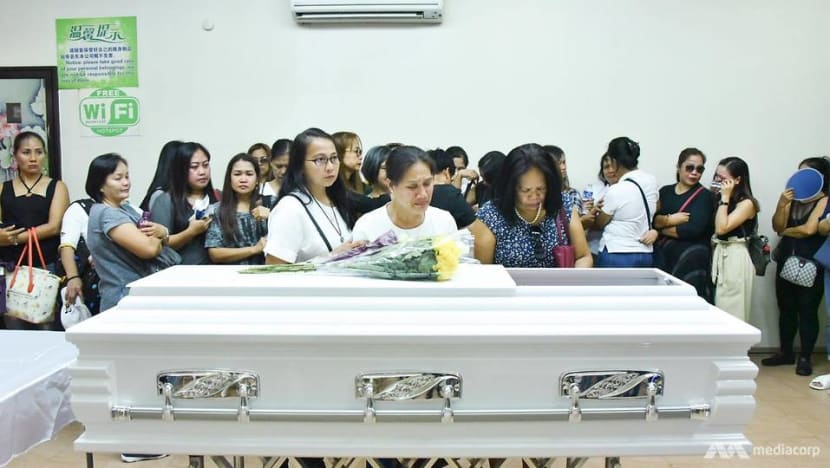 Ms Nucos, who had no children of her own, had seen the employer's three children grow up for almost 30 years, Mr Menon said. 
The employer and her family declined to speak to the media. 
After waiting at the coffee shop next door, the rest of the bereaved streamed into the funeral parlour at about 11.45am, many of them unable to hold back tears.
Just minutes before noon, a priest from the Church of Sacred Heart performed prayers for Ms Nucos which lasted for about five minutes. 

He read from the Bible as mourners, most of them women from the Filipino community, gathered around her casket and repeated prayers after the priest.

"One day we'll meet Arlyn," he said. 
After the prayers were performed, the women moved closer to the casket, as tissues were passed around. Some of them laid flowers on top of her casket, while others leaned in to say a few words.
Laila Laudencia, who was herself one of the six involved in the accident, was seen at the wake. Ms Laudencia, who had been discharged from hospital earlier, appeared with a bandage on her leg. She cried openly as friends surrounded her, comforting and hugging her.
Describing herself as a "close friend" of Ms Nucos, Marites Asuncion said that they were part of the Annak Ti La Union Detoy association in Singapore. 

"She is very kind," Ms Asuncion said. "We would go for picnics and she would cook for us dishes like Adobo." 
After she heard about the accident, Ms Asuncion rushed over to the scene and was one of those who helped to identify Ms Nucos, she said. 

Another friend present was Edith Valladolid, who said that she knew Ms Nucos when she worked for a family that lived near Ms Nucos' employers in the Holland neighbourhood. 

They would see each other and stop to chat at Empress Road market once in a while. They were not close, Ms Valladolid said, but added that Arlyn was a "very nice friend". 

Susett Raquiza, a domestic helper in Singapore, did not know Ms Nucos but used her day off to pay her respects. 
"I wish she may rest in peace and for her family to be strong," she said.

An envelope was passed around to collect money for Ms Nucos' family in the La Union province of the Philippines. The money will be handed to her sister-in-law, who also works as a domestic helper in Singapore and who was also among those who paid their respects. 

Ms Nucos' body is expected to be repatriated to the Philippines this afternoon.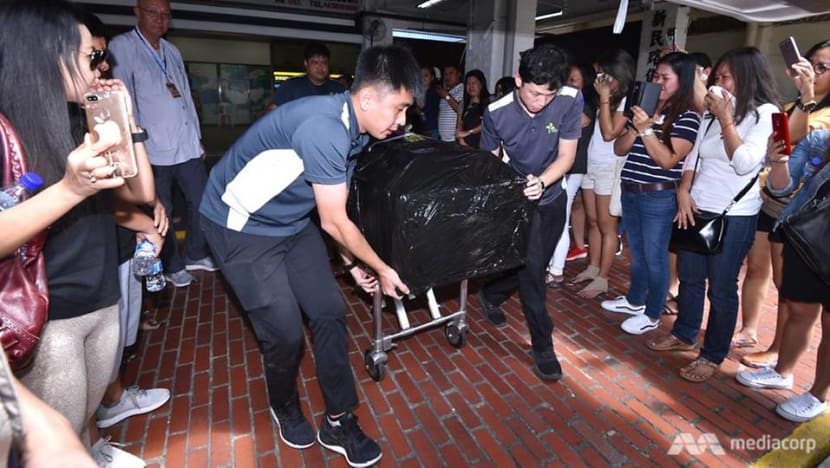 As undertakers prepared to move her casket, cries of "bye ate" - older sister in Tagalog - were heard.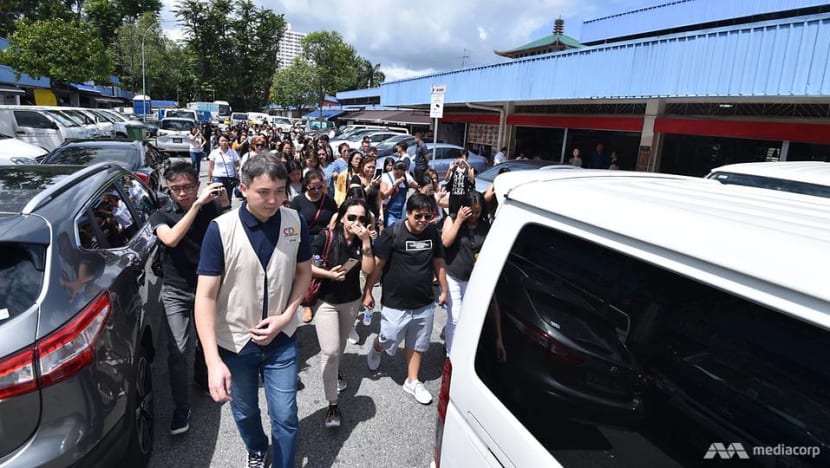 Mr Menon also provided an update on fundraising for all six victims of the accident, and said that close to S$250,000 had been raised so far. 

He added that while the charity has an internal guiding principle on how funds are disbursed from its Domestic Employees Welfare Fund, it was still premature to say how the monies would be apportioned among the six "as the conditions of each of the victims are still "fluid".

"Among the injured, if their permanent employment is then affected and they are unable to carry on working, we also have to do quite a bit to ensure they and their dependents are also taken care of," he said. 

As for the families of the two deceased, he said that the two helpers were sole breadwinners, and it would be necessary to determine how much long-term assistance could be offered to their families. 

In an update on Tuesday, the CDE said the daughter of Abigail Leste, the other victim who died in the accident, would not be travelling to Singapore as family members were worried about her making the trip. 
"The family will be receiving the remains of the late Ms Leste back home in the Philippines. The cousin of the late Ms Leste who is currently working here in Singapore as a FDW has been requested by the family to settle the repatriation arrangements in Singapore, which is still an ongoing delicate process," the CDE said in a Facebook post. 
The CDE added that Ms Leste's funeral in the Philippines will be a "private affair" and asked members of the public to give the bereaved family space and time to grieve. 

A wake for Ms Leste was held Tuesday evening. 

Providing a further update on other victims of the accident, Mr Menon said that Ms Egnal Limbauan is currently in a high dependency ward. Both injured victims are conscious and responsive, but their condition remains "quite serious". 

He also confirmed that there were eight people among the group who were together before the car crash, but two of them managed to avoid the collision. 
LUCKY PLAZA "CASH DONATION" BOX NOT PLACED BY CDE
The CDE also said that it was alerted to a box that has been placed at the accident site outside Lucky Plaza.

A photograph of the area shows that cash donations have been placed inside a cardboard box.
"Please note the box was not placed by CDE and we are not sure who placed it there," the centre said. 

The CDE also advised well-wishers against putting any cash donations in the box. Those who would like to make an electronic donation can do so through CDE's online platform.
"If you wish to make cash donations through us, please wait for our next update on how to do so," CDE added.