MAS to allow Singdollar to rise slightly in 'measured adjustment' to monetary policy
This marks the central bank's second tightening move this year, and some analysts are expecting the MAS to do so again next April amid higher expectations for inflation.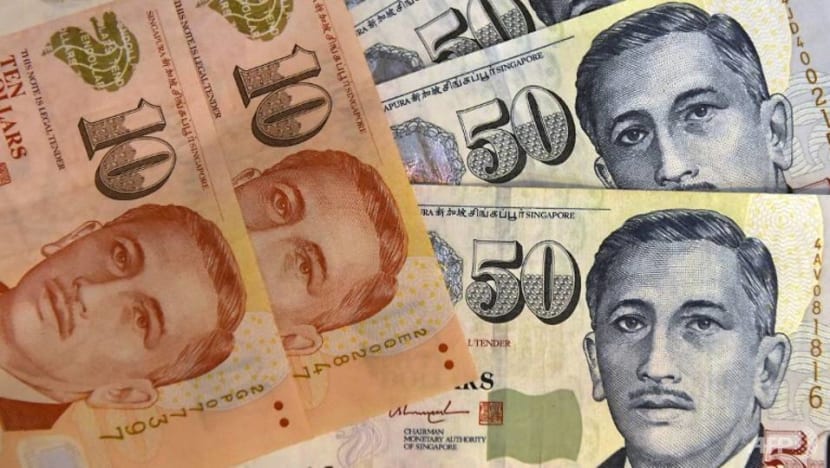 SINGAPORE: The Monetary Authority of Singapore (MAS) on Friday (Oct 12) tightened monetary policy for the second time this year, saying it expects the economy to continue to expand steadily and core inflation to rise.
The central bank - which manages policy through exchange rate instead of interest rate - said it would "slightly" increase the slope of the Singapore dollar nominal effective exchange rate (S$NEER) policy band, in a "measured adjustment" to its monetary policy.
It kept two other policy levers – the width and mid-point of the band – unchanged.
"The Singapore economy is likely to remain on its steady expansion path in the quarters ahead, keeping output slightly above potential," the central bank said in its latest biannual policy statement.
This "measured adjustment" of the policy, it said, is "consistent with a modest and gradual appreciation path of the S$NEER policy band that will ensure medium-term price stability".
Following the announcement, the Singdollar appreciated against the greenback. It was last seen trading at S$1.3743 per US dollar at 10.18am, compared with S$1.3765 before the announcement.
GLOBAL GROWTH 'RELATIVELY RESILIENT'
MAS operates a managed float regime for the Singapore dollar, allowing the exchange rate to fluctuate within an unspecified policy band, rather than to a fixed value. It changes the slope, width and centre of that band when it wants to adjust the pace of appreciation or depreciation of the Singapore currency.
Friday's decision to tighten policy marks the second time it has done so this year. In April, the central bank slightly increased the slope of the policy band from zero per cent to allow for "modest and gradual" appreciation, – marking its first tightening move in six years.
The tightening comes despite advance official estimates released Friday showing that Singapore's economic growth slowed to 2.6 per cent year-on-year in the third quarter, down from 4.1 per cent in the previous three months. 
MAS said Friday that the economy has "largely evolved as envisaged" in the April policy review and that the level of economic activity is assessed to be slightly above potential.
It also said that global growth has been "relatively resilient", although it did caution that trade friction between some major economies could weigh more discernibly on global economic activity next year.
Singapore's GDP growth should come within the upper half of the 2.5 to 3.5 per cent forecast range this year and moderate slightly in 2019, MAS said.
RISING INFLATIONARY PRESSURES
In the quarters ahead, MAS said, imported inflation is likely to increase on account of higher global oil and food prices.
The central bank expects core inflation to edge up further to around 2 per cent in the months ahead, and come in between 1.5 and 2 per cent for the whole year. Next year, core inflation is expected to average between 1.5 and 2.5 per cent.
Concerns over inflation likely played a key role in MAS' decision to further normalise policy, said Standard Chartered economist Jonathan Koh, who had expected the central bank to stand pat. 
"We thought it would be a no move as we had trade tensions in mind," he said. "But now, MAS appears to take comfort in the steady economic momentum currently and may expect investment sentiment to remain resilient in 2019 amid the threat in further rise in tariffs. They seem to be more concerned about rising inflationary pressures."

But having already tightened twice this year, Mr Koh thinks the MAS will likely opt to stand pat during the next policy review in April next year. 
"The global backdrop is pretty uncertain and we expect Singapore's growth to start slowing slightly in 2019, given that the manufacturing cycle has started to ease off already," he said.
Mr Khoon Goh, head of Asia research for ANZ in Singapore, thinks otherwise.
He said the central bank's latest policy statement "sounded more hawkish", with the recent trade tensions being downplayed.
"This suggests to us that the MAS is not yet done with policy normalisation, and a further increase in the S$NEER slope is likely if the economy evolves as the MAS expects," he added. "Our baseline view is for another tightening in April 2019."
Echoing that, Mr Jeff Ng, chief economist for Asia at Continuum Economics, thinks there is a "strong possibility" of further tightening in 2019, likely in April, on the back of expectations for higher inflation.