IN FOCUS: Singa, Water Wally, Hush-Hush Hannah - the Singaporean obsession with mascots
It seems Singapore has a mascot for everything, from saving water to giving up a seat on the bus. CNA explores why they're loved – and what makes a timeless mascot.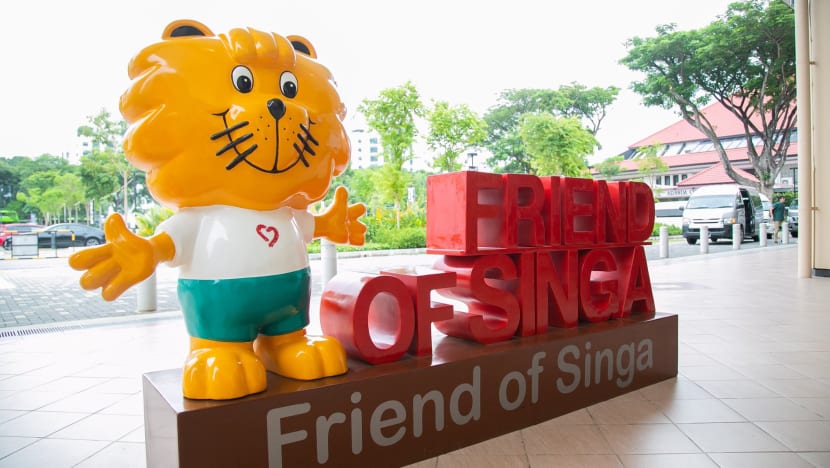 SINGAPORE: Most people learn the value of courtesy from their teachers and parents, but Singaporeans have another iconic figure to thank: An anthropomorphic yellow-orange lion beaming from ear to ear. 
Standing on two legs with its arms wide open, it's often seen wearing a T-shirt and pants.
Otherwise known as Singa the Courtesy Lion, the mascot was first introduced to the general public in 1982 in a national courtesy campaign by the then Ministry of Culture. 
From family planning campaigns in the late 60s to public transport campaigns to reduce congestion in the central business district, Singapore quickly became known as "a campaign nation", Mr Basskaran Nair, who headed the courtesy drive, told CNA. 
"The purpose of these campaigns was to bring together a disparate, rough-and-tumble society and forge them as one people. It was a nation-building policy process."
As head of the press section in the ministry's publicity division at that time, Mr Nair considered three factors in developing a mascot for the courtesy campaign: Distinctiveness, appeal and endurance. 
"The mascot should not generate 'not another campaign' response, as Singapore by the 80s was quite saturated with predictable campaigns. Is there an appeal and will people be happy associating themselves with the message? And will the key messages stay in the minds of people, even after the traditional campaign effort?" he recounted. 
Singa was eventually created by an artist in the ministry, Eileen Wat, after six weeks and more than 100 sketches of "fierce-looking lions and overtly feminine-looking designs", according to the Singapore Graphic Archives' website. 
Forty years later, emblems of Singa on marketing materials for the Singapore Kindness Movement evoke instant recognition as it remains one of Singapore's most loved mascots. 
SINGA HAD "VIRAL VALUE" 
But Singa demonstrated its potential from the start. After the mascot was unveiled in the media, Mr Nair said his team "suddenly found" that the private sector had "hijacked" Singa and companies were using it for their own commercial purposes. 
"Singa mugs, caps and other items were manufactured and sold by tourist shops. And hawkers, construction companies, bus and taxi operators used Singa signage to show customers the need to queue," he said. 
"In short, Singa had viral value – to use present communication jargon – and spread through society. Singa endured because it appealed and was distinctive."
A few months after Singa was introduced, Mr Nair also worked on the national productivity campaign, which saw Teamy the Bee being created by the same team that drew Singa. 
Unlike Singa, however, Teamy "didn't have the same viral communication value of Singa" because it was "controlled" by the department in concern. 
"A lesson learned was that the public must be part of the communication process and engaged in owning the campaign message and objectives. Controlling the messages in an increasingly sophisticated society by the 80s was a recipe for public disinterest in government campaigns," said Mr Nair.
Set against the backdrop of Singapore's "economic growth, migration and many other exogenous factors that could affect national identity", it was "incredible" that the courtesy campaign had such longevity, added Dr Kenneth Yap, a lecturer at Murdoch University in Australia. 
Dr Yap, who holds a PhD in Marketing, co-authored a paper in 2012 that examines how the Singapore Government used "social marketing campaigns espousing courtesy and kindness to mould the young nation's culture". 
"I thought it was quite interesting that they would have a mascot campaign on how to be kind and courteous. At first, before doing research, it seemed a bit odd. I generally don't subscribe to anyone having moral authority over what you can and cannot do. 
"But upon doing more research, (my co-author and I) found it's … not weird. It's unique," he told CNA. 
At the time, there was "a lot more infrastructure" being invested in Singapore, affecting the use of public transport and shared spaces. It "wasn't always certain how people would use those spaces and interact", said Dr Yap. 
"While I think the genesis of this (courtesy campaign) came from trying to encourage tourism through a bit of modernity and civility, overall it was just a reminder to present the best of ourselves to people who visit.
"That extended to civil servants, government servants. And naturally, they then start to tell people we're all also part of this together, so let's be the best that we can to one another." 
Dr Yap was impressed by the campaign partly due to the "persistence of the Government" for being "so systematic in its approach" to build national and cultural identity with niceness, kindness and courtesy.
"When you take a long-term approach, it makes sense to inculcate values," he said.
Since Singa entered Singapore's national consciousness, the country has seen no shortage of mascots as part of public service agencies or campaigns. 
In 2021, a Merlion called August was the mascot for the National Day Parade (NDP). To keep it relevant, August even appeared in a YouTube video where he sat at a desk to a backdrop of lo-fi hip hop beats of previous NDP songs. The video was a riff off of a popular video of instrumental beats set against a still of a girl studying at her desk, which exploded into a music phenomenon enjoyed by millions.
This year too, when Speaker of Parliament Tan Chuan-Jin – who is also the Singapore National Olympic Council president – visited the 2020 Tokyo Olympics, he brought a stuffed toy of Parley (the mascot of Parliament) and featured it on several social media updates. 
But among the older, more enduring mascots that have sealed their place in Singaporeans' hearts and minds, there are Water Wally from PUB and Merli from the Singapore Tourism Board (STB).
And while they're not necessarily mascots, the Thoughtful Bunch (Bag-Down Benny, Give-Way Glenda, Move-In Martin, Stand-Up Stacey and Hush-Hush Hannah) by the Land Transport Authority (LTA) would be hard to miss by anyone riding the MRT.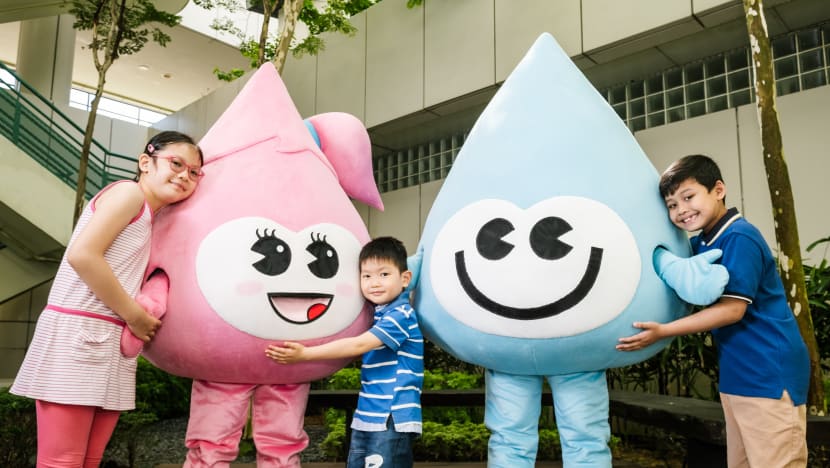 WATER WALLY, MERLI, HUSH-HUSH HANNAH AND GANG
Over at PUB, Singapore's national water agency, a blue water droplet with arms and legs has been teaching children and adults the importance of water conservation since 2005. 
Water Wally is the agency's official "mascot on a mission", and it has become a "well-loved local icon", said director of the 3P Network Department, Mrs Cindy Keng. 
In 2020, Water Sally was introduced as Water Wally's younger sister to a "largely positive" public response. 
A pink water droplet, Water Sally's introduction was part of PUB's efforts to educate younger Singaporeans on how precious water is, in "new and exciting ways across different mediums amid a changed global landscape", added Mrs Keng. 
"With topics such as climate change and water sustainability garnering more awareness across the world, … PUB must keep up with the times and changing attitudes of the new generation and find new ways to … reach out to different segments of the population, in particular the younger generation."
Likewise at STB, Merli was conceptualised based on market research that consumers, especially families with young children, have a "great affinity for mascot characters", said its brand director, Ms Choo Huei Miin. 
"People, especially children, are visual learners, and we remember icons and mascots easily. We believe that a young Merlion character is not only eye-catching, but also builds an emotional connection with families and young children."
After successful trials of various Merlion mascots in some key markets in 2017, STB decided to "create a unified look". It then invited design proposals in an open tender, calling for the mascot designs to be "visually appealing, likeable and embodying the Passion made Possible brand values such as being resourceful, optimistic and down-to-earth", added Ms Choo. 
The final look is a "heartwarming and whimsical take on the Merlion" that personifies "Singapore's most recognisable tourism icon": Merli's favourite food is kaya toast, and he's quite the adventurer, often embarking on adventures around the country and making new friends wherever he goes.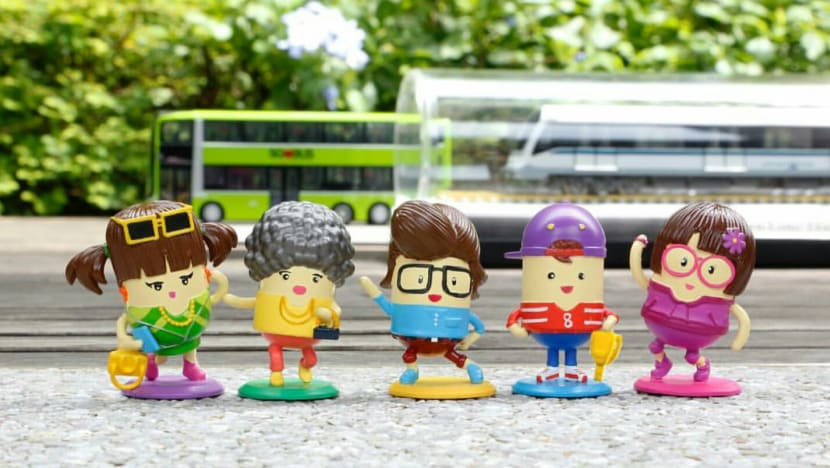 When the Thoughtful Bunch was launched in 2014, LTA recognised that many commuters "get caught up in what we're doing during our daily commutes, whether it's day-dreaming, watching TV dramas on our phone or listening to music", said Ms Agnes Lim, the director of marketing communications at LTA. 
Its aim was to "nudge commuters positively" to spread graciousness, so journeys could be more pleasant amid the daily rush.
"We introduced Stand-Up Stacey who encourages giving up seats to those who need it more; Move-In Martin who promotes moving in to make space for other commuters; and Give-Way Glenda who encourages giving way to alighting passengers," said Ms Lim.
"(These characters) are just like the everyday commuter, trying to do the right thing to make the travel experience on public transport more pleasant."
In fact, having the Thoughtful Bunch breaks the "formal aspect of usual signage and posters, and pumps new energy into the campaign," said a member of train enthusiast group SGTrains, who only wanted to be known as Zhi Hao. 
"Before introducing (the Thoughtful Bunch), reserved seat signs that promote gracious behaviour tended to be plain-looking and filled with pictograms, looking similar to other signs or posters. Hence they were unable to capture commuters' attention truly, nor were they able to create a strong impact or influence on commuters to be more gracious, even though the messages were simple."
Today, the "reserved seat'' sticker on trains has been replaced by a Stand-Up Stacey sticker, said Zhi Hao. 
And if the likes of Hush-Hush Hannah and gang appear "tacky, childish and a little cringy", it is precisely these traits that capture commuters' attention, he added. 
RESONANCE, FLEXIBILITY ACROSS PLATFORMS 
But what exactly makes Singa, Water Wally, Merli and the Thoughtful Bunch successful – and other mascots less so?
A lack of "cognitive friction", for starters, said Dr Yap. 
"You want the mascot to be fairly coherent, easy on the eye. That means it sits very well with things you're familiar with. So that it isn't jarring, and there's no incongruence, where people are forced to stop and say it doesn't make sense."
To create this sense of familiarity, it's good if mascots are anthropomorphic (i.e. having human characteristics), so it'd be "very easy for us to see ourselves and our human attributes in things that may not look very human", he added. 
"That's one of the reasons why mascots, even though they are animals, are very rarely on all fours. All mascots are standing up despite having four legs. We want it to look and sound human." 
In terms of branding, a well-received mascot should "instantly connect to the type of work the brand is doing, or the product or the brand's mission," added editor-in-chief at Marketing Interactive, Ms Rezwana Manjur. 
"So there has to be a form of resonance and in today's modern world, the mascot has to be memorable."
She added that mascots should be "flexible enough to adapt across mediums", and they should be able to "display an emotion to form the core task of resonance and connection". 
"(A mascot's purpose is) definitely corporate identity or brand recognition. They help to really humanise the brand and create brand identity at the end of the day."
Ms Manjur added that successful mascots should "go beyond one campaign". While "most of us instantly think of Singa" when we think of successful mascots, she thinks Water Wally and Merli have also done "a decent job". 
"Water Wally has done a good job at instantly linking it back to the organisation. It also tells you the message without having to shout it in your face. I don't think children would be listening as closely or as intently to tear-jerking campaigns or anything like that. But when they see the mascot, they remember what was told to them," she said.
Introducing Water Sally was also "interesting" as it "transcended into the Instagram platform", she added. 
It showed that it wasn't just children PUB was targeting, but also adults, who may now be young parents, reflecting on the same values of water conservation taught to them as a child.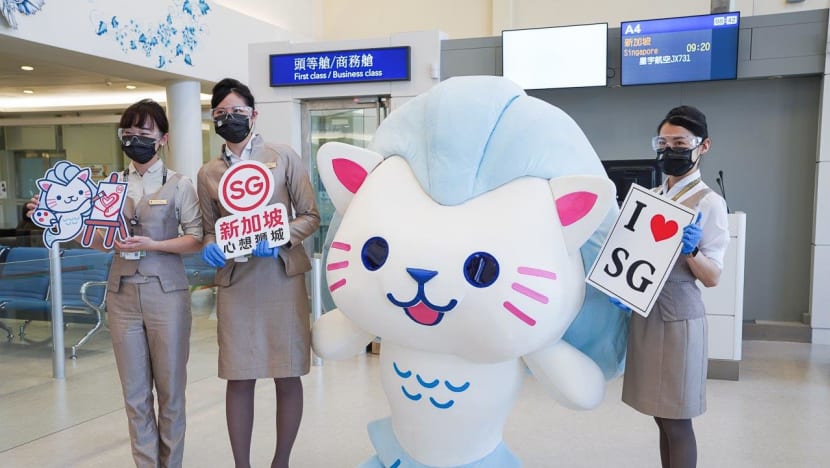 At the public service agencies CNA spoke to, coming up with mascots requires long-term, cross-platform planning. 
"A successful campaign goes beyond creating a new mascot. It must also be packaged with a carefully curated line-up of programmes and initiatives that will appeal to our target audiences," said PUB's Mrs Keng. 
With Water Wally and Sally, PUB partnered the South Korean educational entertainment company Pinkfong to release a dance-along music video called "Turn off the Tap!" In the video, Water Wally and Sally imparted water-saving tips to Pinkfong and other characters from the Baby Shark family.
PUB also collaborated with local author Adeline Foo to develop a storybook series titled The Adventures of Water Wally & Sally.
"The power of storytelling and music are harnessed so that the messages are conveyed with further nuance and depth," added Mrs Keng. 
Where tourism is concerned, mascots also have "longevity from a branding perspective", and enable STB to tell Singapore's story beyond our shores, said Ms Choo. 
"When executed well, mascots are a powerful marketing tool. They put a face to a campaign, and add personality to brands, making them more relatable. A well-designed mascot goes a long way in branding when applied appropriately on websites, social media campaigns, live events," she added. 
"Mascots are also more accessible and likeable, bringing out human attributes such as empathy, curiosity, joy and humour, while conveying messages in an effective and authentic way." 
Since his debut, Merli has starred in other tourism projects, such as appearing next to Korea's mascot Hojong as part of a cartoon series marking STB's new partnership with Korea Tourism Organisation in November 2021. 
And there is no lack of engagement approaches across different mediums for LTA's Thoughtful Bunch, including meet-and-greet sessions at MRT stations pre-pandemic, contests, events and collaborations with their partners. 
"We collaborated with local brands like Yakun and PeelFresh to have the characters on coffee cups and juice packs to bring their messages into everyday life for our adult commuters. And for those who are more tech-savvy, we introduced WhatsApp stickers and Instagram filters," said Ms Lim. 
Fans of the Thoughtful Bunch can also buy merchandise that's developed and sold under local brand Knackstop, which houses a collection of creative and practical merchandise inspired by the daily experience on buses and trains in Singapore. 
But while mascots have traditionally been used for long-term branding, Marketing Interactive's Ms Manjur added that many global companies are moving away from using mascots as they don't want the mascot to be more recognised than the brand. 
As a result, they may turn towards short-term use of mascots to drive excitement. 
"Well-known mascots do make a splash in campaigns for brands once in a while for nostalgia, and can add a feel-good factor for short bursts of campaigns of four to eight weeks long," she said. 
"The International Olympic Committee mascots, for example, appear during the Games' season and add excitement, but aren't in consumers' faces all the time."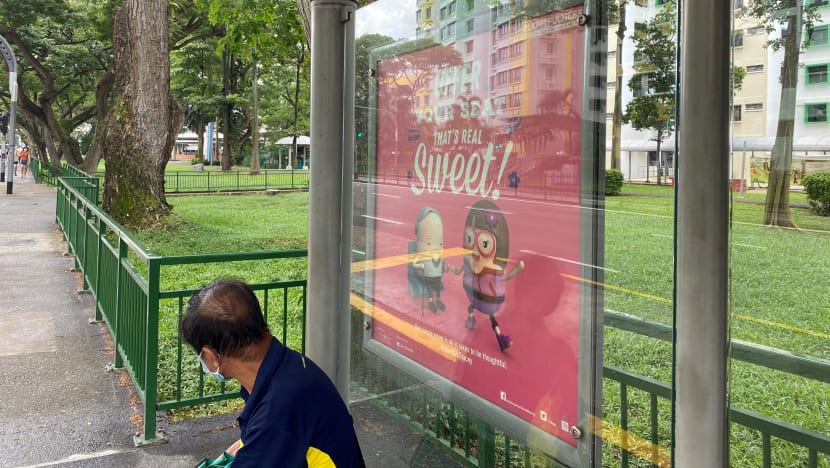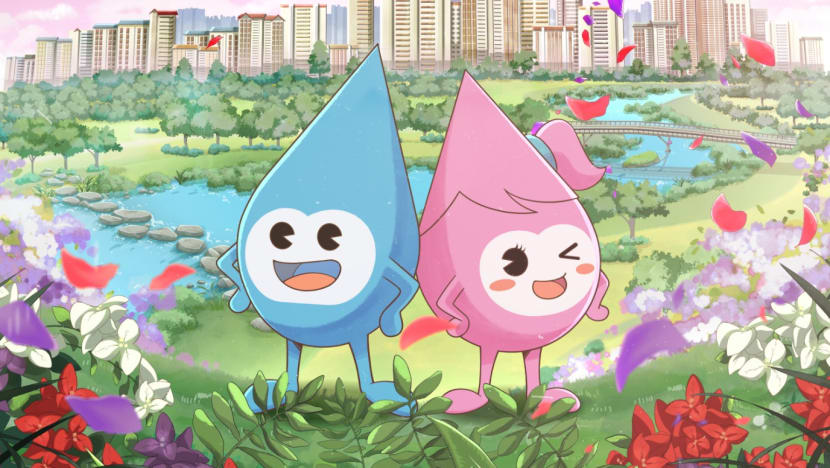 ARE MASCOTS STILL RELEVANT?  
If the key audience is children, then mascots work, said experts. 
Such mascots attached to public service campaigns also "remind you of certain values without having to preach", which is beneficial for children, added Ms Manjur.
"They deliver the message in a more digestible and relatable manner. Rather than a plain message to kids to tell them to save water or move to the back of the bus, I think it's an adorable way of telling them something without having to shout in their face about it, And they might be entertained enough to remember the message as well."
However, even though few people would object to the goals of courtesy and kindness campaigns, and Singapore "has proven to be the perfect laboratory for social marketing campaigns", there may be a "darker" side to mascot-led Government campaigns, noted Dr Yap.
His paper on state marketing in Singapore cited a focus group conducted by Survey Research Singapore in 1985 in which one participant felt "shame" about the number of campaigns and that Singaporeans needed to be told how to behave. 
Moreover, with Singapore's "rapid progress", it's not just Singa or the use of a mascot that people may start to question, but the actual campaign itself, said Dr Yap. 
"That's where there's an underlying tension. Because people have a long-range plan but up to maybe 10 years ago, the message started to fade and didn't resonate as much."
This may be exacerbated by new citizens coming into Singapore who might not have grown up with the "same national characteristics or culture", and hence wouldn't resonate as well with iconic mascots, he added.
"People might ask: 'Is the campaign working?' If you start asking those kinds of questions, that's where people start to panic.
"People may then start saying, maybe we got to fix this, maybe we're not spending enough, and ultimately, some people will think it's the mascot's fault, or maybe because society is just so mature now that mascots are condescending." 
And if Singapore begins to see mascots as "an afterthought", then it might become "quite alien, because it's almost like it's imported, force-fitted or retrofitted", added Dr Yap.
"It actually makes you appreciate Singa a lot more. I hope it never goes away."