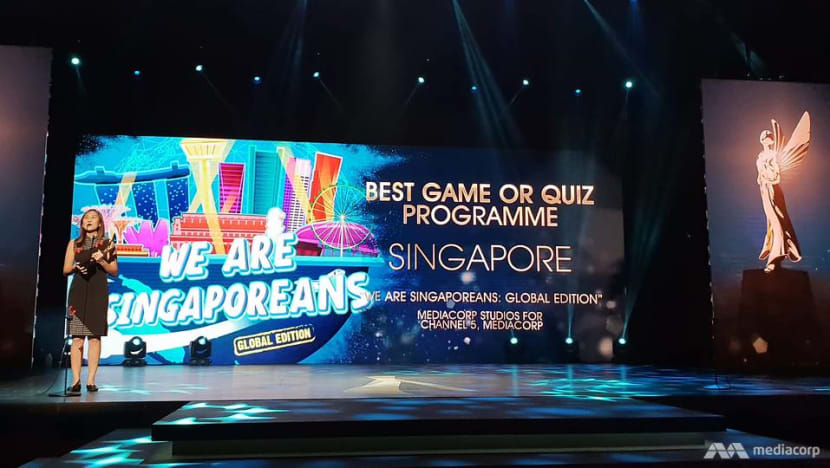 SINGAPORE: Mediacorp won five awards at the inaugural Asian Academy Creative Awards held over Thursday (Dec 6) and Friday.
These included awards for Best Original Screenplay, Best Comedy Peformance and Best Game or Quiz Programme, Best Direction (Non-fiction) and Best Entertainment (one-off/annual).
Mr Douglas Lan won Best Direction (Non-fiction) for the two-part special National Service - The Beginning, produced by Infocus Asia and shown on Channel NewsAsia.
Trivia game show We are Singaporeans: Global Edition, which was produced by Mediacorp Studios and shown on Channel 5, won the Best Game or Quiz Programme accolade.
Best Original Screenplay was awarded to M Raihan Halim for SR115, produced by Papahan Films and shown on Suria.
Meanwhile, Jeremy Chan won the Best Comedy Performance award for his role in the Toggle show My Agent is a Hero, produced by Oak 3.
In addition, One: Unstoppable Dreams, which showed three ONE Championship world title bouts in a single event, won the Best Entertainment (one-off/annual) award. It was produced by ONE Championship and shown on okto Sports.
"It's a real honour to be recognised for our excellence across genres, languages and programming, production and performance skillsets, at the inaugural Asian Academy Creative Awards," said Mediacorp chief customer officer Irene Lim.
"I want to thank everyone who has played a part in our success – colleagues in Mediacorp, independent production houses, freelancers, IMDA and those we work with across the creative ecosystem," Ms Lim said.
"These awards encourage us to continue delivering engaging, high-quality programmes that push the boundaries and inspire our audiences," she added.
A key event at the Singapore Media Festival 2018, the inaugural Asian Academy Creative Awards saw 47 awards handed out, celebrating works from Australia, Bangladesh, Brunei, Cambodia, China, Hong Kong, India, Indonesia, Japan, Laos, Malaysia, Myanmar, New Zealand, Philippines, Singapore, South Korea, Sri Lanka, Taiwan, Thailand and Vietnam.
Prior to the final round of competition, a national round was conducted in each country where judges selected the best local programmes and performances across 47 categories. 
For the national round in Singapore, Mediacorp claimed 29 of the 47 categories. The programmes were aired on Mediacorp free-to-air channels Channel NewsAsia, okto, Channel 5, Vasantham, Suria, Channel U and digital entertainment destination Toggle.
The winning entries for the national round went on to compete against the other national winners in the final round of competition.
After all awards were announced, Singapore and India tied as the most awarded countries with nine trophies each.