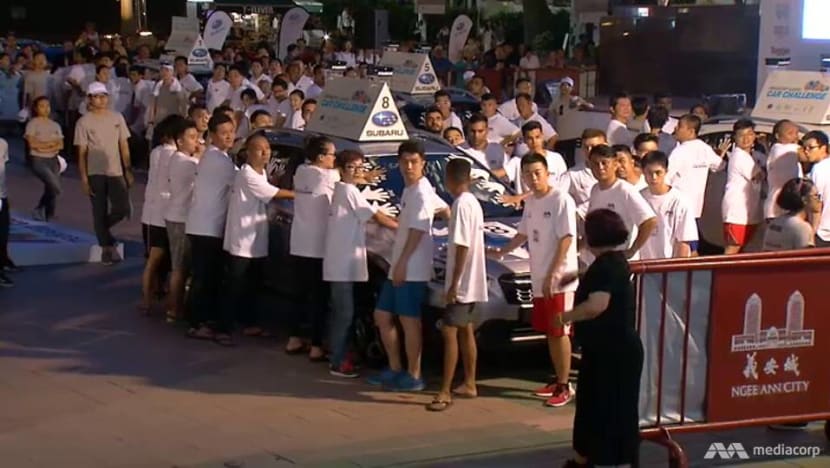 SINGAPORE: The 17th edition of the Mediacorp Subaru Car Challenge kicked off at Ngee Ann Civic Plaza on Saturday (Oct 27) with hundreds of participants hoping to get their hands on a brand new Subaru car.
Almost 400 people signed up for the test of endurance, which started at 1pm, but hot and humid weather resulted in more than a hundred participants dropping out, leaving 221 contestants remaining as of 10pm. Last year's winner lasted 74 hours.
Among those who have persevered was Mr Desmond Ho, a 13-time veteran of the challenge. Mr Ho, who had his best finish at seventh place a few years ago, said he was encouraged by his friends and their families to take up the challenge.
I would love to push myself," he said, adding that his strategy for success this year is to do things in reverse. "Whatever I need to do in the day, I do in the night. Whatever I need to do in the night, I do in the day."
The winner of the Mediacorp Subaru Car Challenge can drive away with a Subaru XV 2.0i-S worth more than S$70,000.
If the winner beats the current record time of 82 hours and 16 minutes, which was set in 2014, he or she will also receive the car's Certificate of Entitlement (COE). To beat that record, this year's participant will need to last past 11pm on Tuesday.
In addition to the grand prize, there is also the Team Challenge where groups of up to five with the highest cumulative time can win S$1,000.
Alongside the main event, there is also the Mediacorp Charity Challenge where Mediacorp celebrities will attempt to surpass each other's times to raise funds for beneficiaries of the President's Star Challenge.
Saturday saw Bryan Wong, Desmond Ng and Felicia Chin participating in the event, while Chen Han Wei, Pan Ling Ling and Ya Hui will try to outlast each other on Oct 28.