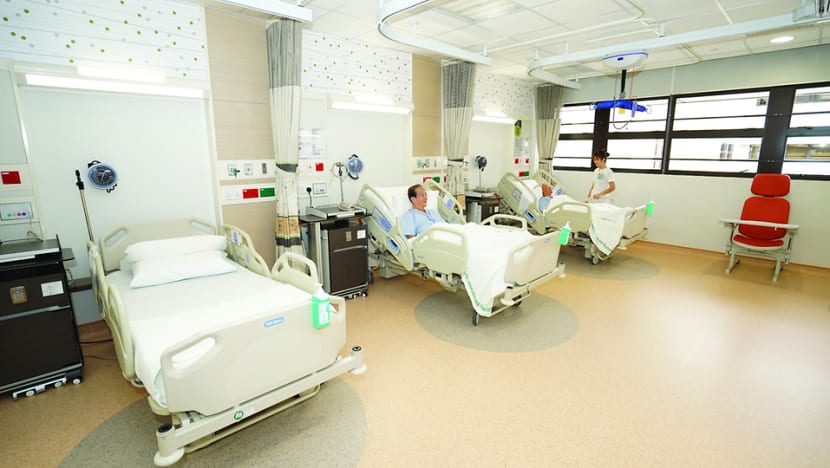 SINGAPORE: MediShield Life coverage has been extended in three areas to better protect Singaporeans against large medical bills, said the Ministry of Health (MOH) in a press release on Wednesday (Nov 7).

Patients who are directly admitted to community hospitals from the emergency departments of public hospitals can now claim up to S$350 a day from MediShield Life - the basic health insurance plan for Singaporeans and permanent residents. 
Previously, MediShield Life covered community hospital stays only for patients transferred from an acute hospital.
Patients with conditions such as urinary tract infections, non-surgical wound care requiring inpatient medical care, or inpatient rehabilitation to improve their ability to perform daily activities will be able to benefit from this addition, which has been in effect since Jul 15, said MOH.

Coverage has also been extended to patients who require long-term parenteral nutrition. These are patients who need to feed intravenously, bypassing the digestive system.
Those who meet the clinical criteria for such care for 90 days or longer will be able to claim up to S$1,700 per month from MediShield Life and withdraw up to S$200 per month from MediSave for parenteral nutrition bags and consumables. This has been in effect since Nov 1, said MOH.
MediShield Life now also covers surgical interventions for two rare congenital conditions - Trisomy 18, also known as Edwards Syndrome, and Alobar Holoprosencephaly, which is caused by the abnormal development of the foetus' forebrain. This has also been in effect since Nov 1.

"Surgical interventions for these conditions were previously excluded from MediShield Life coverage as treatment was not effective," said MOH.
"More recent international studies have shown that surgical interventions can now improve the quality of life and survival of patients."

No premium adjustments have been made, but a review of premiums will be conducted by end-2020. It will take into account actual claims experience and healthcare cost inflation as well as possible future enhancements.

"MOH will continue to review MediShield Life regularly to ensure that it provides protection for Singaporeans against large hospitalisation bills and selected costly outpatient treatments, in keeping with developments in medical care," said MOH.
"Any patient who cannot afford their bills after subsidies, MediShield Life and MediSave, can apply for MediFund. No Singaporean will be denied appropriate healthcare due to the inability to pay."