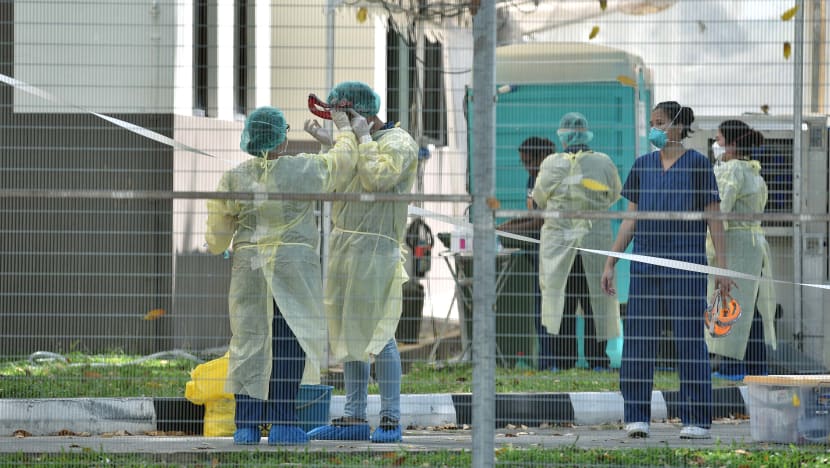 SINGAPORE: Singapore reported 932 new COVID-19 cases as of noon on Friday (May 1), bringing the national tally to 17,101.
The vast majority of the new cases are work permit holders residing in foreign worker dormitories, the Ministry of Health (MOH) said in its daily update of preliminary figures.
In a later update, the ministry confirmed one more death due to COVID-19, taking the total fatalities to 16. Seven new clusters were reported, including one at Tuas South Incineration Plant at 98 Tuas South Avenue 3.

The 60-year-old Singaporean man, identified as Case 2728, was confirmed to be infected on Apr 13 and had a history of high blood pressure and high cholesterol. 
There were a total of 905 new cases involving foreign workers residing in dormitories.

"We continue to pick up many more cases among work permit holders residing in dormitories, including in factory-converted dormitories, because of extensive testing in these premises," said MOH.
Sixteen more cases are work permit holders residing outside dormitories, while six are work pass holders.
Five cases are Singaporeans or permanent residents.

The number of new cases in the community has decreased, from an average of 25 cases per day in the week before, to an average of 12 per day in the past week, according to MOH.
The number of unlinked cases in the community has also decreased, from an average of 16 cases per day in the week before, to an average of six per day in the past week.
No new imported cases were reported.
MORE CASES FROM PUBLIC HEALTHCARE SECTOR
Among Friday's new cases are two Malaysians, aged 28 and 24, who work as housekeepers at the National University Hospital (NUH). Both have no recent travel history to affected countries or regions, said MOH.

The two men were both confirmed to have COVID-19 on Apr 28.
The 28-year-old (Case 15259) is currently warded at NUH. He had gone to work before being admitted to hospital, said MOH.
The 24-year-old (Case 15700) is warded at Singapore General Hospital. He had not gone to work since the onset of his symptoms, said the ministry.
Twenty-four more people have been discharged from hospitals and community isolation facilities. In all, 1,268 people have fully recovered from COVID-19.
There are currently 1,764 cases still in hospital.
Of these, most are stable or improving. Twenty-three cases are in critical condition in the intensive care unit. Another 14,053 cases who are clinically well but still test positive for COVID-19, or who have mild symptoms, are isolated and cared for at community facilities.

NEW CLUSTERS IDENTIFIED
Seven new clusters were identified on Friday.
In addition to the Tuas South Incineration Plant, the other new clusters are: Joo Koon Lodge, 19 Kian Teck Road, 12 Tuas Place, 15 Tuas View Square, 20 Sungei Kadut Avenue and 148 Woodlands Industrial Park E5.
The cluster at Singpost Centre has been closed, as there have been no new cases in the last 28 days.
The links between the previously announced cases and new ones can be found here.

Singapore's economy will open up "step by step" when the number of COVID-19 cases in the community falls, Prime Minister Lee Hsien Loong said on Thursday in his May Day message.
Singapore is into its fourth week of a "circuit breaker" period to curb the spread of the novel coronavirus. Safe distancing measures have been tightened and the circuit breaker extended by another four weeks to Jun 1.
Most work places and schools have closed and people have shifted to working and learning from home during this time. They are not to leave their homes except for essential activities such as buying food and groceries.
Download our app or subscribe to our Telegram channel for the latest updates on the coronavirus outbreak: https://cna.asia/telegram