Enhancements made to Employment Act will see more workers protected
The new changes will cover an extra 430,000 workers in managerial and executive positions previously not covered under the Employment Act.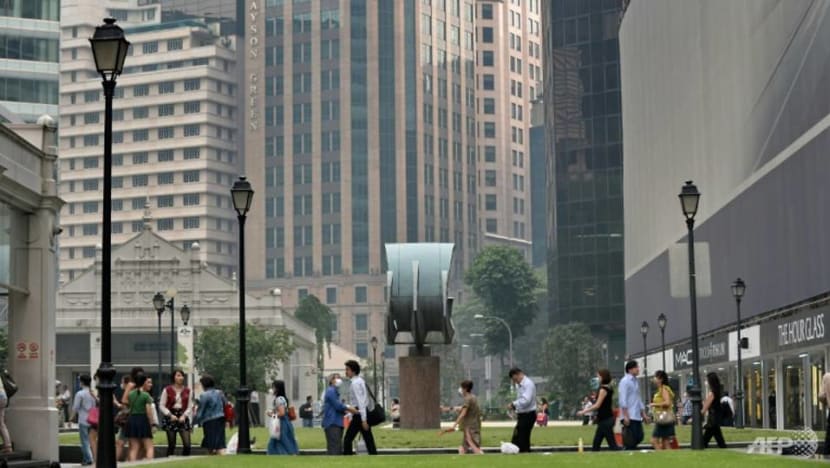 SINGAPORE: A Bill to extend Singapore's main employment law to more workers, especially those in managerial and executive positions, was passed in Parliament on Tuesday (Nov 20).
One of the four key changes will result in core entitlements and protection being extended to 430,000 more managers and executives. Previously, managers and executives earning more than S$4,500 a month were excluded from the coverage of the Employment Act (EA).

The inclusion will see their entitlement to and protection of minimum days of annual leave, paid public holidays and sick leave, timely payment of salary as well as statutory protection against wrongful dismissal, among other core provisions.

Manpower Minister Josephine Teo said that the review of the Employment Act is "timely" as the proportion of Professionals, Managers, Executives and Technicians (PMETs) in the local workforce is expected to rise from 56 per cent today to about two-thirds by 2030.
"Since it was last reviewed in 2012, the profile of our labour force and local employment practices have continued to evolve," Mrs Teo said.
With the change, almost all of the working population will come under the protection of the EA. It, however, excludes public servants, domestic workers and seafarers as they are covered separately under other laws due to the nature of their work.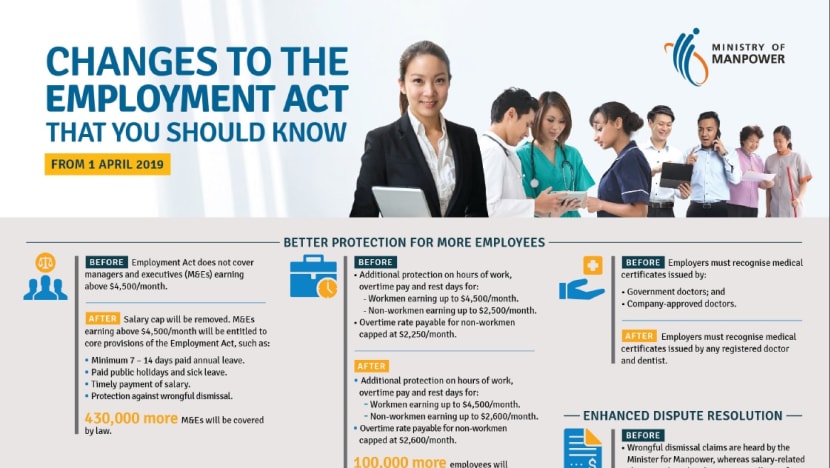 Member of Parliament (MP) Patrick Tay and Nominated MP Walter Theseira were among the 17 MPs who spoke on the amendment.
Both MPs welcomed the expansion and lauded it as a "radical" change that will help address cases faced by aggrieved professionals, managers and executives (PMEs) earning more than S$4,500.

"Having a salary cap meant that there was a deliberate delineation of workers covered under the Act and those who were not. Some rogue employers tried to 'game' the Act by making use of the salary cap to exclude workers from the Act," Mr Tay said.
Dr Theseira said that the vast majority of managers and executives today are in a similar position to the rank-and-file in the past.
"They cannot afford to use contract law to settle employment disputes and do not have power to bargain over employment contract terms. They should be protected by the Employment Act, just as the rank-and-file already are, Dr Theseira said.
PROTECTION OF HOURS OF WORK, OVERTIME PAY, REST DAYS
Among other EA amendments, rank-and-file workers such as clerks and receptionists and those performing labour work will be given additional protection on hours of work, overtime pay and rest days.
This provision, called Part IV, has been revised upwards to cover rank-and-file workers earning up to S$2,600 a month from S$2,500 a month. This will cover 100,000 more workers.
The overtime rate payable for rank-and-file workers will be revised upwards from S$2,250 a month to S$2,600 a month.
DISPUTE RESOLUTION AVAILABLE AT 'ONE-STOP' TRIBUNAL
Another key amendment includes simplifying the dispute resolution process.
Wrongful dismissal claims will be heard at the Employment Claims Tribunals (ECT) instead of at the Ministry of Manpower (MOM). The change was made to appoint the ECT as a one-stop service as it already hears salary-related disputes.
On this, MPs Louis Ng and Intan Azura Mokhtar said that there is a need to make clear the interpretation of dismissals.
Both MPs cited examples of employers who took issue with pregnant workers and mothers and dismissed them on murky and unfair grounds.
"I recall an incident where a resident was aggrieved that her former employer managed to persuade her to tender her resignation through veiled threats and manipulation," Dr Intan said.
"Without clear definition, the protection against unfair dismissal may be ineffective because instances of unfair dismissals are often not clear-cut and can be easily disguised," Mr Ng said.
With the transfer, Mrs Teo said that the MOM will publish a set of guidelines to guide the process of adjudicating wrongful dismissal claims
Mrs Teo added it "would not be possible" to define all scenarios of wrongful dismissals. The guidelines will take a "more feasible approach" to use illustrations and set out principles and parameters that the ECT must refer to when adjudicating cases.
Additionally, the service qualifying period for managers and executives for wrongful dismissal protection will be reduced from 12 months to 6 months.
Non-constituency MP Dennis Tan asked how the six months was decided.
Mrs Teo said that the duration was derived after tripartite discussions. She added that employers have agreed on the six-month criteria on the basis that it would be sufficient for them to assess a manager and executive's suitability for the job.
SALARY DEDUCTIONS, PROTECTION FOR OTHERS
The last of the key changes to the EA is directed at enhancing flexibility for employers. The option to give time-off for employees who work on public holidays will be extended to workmen doing manual labour earning more than S$4,500 a month and rank-and-file workers earning more than S$2,600 a month.
They will continue to retain the current options of compensation in the form of an extra day's salary or a full day off.
The EA has also been amended to make salary deductions more flexible while still protecting workers' interests.
Previously, the EA limited the types of salary deductions that employers can make such as absence from work or damaging or losing goods entrusted to the employee.
"Such controls protect the employee's interests, but can also inconvenience them. For example, some companies provide voluntary group hospital and surgical insurance for their employees if the employees agree to co-pay the premiums," Mrs Teo said.
"The EA does not allow such deductions even when the employee agrees. So employees have to separately reimburse the employer," she added.
After the amendment, salary deductions will be allowed if they fulfil two conditions. Firstly, the employee must provide written consent and secondly, the employer must enable the employee to withdraw his consent at any time, without penalty.
For example, employers may negotiate group insurance plans for voluntary purchase by their employees. Employees who choose to purchase such plans may authorise their employers to deduct the premiums from their salaries.
MPs Denise Phua and Zainal Sapari called attention to the lack of coverage for those who are self-employed as well as vulnerable and at-risk workers such as low-skilled elderly and those with mild to severe disabilities.
In response, Mrs Teo said that self-employed persons do not have the same relationship with service buyers as that between employees and employers hence the Employment Act would not apply.
However, she added that MOM has put forth recommendations to address challenges faced by self-employed persons earlier this year.
The amendments to the EA will commence on Apr 1 next year.
50 YEARS OF EMPLOYMENT ACT
With all the changes, Mrs Teo said the EA has "come a long way" since it was enacted in 1968 by then-Minister for Foreign Affairs and Labour S. Rajaratnam.
"Back then, managers and executives (M&Es) were a very small part of our workforce. There was little need to cover them under the EA," she said, noting that it was more than 40 years later in 2009 that coverage extended to some M&Es.
Over the years, Mrs Teo said the Government has also improved employment protection and benefits over the years.
For example, childcare leave and enhanced maternity leave was introduced in 2004, before provisions on compensation for work on public holidays and paid sick leave were extended to all employees under the EA five years later.
And in 2016, the Government introduced itemised pay slips and written key employment terms.
"Each amendment of the EA is a result of careful consideration by the tripartite partners to meet the interests of both employers and employees," Mrs Teo said. "As we mark the 50th anniversary of the EA this year, we should acknowledge the tripartite collaboration that has kept our EA relevant and well-calibrated."
Mr Tay called the act "an embodiment of the delicate balancing of tripartite concerns" to maximise labour force participation while protecting workers' rights and balancing them against employers' need to stay competitive and create good jobs.
"To ensure its relevance, this balancing act also has to take into account the changing demographics of our workforce and the disruptive forces impacting work and our economy," he said.