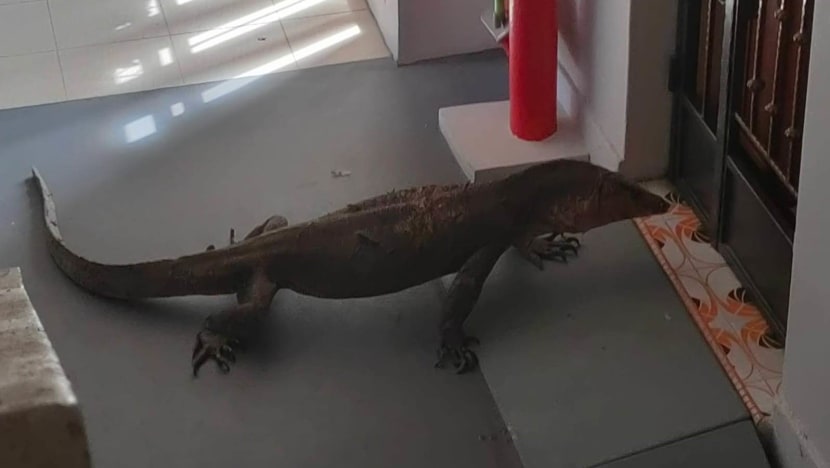 SINGAPORE: Some residents of a Housing Board block in Bedok North Road were shocked to see a monitor lizard wandering around their neighbourhood on Wednesday (May 24).
Photos showed the reptile at the doorstep of a flat. It was also seen at the stairwell.
"It was pretty scary," resident Jiten Khemlani told CNA, adding that his neighbour screamed when she saw the monitor lizard outside her second-floor flat. 
Mr Jiten estimates that the creature was about 1.5m long, describing it as looking like a "blend between a monitor lizard and an alligator". 
"My mum was pretty excited when she saw it," he added.
The 34-year-old said he called the National Parks Board (NParks) at about noon, concerned that the monitor lizard could be dangerous. 
He added that the lizard moved "quite fast" when it climbed up the stairs to the third floor where he lives.
In response to CNA's queries, NParks said that it was alerted to a sighting of a monitor lizard at Block 428 Bedok North Road on Wednesday morning.
The Malayan Water Monitor lizard was removed by East Coast Town Council and handed over to NParks. It will be released back into its natural habitat, said Dr Adrian Loo, NParks' group director of wildlife management and outreach.
He added that the Malayan Water Monitor lizard is the most commonly seen monitor lizard in Singapore and can be found in some parks, forests, mangrove swamps, and man-made canals.
Another resident, Mr Haikel Firdaus, took a video of the monitor lizard at the stairwell.
"I'm just shocked to see it right in front of my doorstep. First time seeing such an animal wandering in this neighbourhood," he said. 
Mr Jiten said he has seen monitor lizards around Bedok Reservoir, which is not far from his home at Block 428. But this is the first time he has seen the reptile at the block.
MONITOR LIZARDS IN SINGAPORE
According to the NParks website, three species of monitor lizards can be found in Singapore. 
Monitor lizards are mostly carnivorous. They feed on a huge variety of food types such as insects, crabs, snakes and fish.
"Monitor lizards play an important role in our ecology as they feed on a wide variety of food types including insects, crabs, snakes, and fish," said Dr Loo.
"They also play an important role as scavengers in biomass breakdown and nutrient recycling."
In Singapore, it is illegal to remove wild animals, including monitor lizards, from the wild.
Members of the public who encounter a monitor lizard are advised not to touch, chase or corner it as the creature may attack in self-defence.
People should "observe it from a distance and leave it alone, especially if it is in its natural habitat", Dr Loo said.
Monitor lizards are shy and will usually try to avoid humans. They are also generally not aggressive and will not attack unless they are disturbed or provoked, he added.
"Seek medical attention immediately if (in a rare event) you are bitten. Although monitor lizards do secrete venom, it is not fatal to humans. The main cause for concern would be a bacterial infection from the bite," said NParks.