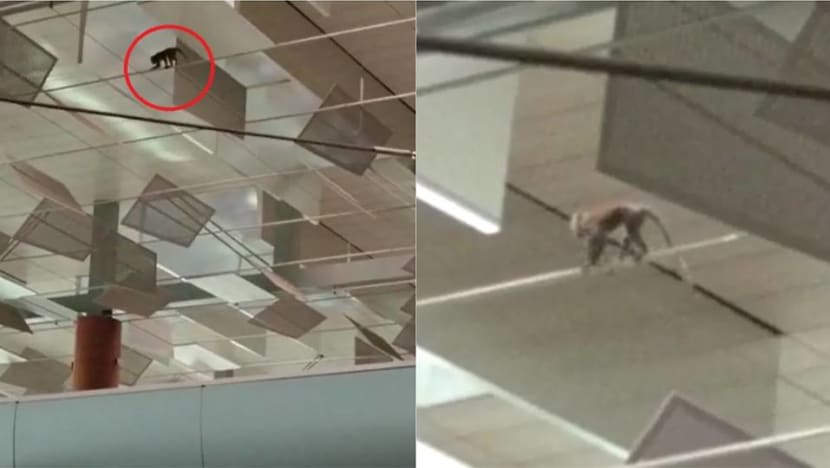 SINGAPORE: Changi Airport received an unusual traveller on Monday morning (Oct 29) - a monkey was spotted roaming around the airport's Terminal 3 departure check-in hall.
It was eventually captured with the help of the Animal Concerns Research and Education Society (ACRES), said Changi Airport Group in response to Channel NewsAsia's queries. 

"A monkey was sighted this morning at Changi Airport's T3 Departure Check-in Hall," said the airport operator. "Changi Airport Group sought the assistance of the Animal Concerns Research and Education Society (ACRES), who managed to capture the monkey safely."
"There was no disruption to airport operations during the incident."
Video circulating on WhatsApp showed a monkey clambering along a pole among the check-in hall's ceiling panels.
"Oh my goodness. How did the monkey come here?" A woman can be heard asking in the video.

In an email to Channel NewsAsia, the Agri-Food & Veterinary Authority (AVA) said it received feedback on a lone monkey at Changi Airport Terminal 3.
AVA added that it worked with ACRES to capture the monkey and that it is currently in the latter's care.
ENCOUNTERING MONKEYS
The authority also advised on what members of the public can do when they encounter monkeys.
For instance, it warned against feeding them as "this alters their natural behaviour and causes them to become reliant on humans for food". 
"The public can make their premises less attractive to monkeys by keeping food items out of sight and practising good refuse management," added AVA. 
Examples include the double knotting of garbage bags and disposing garbage in bins with secured lids. 
If monkeys approach any members of the public, AVA gave the following advice: 
Stop whatever you are doing immediately.
Remain calm and quiet. Do not make sudden movements and do not maintain direct eye contact with the monkeys.

Look away and back off slowly. Do not turn away from the monkeys and run.

If you are holding an object which is attracting the monkeys, conceal or discard it.


Do not try to hit the monkeys.


If you have a child with you, put him/her on your shoulders. This will increase your perceived size, which could deter the monkeys from approaching you and your child.


Keep away from the area until the monkeys have left.