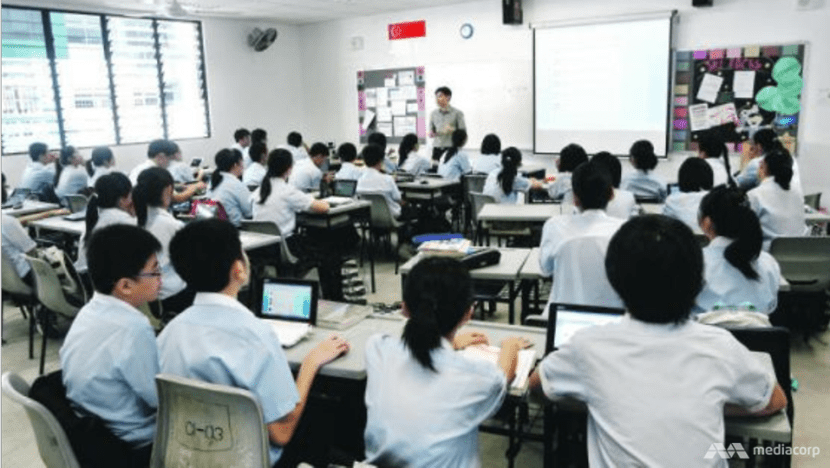 SINGAPORE: The Education Ministry's streamlining of the application process for the Direct School Admission (DSA) exercise would help those who come from less affluent family backgrounds, those Channel NewsAsia spoke to said.
On Thursday (Nov 8), MOE announced that from 2019, students will be able to use a centralised online portal to apply to secondary schools via the DSA scheme. While students previously had to apply at each of the schools they were interested in, they will now only need to submit a single application online. Nor will they need to fork out any application or test fees.

Second Minister for Education Indranee Rajah, who announced the change, had noted that the portal would benefit those from less advantaged backgrounds, as they may not be as well-informed of the choices and opportunities available to them, as compared to those from more affluent families.

Sociologist Tan Ern Ser pointed out that the new portal would be more user-friendly and applications will require fewer resources from parents and students.
"This means parents do not have to run around to different schools with different deadlines, a process which involves time and transport costs, and perhaps opportunity costs," he said. "This is helpful to those from a lower socioeconomic status."

A MORE INCLUSIVE SCHEME
The new portal comes on the back of recent changes implemented to the DSA scheme, including the expansion of the scheme to 20 per cent of a secondary school's non-Integrated Programme Secondary 1 intake.
Ms Indranee had also said that the DSA selection processes have been refined to help schools identify the potential in students even if they may not have had the opportunity to demonstrate their talent yet.
"For example, schools will look out more for potential ability - such as a sense of rhythm, an eye for aesthetics, or the ability to sing in tune - and place less emphasis on whether the child has gone for many competitions or won awards locally or overseas," she said.

Dr Tan said the revamped DSA is meant to plug gaps that previously disadvantaged those of a lower socioeconomic status. The scheme is now more inclusive, he said.
"The new scheme is more inclusive, given that it is more holistic in terms of its criteria," he said, pointing out that it now considers "raw" talent.
"The implications of considering raw talent is that (it is) less tied to class background, and therefore would not be disadvantageous to children from a lower socioeconomic status."
The scheme was first introduced in 2004 to allow students with non-academic talents to gain admission to a secondary school before they sit the Primary School Leaving Examination (PSLE). But in recent years, concerns were raised by Members of Parliament such as Denise Phua, who described it as an "open secret" that the scheme benefits those from wealthier families.
Responding to the changes, Ms Phua, who is also chair of the Government Parliamentary Committee for Education, said the new measures are an improvement, pointing out that they support MOE's direction to have more students admitted to popular schools based on potential, talent and achievements beyond PSLE scores.
"With a common online portal, MOE can also have more real-time oversight on the trends of DSA applications and intervene earlier if need be," she said, adding that this will result in greater consistency in selection.
"But it remains to be seen if the measures will address the concern that more affluent families can invest more to nurture their children to help develop their talents, potential and beef up their achievements for the purpose of DSA."
She added that MOE needs to be wary of the possibility of assisting top popular schools to be even more distinctive by their enhanced ability to secure top talents in both academic and non-academic spaces. 
"In the longer term, we should consider transforming this landscape by allowing a more equal distribution of talents in more schools," she said.

SCHOOLS CAN CAST NET WIDER
Some schools also pointed out how the new portal could allow them to cast the net wider to attract potential students of diverse backgrounds.
The principal of St Joseph's Institution Adrian Danker said the portal allows students of "every possible background" to look at what the school has to offer.
"We want as many boys who can make it from neighbourhood schools … who have never heard of SJI but are interested to come," he said.
Father Danker said that currently, the school does see a higher proportion of students from more affluent backgrounds, likely because only "a few people" know about the DSA scheme. 
"My hope is that the information is shared and more people learn about what the different schools are offering," he said. "And as a school, we would like to say, come."
The principal of Jurong Secondary School, Ruby Tan, agreed that the portal would help students and parents become more aware of the choices available to them.
"Don't just rely on hearsay, where my neighbour said so-and-so's child went to this school via DSA," she said.
"With the power of the Internet, a lot of people would be able to access the information."
She explained that the school's students usually come from the Jurong area but hopes that the new portal will attract students from beyond the region to consider studying there.
Meanwhile, with the new limit on the number of school choices potential applicants are given in the portal, schools such as Crescent Girls' School say they could potentially see an increase in the number of students who accept the DSA offers the school makes to them.
The school's principal, Helen Chong, noted that the school has always offered all their available places to eligible applicants.
"But the number of students who accept my offer … that's a different thing entirely," she said. "I've never been able to max out the number of people who accept my offer."
She added that the portal could make a difference, as students would now have to consider their choices "very, very carefully".
Mrs Chong also stressed that the school is "blind to socioeconomic status" when it comes to assessing potential applicants for the DSA programme.
"When they apply to us, that's one piece of information we don't ask for," she said. "We only want to know whether they have the potential to grow, to excel in the area of interest and their passion."