More time for 'meaningful things': Teachers, principals welcome reduction in school assessments
Teachers and principals Channel NewsAsia spoke to welcome the reduction of exams in primary and secondary schools from next year. But some concerns were also raised.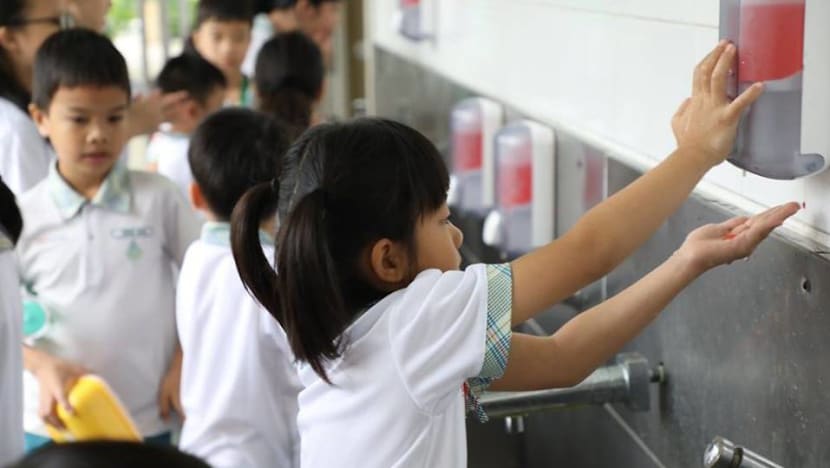 SINGAPORE: With fewer exams in schools from next year, teachers and school leaders Channel NewsAsia spoke to said they will have "more time to do meaningful things" with students.
This follows the announcement by the Ministry of Education (MOE) on Friday (Sep 28) that primary and secondary schools will reduce the number of examinations and assessments students are required to sit, as part of efforts to reduce the emphasis on academic results.  

The move, said MOE, would free up about three weeks of curriculum time every two years.
Principal of Frontier Primary Tonnine Chua said the changes - which take effect in stages from next year - will mean that teachers may have to put in "a little more work" this year to recalibrate the school's schedule of events. 
Schools will also have more flexibility and room for creativity in designing their activities, she added.
"Perhaps we could take the children outdoors for more learning journeys," she said. 
"Previously, we would try to avoid the May period for our Primary 5 annual camp because it's near the mid-year exams, but we aren't so restrained by the time frame anymore.
"The students can now go and enjoy the camp without worrying about exams."
A former teacher Theresa Ho pointed out that teachers will now have the flexibility to craft lessons in a way that encourages students to think out of the box and fulfil "authentic tasks" that may not be possible in an exam context.
"I can create a task for the students to watch a movie and debate the characters' actions or motives, or have activities that allow dramatisation or experimentation of real life contexts in their learning," said Mdm Ho, who has 13 years' experience teaching in schools.
An art teacher made a similar point.
"I think if we understand the profile of our students well and we know what they're interested in, and if we can marry the content side with that, then I think it would have a positive effect," said the teacher, who declined to be named. 
"But if we don't think about those things and we carry on lessons as per normal as though we're teaching for tests, we might lose them."
"I'm excited that there might be more time to do meaningful things with students, rather than having to get them to complete things, and chase them when they don't complete their work because we need it to count for the assessment," added the teacher.
CONCERNS ABOUT THE MID-YEAR EXAMS
However, the teacher also pointed out that having no mid-year exams could make it harder to motivate students.
"From personal experience, students tend to ask if things add up to their final grade," she said. "Like in class, they wonder what the weighting is for this particular component, and how it adds to their final grade."
"I think it affects how much effort they want to put in, and how much they want to pay attention."
Mdm Ho added that the exam also serves as a "mid-point check" for students to assess their levels of competencies in the various subjects.
"When the assessment is done piecemeal, it doesn't present a complete picture of the child's ability to manage a full-piece examination when they need to sit for it," she said.
Students at Bukit Panjang Government High School, which scrapped mid-year exams for Secondary 1 to 3 students last year, also expressed "some anxiety" at the model when it was first implemented, according to the school's principal Chua Lek Hong.
"Interestingly, it was the students who were the most worried - especially the Secondary 1 students - because it's the first time they're doing it," he said.
"They started to take the formative - or non-weighted - assessments too seriously and treated each of them as a final exam," he added. 
"So we really had to talk to them and remind them that it's supposed to be daily work, and not to get too uptight about it. It's much better now."
WITH NO EXAMS, WHAT CAN STUDENTS LOOK FORWARD TO?
Bukit Panjang Government High has already seen the benefits of scrapping the mid-year exams at certain levels. For example, students in Secondary 1 and 2 English class use drama and debate to improve their oral skills.
"The oral exam is quite important for students, but instead of doing it the conventional way, by reading out a passage and then having a conversation, we can have a debate," said Mr Chua.
"So we give time to students to do their research, form their views, and then come into class and debate," he said. "That forces them to think critically, be quick-witted and be more aware of current affairs."
Woodlands Ring Secondary - which has scrapped the mid-year examination for Secondary 1 to 3 students since 2012 - has seen prospective students make a conscious decision to choose the school for this reason.
"They already come knowing that we have no mid-year examination for Secondary 1 to 3, and they are very happy," said the school's principal Ng Siew Bee.
She added that over the years, the school has tracked its results in the national examinations and saw no difference to its O-Level results. She said that the school's students are in fact doing better in certain aspects.
Over at Henry Park Primary, which has replaced continual assessments with short, non-weighted quizzes for Primary 3 to Primary 6 students, the time freed up is channeled to other areas, such as a Young Investigator Project. It is where students initiate their own experiments, and take an "inquiry and investigative approach to science".
"We spend five weeks doing it, and you realise that the children love it despite having five weeks' worth of work on it, and not getting a mark," said the school's principal Martin Koh. 
"You get the children working very hard, and despite it taking up a lot of their free time, they still say they want to have more of it."

With additional reporting by Fann Sim.