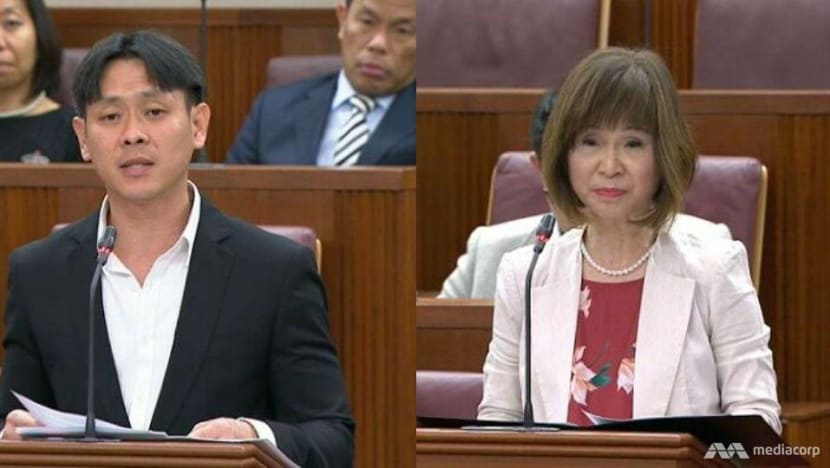 SINGAPORE: Member of Parliament Louis Ng has proposed that charging for single-use carrier bags - regardless of the material they are made of - be enforced and that the public sector reviews its waste generation practices, as he called on Singapore to take the lead in reducing plastic waste.
Raising an adjournment motion in Parliament on Monday (Oct 1), Mr Ng described the plastic waste problem as an "urgent public safety issue" that must be addressed.
"Plastic can no longer be seen as just an environmental problem," he said. "It is a danger to the health of our ecosystems and to our own health."
Citing 2016 statistics, Mr Ng pointed out that Singapore discarded 27 billion plastic bags, an average of 13 bags per person per day. 
"This throwaway culture is so deeply ingrained," he said. "Even when I bring my own reusable bag to the supermarket, the cashier sometimes puts my groceries first into a plastic bag, and then into my reusable bag. We really need to start thinking about our plastic bag use."

Emphasising the need for a "plastic-lite" Singapore, Mr Ng said that enforcing a carrier bag charge policy would be one way to drastically reduce the demand for plastic.

Citing the example of IKEA Singapore which applied a 10 cent bag charge in 2007 and stopped offering disposable bags six years later, Mr Ng said that a levied fee can be a step towards eliminating the use of all disposable plastic items.

But some exemptions can be made, he said.
"Using reusable bags to carry fresh produce, raw meat or seafood may be unhygienic, so plastic bags should be given out for such items," Mr Ng proposed. 
"In this way, people can still obtain some bags to bin their trash, maintaining the cleanliness and safety of our rubbish chutes and waste disposal system."
Calling for a stronger emphasis on reduction rather than recycling, Mr Ng urged the Government to "walk the talk and lead by example" by encouraging ministries and agencies to eliminate single-use plastics from their catering and events. 
Using reusable items with only minimal packaging for next year's National Day Parade (NDP), for instance, is one way this can be done, suggested Mr Ng.

"This year's NDP fun pack contained many plastic items individually wrapped in plastic, and even an NDP 2018 plastic bag for each person to bag their waste," he said. 
"If NDP 2019 were to use only reusable items with minimal packaging, it would send a strong signal that our nation is committed to building a sustainable world for all Singaporeans."

ONE OF MINISTRY'S KEY PRIORITIES
In her response to Mr Ng's speech, Senior Minister of State for Environment and Water Resources Amy Khor said that managing plastics and packaging waste is one of the "key priorities" for her ministry.

"My ministry believes the long-term approach is to engage Singaporeans on the importance of sustainability," said Dr Khor. 
"Hence, our aim is to build a national consciousness to care for the environment so that Singaporeans and businesses will take action, even beyond what the regulations require. 
"This process may take longer. But this is the right way; the positive effects will go beyond plastic bags, beyond packaging, beyond waste management to areas including climate action."

Dr Khor pointed out even as her ministry seeks to reduce plastic usage, it recognises that plastics have their uses.
"Substituting them with other materials may not be more environmentally friendly as some may perceive," she said. "Hence, our approach is to reduce excessive consumption of all types of packaging, including plastics used by businesses and individuals."
Agreeing that the public sector should set the standard, Dr Khor added that her ministry has published a guide to aid agencies in organising environmentally-friendly events. 
"I am happy to share that my ministry is definitely taking the lead. We do not serve bottled water for meetings. Our staff bring their own plates and cutlery for events to avoid the use of disposables," she said. 
"We are encouraging other public sector agencies to do the same for their meetings and events such as the National Day Parade and community activities to minimise the use of plastics."

In response to Mr Ng's suggestion on the carrier bag charge, she said the ministry will continue to monitor developments.