Train services resume on North-South, East-West, Circle lines after disruption due to power fault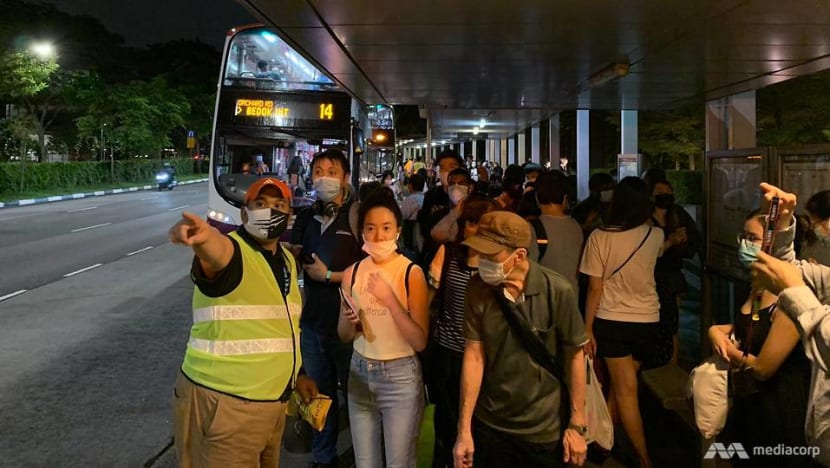 SINGAPORE: A power fault disrupted train services on parts of the North-South, East-West and Circle lines on Wednesday evening (Oct 14), with some commuters having to walk on the tracks to make their way back to the station.
Bus stops were packed with passengers rushing to look for other ways to continue their journey.

Passenger service on the Circle Line resumed at 8.40pm, while service on the North-South and East-West lines resumed at 10.35pm.

TIMELINE OF EVENTS
Earlier in the evening at about 7pm, train services on the North-South and East-West line were disrupted.
Transport operator SMRT sent out an alert on Twitter at about 7.15pm, urging commuters to add 25 minutes to their travelling time between Woodlands and Jurong East MRT station on the North-South Line.

Shortly after, it said services were disrupted between Queenstown and Tuas Link on the East-West Line. 
Passengers were also told to avoid Jurong East MRT station.
At 7.30pm, train service on the Circle Line was disrupted and at about 8.15pm, SMRT alerted on Twitter that there was no train service between Serangoon and HarbourFront on the Circle Line.

At about 9.34pm, SMRT said that all free regular bus services and bridging services on the Circle Line have ceased following the restoration of train services.
Preliminary investigations indicate that the incident was caused by a "faulty power cable", the Land Transport Authority (LTA) said in a Facebook post at 10.38pm, when all train services resumed.

"Due to the delay, SMRT commenced safe detrainment for passengers on NSEWL trains at 7.30pm; and at 8pm for CCL trains," it added.

"LTA engineers are working with SMRT to carry out a full investigation into the incident."

Transport Minister Ong Ye Kung said in a Facebook post at 11.25pm that "we are sorry for the disruption and all the troubles caused". 
"When the disruption happened, around 115 bridging buses and 400 SMRT staff were quickly deployed to affected MRT stations and bus stops to guide commuters.​​​​​​​
"But it was a power trip and the lights were out. So the staff used torchlights to shuffle along slowly in the dark," he said.
He added that the safety of the commuters "remained topmost on our minds tonight".

The "power cable fault" had been isolated as of 10.34pm, Mr Ong said.
Noting that some students will be taking national exams on Thursday, he said that the engineering team will "work through the night to rectify the problem".
"We are on standby to help each and every child get to their centres safely and on time," Mr Ong said.
WHAT COMMUTERS EXPERIENCED
A photo sent in by a CNA reader at about 7.15pm showed crowds at Jurong East station after services were disrupted.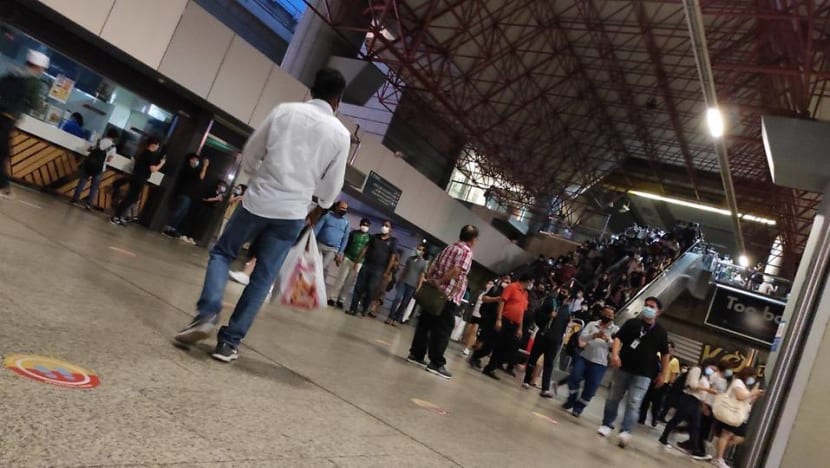 CNA reader Yang Long, who was at Yew Tee station along the North-South Line, captured photos of the station in darkness at about 7.15pm.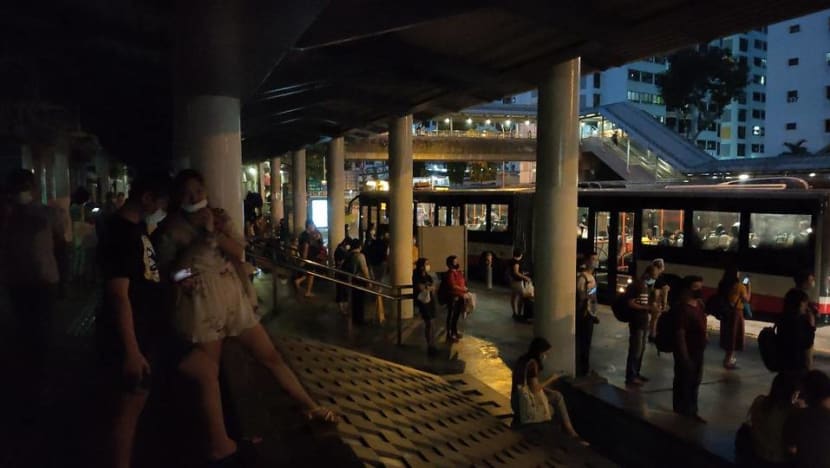 He also took photos of a train that had stopped on the tracks, with its front door open. He estimated that the train had remained in the same position for about 40 minutes.

Staff members were seen manually opening the doors of a lift at Yew Tee station, allowing two people to exit.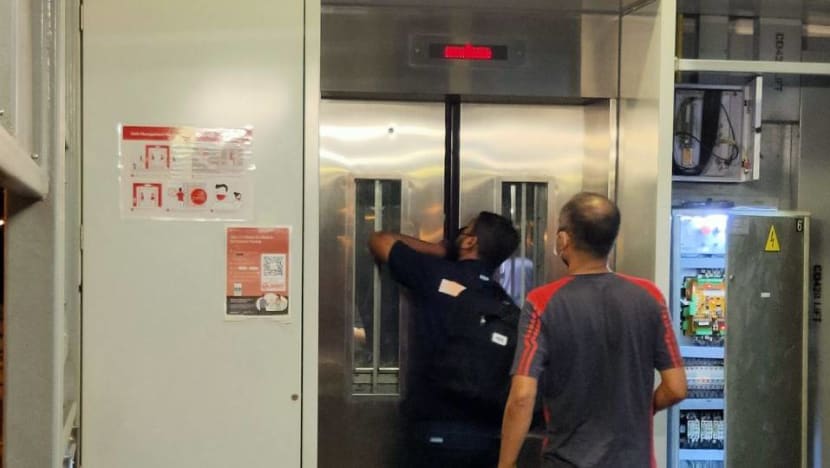 Commuter Julie Chan said the train stopped as it approached Kranji station on the North-South Line.
"At around 7.05pm, I heard an announcement that the train will stop for 5 minutes. They repeated the announcement every 5 minutes. In the end, the train stopped for 25 minutes and they announced that there is a power failure," said Ms Chan.
"They decided to let us out and asked if anyone is from a uniformed group to step forward to help. I was one of the first to leave and they opened the front part of the train," she added.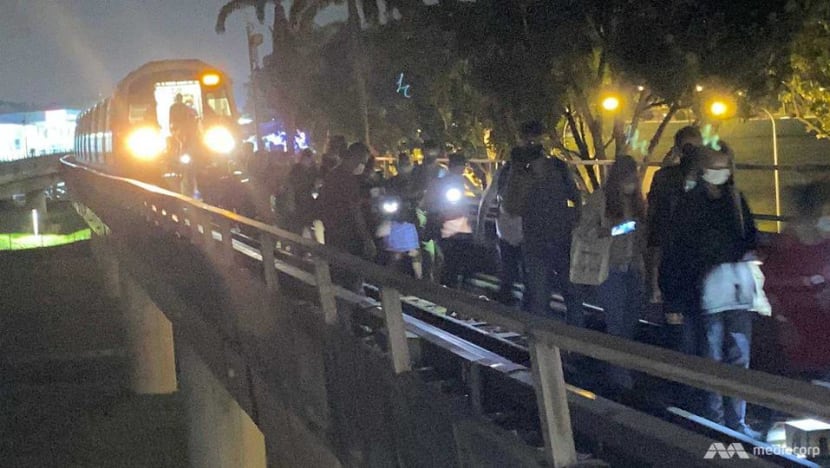 "It was very dark and we had to slowly walk on the tracks because there are a lot of pebbles. Luckily the walk from the train to the station was not that far. Some of the passengers used their handphones to light up the path."

SMRT had provided free regular bus services and bridging services between the affected stations.
At Buona Vista MRT station, crowds gathered intermittently as bridging buses arrived, carrying commuters from nearby stations.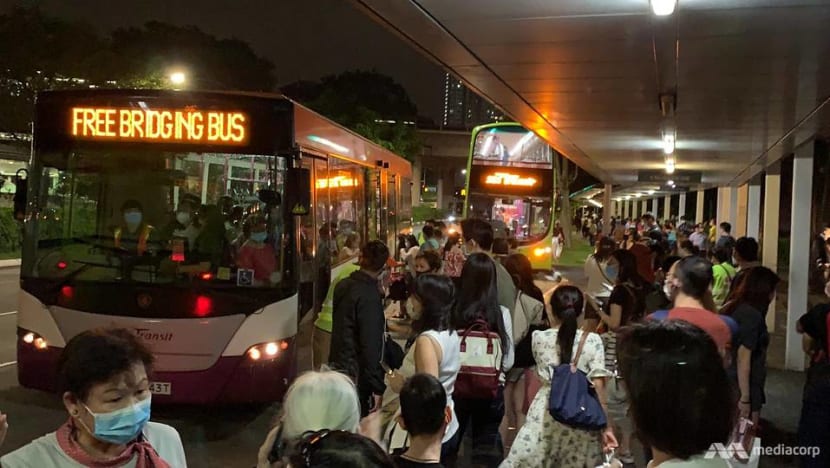 SMRT employees had to turn commuters away from the Circle and East-West lines to alternative bus routes.
They were heard directing commuters to connect to the Downtown Line via King Albert Park, or to Boon Lay MRT station via bus.

A line of bridging buses arrived at the bus stop, packed with passengers.
Ms Celestine Ng, 39, got to Buona Vista MRT at around 7.30pm and was told that train services had stopped. She had been waiting for buses since 8pm as she "cannot squeeze in".
"It's very crowded in the bus and given the situation now with COVID-19, I don't dare to board the bus," she told CNA.
The crowd has been the "same" since 8pm.
"I will board maybe when an empty bus comes. Every bus that comes is so crowded and you have to squeeze in."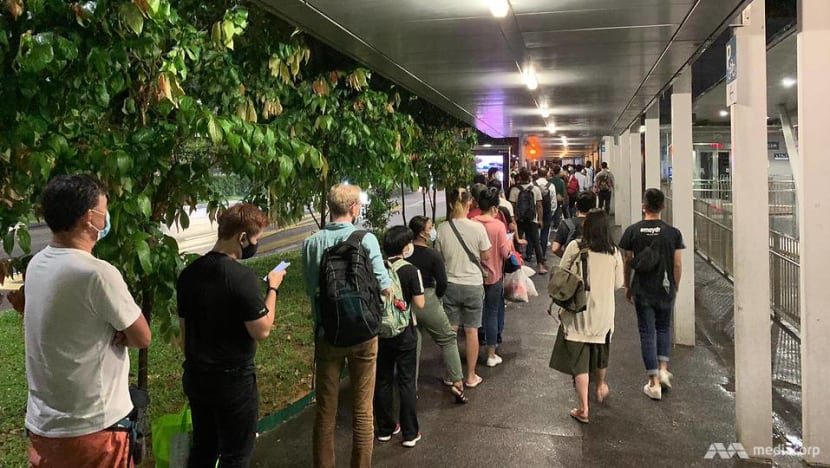 It was a similar situation outside Clementi MRT station - buses were also packed with passengers, and a line of buses had formed, waiting to pick up and drop off commuters.
Ms Sophie Teo was on the way home when she had to get off the train at Queenstown, she told CNA while waiting for a bus home at Clementi. 

"I got off at Queenstown and walked to Commonwealth, because it was too crowded there was no social distancing and it was just too much," said Ms Teo. 
"Not just me, a bunch of passengers and myself walked down to Commonwealth. Then I tried to go to the supermarket to wait it out."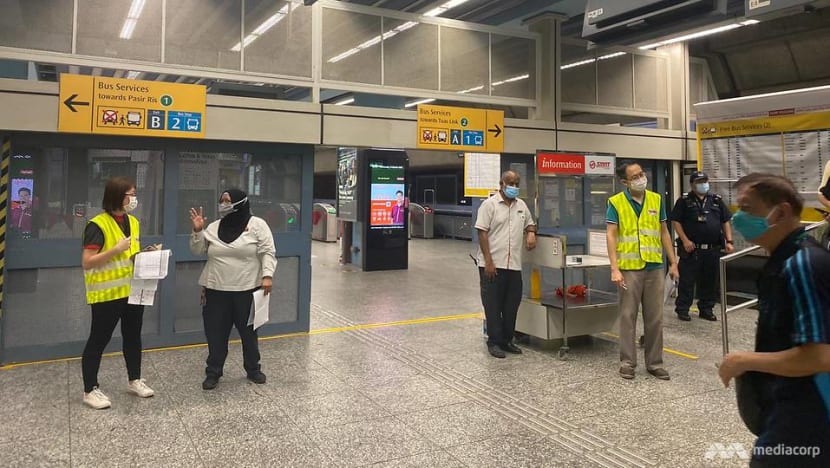 This story came from a reader tip-off. If you would like to send in information, photos or videos about something newsworthy, submit your news tips on CNA Eyewitness.