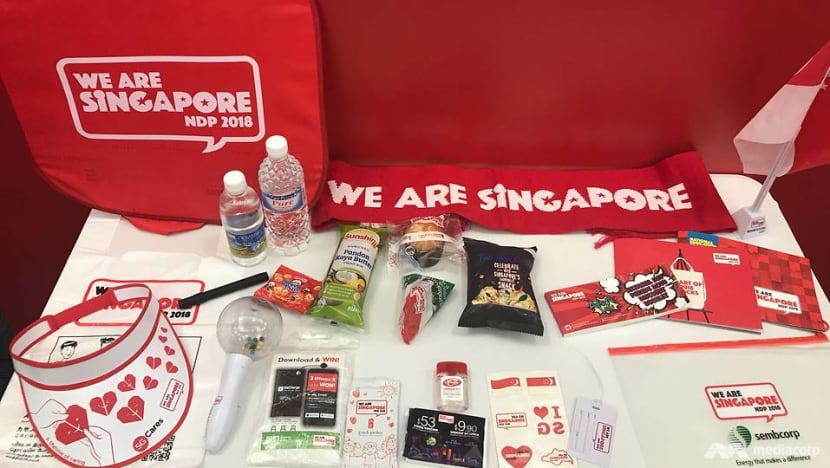 SINGAPORE: Next year's National Day Parade (NDP) funpack will be more environmentally friendly, said Minister for Defence Ng Eng Hen on Monday (Nov 19).
This was a written reply in response to Nee Soon GRC MP Louis Ng's question on what measures are being taken to reduce single-use plastics at NDP 2019, and whether the Ministry will consider providing only reusable items with minimal packaging in the NDP 2019 funpack.
The general direction for funpack items in 2019 are for them to be reusable "when available and cost-effective", said Dr Ng.
For example, a larger bottle of water would be included in each funpack, instead of the usual two smaller ones. Also, instead of plastic boxes used for meal catering for NDP participants, paper ones will be used.
"Since 2002, the NDP Executive Committee (EXCO) has worked closely with the National Environment Agency (NEA) to organise a clean and sustainable NDP," said Dr Ng. 
"In doing so, the EXCO takes into account the varying needs of attendees and participants, including the young and elderly as well as the need for prudent spending."
Dr Ng said it would not be feasible to have only reusable items with minimal packaging for the funpack. However, the NDP EXCO will work with NEA to establish collection points to encourage NDP spectators to return unused items from the funpack, especially ponchos, Dr Ng added. 
The NDP 2018 funpack featured 18 designs by students from special education schools, and contained the following items:
Snacks - Biscuits, salted egg yolk chips, muffin and bun
2 bottles of water
Tissues and wet wipes
Singapore flag
Visor
Scarf
Temporary tattoos
Hand sanitiser
Discount coupon booklet
Luggage tag
Magazine with fun facts about NDP 2018
Art booklet featuring the 18 different designs 
A "light bubble"
Placard