Nearly 1,500 opportunities offered in precision engineering sector under SGUnited programme: MOM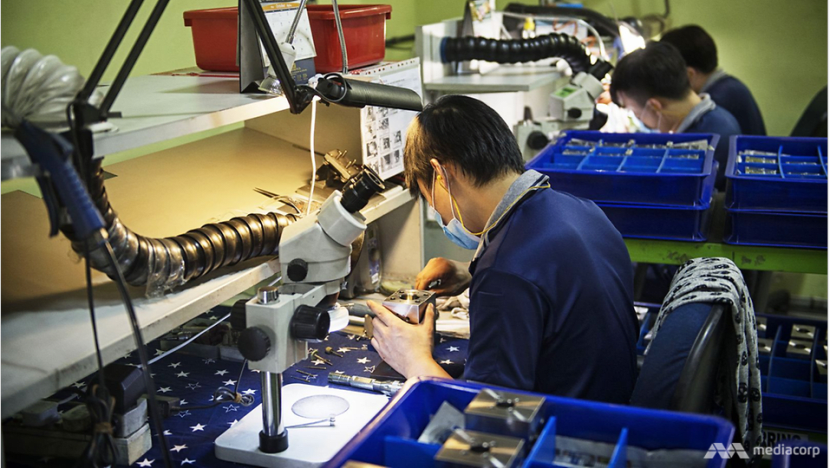 SINGAPORE: Nearly 1,500 jobs, traineeships, attachments and training opportunities have been made available by more than 270 precision engineering firms under the SGUnited Jobs and Skills Package since April, as the industry continued to grow despite the current pandemic-fueled downturn.
Jobs made up the bulk of the opportunities, with 750 being professional, manager, executive and technician (PMET) roles and 230 for non-PMETs, said the Ministry of Manpower (MOM) in its latest weekly jobs situation report on Monday (Sep 14).
Out of the 440 traineeships and attachments, 360 were for PMETs and 80 for non-PMETs.
Meanwhile, there were 60 training positions for PMETs and 20 for non-PMETs.
Overall, about eight in 10 were PMET positions such as product engineers, electrical and electronics engineer, and quality assurance inspectors.
Firms were also hiring non-PMETs roles such as production operators, welders and pipe fitters.
Salaries for roles offered in the precision engineering sector varied according to the job nature and skills requirements, said the MOM report.
For instance, a manufacturing engineering technician may earn between S$1,500 and S$2,350, with the 50th percentile at S$1,750. The salary of an industrial and production engineer ranges from S$2,600 to S$6,000, with the 50th percentile at S$3,350.
Previous weekly updates have focused mainly on the median salaries of key job roles and providing such salary ranges might be more useful for job seekers, said Manpower Minister Josephine Teo. She was speaking to the media after a visit to AEM Holdings, a company which provides intelligent system tests and handling solutions for semiconductor and electronics companies.
"If a person is coming into the sector with less experience … the companies may offer the more starting type of salary. So (with) this way of presenting the information, we hope will enable job seekers to know and in a way, to pitch themselves accordingly," she said.

The MOM report also said that more than 260 job seekers found jobs in the precision engineering industry through the SGUnited Jobs and Skills Package between April and July.

Of those, more than 40 per cent were mid-career individuals who took part in career conversion programmes. These individuals tend to be from the electronics, energy, chemicals, logistics, infocomm technology, and oil and gas industries.
Since April, more than 30 job seekers have also taken up traineeships and attachments in the industry.
POCKETS OF GROWTH
Precision engineering is a key part of the global manufacturing economy, supplying critical products and expertise for the manufacturing of complex components and equipment used in other industries such as semi-conductors, medical technology, marine, offshore and aerospace.
In Singapore, it hires more than one-fifth of the 473,000 workers in the broader manufacturing sector. It contributed about S$38 billion in total output last year. 
The industry has continued to see "pockets of growth" amid the ongoing downturn, growing about 11.4 per cent in the first seven months of 2020, compared to the same period last year.
Companies serving the medical technology and semiconductor sectors were among those the better performers, said MOM, citing increased demand of COVID-19 related products such as diagnostic kits and ventilators.
Others that have seen growth include firms that supply machinery and systems, and precision modules and components that make up technology appliances to facilitate remote working, as well as those that provide digital solutions such as automation and robotics. 
Job seekers without experience or the technical know-how should consider opportunities in the industry by tapping on career conversion programmes, said Mrs Teo.

"They may have the impression that if you want to go into precision engineering, you must definitely have all the technical skills that are required and as a result, they may discount themselves," she said.

Mrs Teo cited the example of Mr Tim Tan, who lost his job as a production and planning manager in the oil and gas industry after his former employer underwent restructuring.

The 56-year-old is now an operations manager with 3D Metalforge, a local small- and medium-sized enterprise specialising in additive manufacturing and 3D printed services and products.

He had found the job role through the Workforce Singapore's Careers Connect job matching services. To help bridge the skills gap, Mr Tan was enrolled in a six-month professional conversion programme for advanced manufacturing engineer in March this year.
"That really helped him to ease into his new role," said Mrs Teo.

Meanwhile, traineeships or attachments are other options for new entrants to gain exposure and relevant skills.

Job seekers can also take up training courses under the SGUnited Skills programme.

While a mid-career individual may have to acquire new skills such as precision machine design, Mrs Teo said there are transferable skills from other sectors. These include soft skills in communication and leadership, as well as a familiarity with quality management systems, according to the MOM report.

The minister said the manufacturing industry remains a key pillar of the economy, providing good jobs at both the PMET and non-PMET levels, as well as future growth opportunities. 
"You cannot have a very robust manufacturing sector unless you also have very strong abilities in precision engineering. The two go hand in hand together. 
"And we want to make these opportunities known to job seekers so that you will also consider them seriously and also find the help that is available to help you transit to precision engineering," she said.
MATCHING WORKERS

Senior Minister of State for Health Koh Poh Koon, who also attended the company visit on Monday, said the pandemic has had an unequal impact on the precision engineering industry.
While some companies still see good demand and are facing manpower shortage, there are others who have implemented shorter work weeks and a partial shutdown of some production lines.

"Through this particular crisis, the union has leveraged on relationships built up with other member portfolio companies to see where the supply and demand of workers are, and try and do some matching," said Dr Koh, who is deputy secretary-general of National Trades Union Congress (NTUC) and executive secretary of the Metal Industries Workers' Union.

He pointed to the NTUC's Job Security Council, which was set up in February to help displaced workers or those at risk of losing their jobs move into new jobs or temporary secondments.

"In the last few months, we've been able to match several workers from some of our unionised companies with excess workers on hand, to be seconded into AEM, for example," he said.

This has helped thriving companies like AEM to meet manpower and production needs, while such secondments also help workers who were facing the prospect of a reduced take-home pay to maintain their salaries.

"On top of that, (they had) some training that allowed them to pick up new skills in a different manufacturing company. This has the advantage of helping workers eventually to transit to other roles in other companies should opportunities arise as well," said Dr Koh. 
"So I think it is a win-win for both the worker and the company."

Monday's jobs situation report is the fifth of a series of weekly updates on the local labour by the MOM. It has been doing so since mid-August, covering various industries such as the local start-up scene, biomedical sciences and tourism, as part of providing job seekers with "a comprehensive look" of work and training opportunities.
Download our app or subscribe to our Telegram channel for the latest updates on the coronavirus outbreak: https://cna.asia/telegram