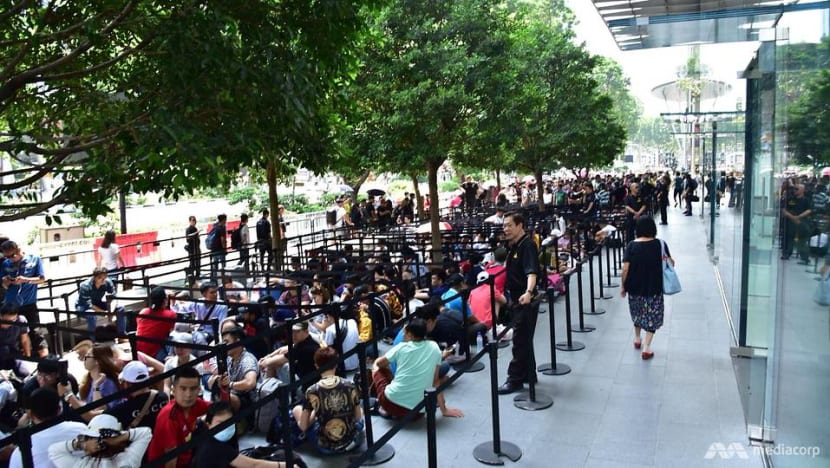 SINGAPORE: Apple mania is in town again. Hundreds were in line outside the Apple store along Orchard Road on Thursday afternoon (Sep 20), one day before the launch of the iPhone XS as well as XS Max. 
But unlike the pushing and shoving seen last year when the iPhone X was launched, the queue this year was so far nothing short of orderly, civil and surprisingly quiet. 
When Channel NewsAsia dropped by in the early afternoon, more than 400 people were patiently waiting behind a maze of barricades - some were chomping down packed lunches, while others were busy snapping selfies with friends.

Those in line were issued with numbered wristbands which indicated their place in the queue. Security personnel were also present to direct the crowd along the barricades, often instructing them to sit down.

According to security personnel, those in the queue are allowed to leave for one-hour meal breaks and 15-minute toilet breaks during their wait. Their wristbands are scanned when they leave and when they return to the line. 

Among those in line was Le Tue Anh, a Vietnamese student studying in Singapore. Le, who had been in the queue since 2pm, said that he was part of a group paid by a store in Vietnam to purchase the new iPhones.

"I don't have the money to buy these phones," he explained with a laugh. "They are paying me $100 for each phone I buy."

"The heat is no big deal here. I've been to outdoor camps before where it's far worse than this. I'm more scared of the rain because I forgot to pack my umbrella."

It started to drizzle at about 4pm for about an hour.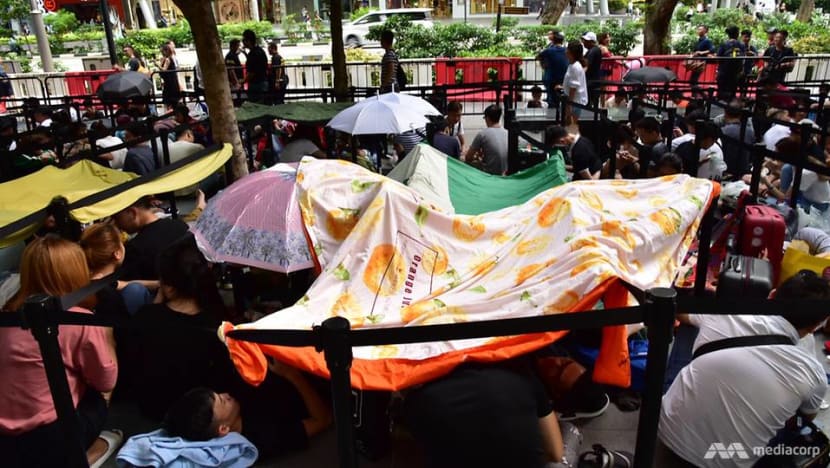 Sonny Khurma, a tourist from India, said he has his heart set on the iPhone XS Max. 

"I'm very into Apple products and I wanted to be part of the first few in line to get my hands on it," he said.

"If I were anywhere else, I would have queued to buy one too. It's worth standing here to get it."

First in line was 20-year-old Le Van Thang. "I have been queuing here since 7am this morning and I'm very happy to be the first in line," said Le.

He is part of a group of 44 who flew in from Ho Chi Minh City and intends to purchase two iPhone XS Max phones, one for himself and another for a friend.

"My friends queue every year, but this is a first for me," he added.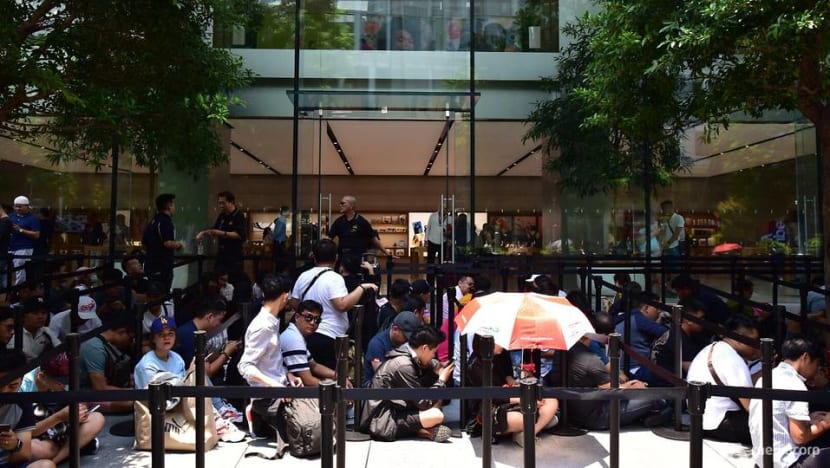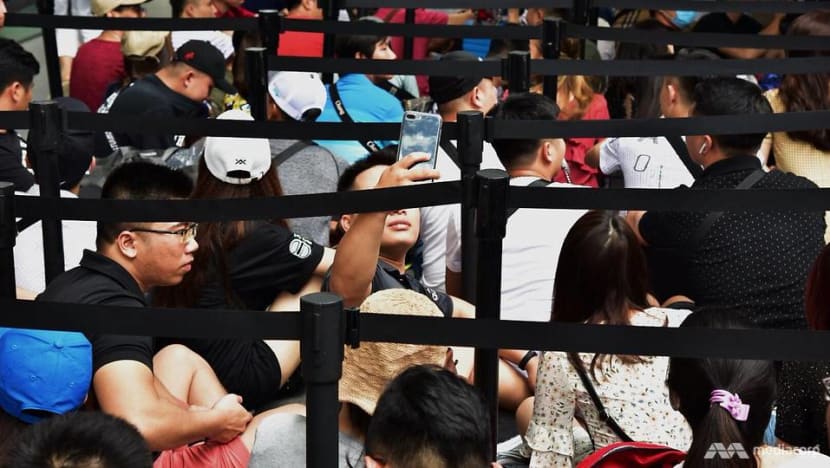 Further back in line was 22-year-old Mohamed Aseel Hussain, who had postponed his flight back to the Maldives so he could get a chance to purchase the new phones.

Armed with three powerbanks and a bottle of water, Mr Aseel, who is in Singapore for work training, intends to sell his purchases back home.

"I was already here so why not queue," he said. "I'll be able to cover the cost of extending my flight to tomorrow by selling the phones in the Maldives."

The iPhone XS retails from S$1,649 and the iPhone XS Max from S$1,799.