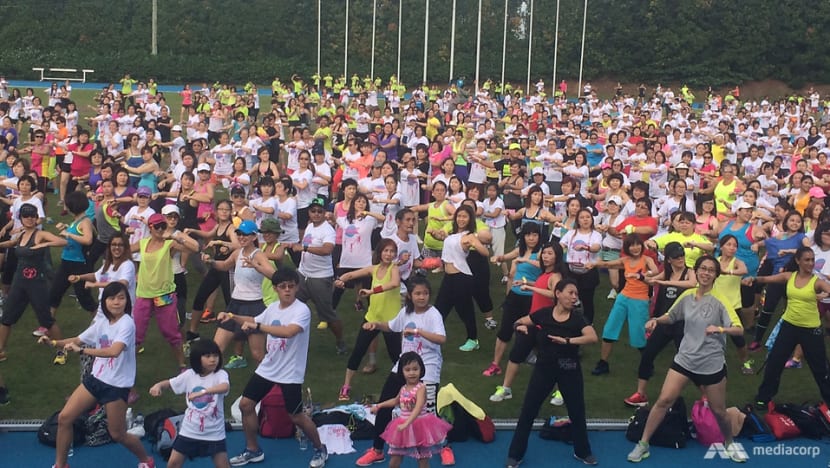 SINGAPORE: A new multi-agency task force has been set up to drive transformation efforts to promote healthy living in Singapore.  
Health Minister Gan Kim Yong revealed this at an event to mark World Diabetes Day Singapore 2018 on Sunday (Nov 4) at Suntec Singapore Convention and Exhibition Centre. 
"The War on Diabetes has provided us with a strong foundation to do more and do better in terms of health promotion. 
"Besides improvements in terms of healthier food quality and more physical activity, we need to better integrate, coordinate and scale up efforts to infuse health into every aspect of Singaporeans' lives," he said. 
The task force will work to drive the national transformation of Singapore's health promotion landscape and nurture a healthier population. 
It will coordinate and synergise efforts across multiple public agencies, as well as explore ideas to harness the power of community, infrastructure, technology and behavioural insights, to nudge Singaporeans towards adopting a healthy lifestyle. 
The task force will be chaired by Senior Parliamentary Secretary for Health Amrin Amin. 
Other members are:
Senior Parliamentary Secretary for Transport and Culture, Community, and Youth Baey Yam Keng
Senior Parliamentary Secretary for Education and Manpower Low Yen Ling
Senior Parliamentary Secretary for Social and Family Development and Education Assoc Prof Dr Muhammad Faishal Ibrahim
Senior Parliamentary Secretary for Home Affairs and National Development Sun Xueling
"The task force will focus on three key thrusts – or three 'E's – that will contribute towards infusing health into the various aspects of our lives. These are changes to our lived environment, empowerment of individuals through technology, and engagement of our communities with better service delivery and ground programming," added Mr Gan.

The task force will conduct public consultation sessions from January to May next year to crowd source ideas to promote health. Singaporeans can also submit their views online. 

Task force chairman Amrin Amin said: "Improving the health of all Singaporeans is a massive effort that cannot be solely undertaken by any single agency. It also needs the support of the private sector as well as the community. We hope that the task force's work will make significant strides towards transforming the health promotion landscape in Singapore."

As for the ongoing War on Diabetes, Mr Gan said it remains a whole-of-nation effort, and concerted action from multiple stakeholders is needed to encourage Singaporeans to lead healthier lives.

The government is working to make healthier food and drink options more easily accessible to Singaporeans. 
As of June this year, over 6,500 food and beverage stalls across 110 hawker centres and 850 coffee shops offer at least one healthier option on their menu as part of the Health Promotion Board's (HPB) Healthier Dining Programme. 
HPB aims to get 40 per cent of all hawker stalls and coffee shops on board the programme by next year.

Mr Gan also revealed that the Health Ministry will organise the Ministerial Conference on Diabetes, which will bring together international government leaders, stakeholders, academics and thought leaders to share best practices and insights.