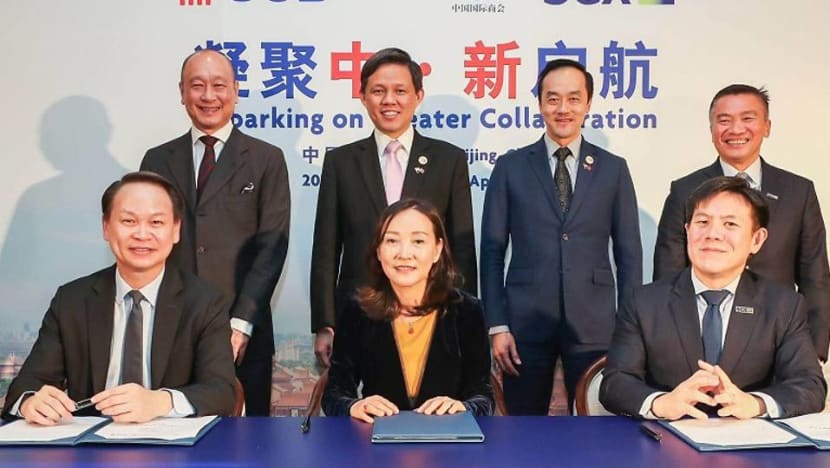 BEIJING: A new pact has been signed to help Chinese companies tap on Singapore's capital markets and expertise as a regional treasury hub and global financing centre, when they venture into Southeast Asia. 
The memorandum of understanding (MOU) was signed by United Overseas Bank (UOB), Singapore Exchange (SGX) and the China Chamber of International Commerce (CCOIC) on Saturday (Apr 27) in conjunction with the second Belt and Road Forum in Beijing. 
Under the new pact, UOB, SGX and CCOIC will provide assistance and advisory services on market entry and corporate actions, such as debt and equity listing and asset securitisation, said a press release on Sunday.
They will also offer support like trade settlement, project financing, liquidity management, foreign exchange and derivatives transactions, as well as connect Chinese enterprises to potential business partners across ASEAN. 
UOB and SGX, together with the Chinese national business association, will hold industry events and seminars to promote trade and investment between China and Singapore. 
More than 180,000 Chinese enterprises under the CCOIC are expected to benefit from this partnership with UOB and SGX, according to the press release. 
The new pact builds on UOB's existing collaboration with CCOIC, it added.
UOB also set up a foreign direct investment (FDI) advisory unit seven years ago, which acts like a "one-stop shop" for Chinese firms to seek advice and financial solutions, as well as connections to a network of government agency partners and business associations, for free.
Last year, UOB said it helped 50 per cent more Chinese companies expand into ASEAN compared to 2017, resulting in a 31 per cent increase in cross-border business flows over the same period.
UOB's chief executive and deputy chairman Wee Ee Cheong said: "For enterprises seeking opportunities in ASEAN, we have been helping them navigate market complexities and offering financial and business support through our integrated network, strong knowledge of and experience in the local markets and our ecosystem of strategic partners."
The Singapore bank expects more Chinese firms to set their sights on ASEAN and has set up local desks for its FDI advisory unit in Thailand, Malaysia, Indonesia and Vietnam – the "hot destinations" for Chinese investments – last year.
Navigating the diverse ASEAN market, which differs from economic structures to growth opportunities, remains a challenge for many Chinese companies hence Singapore is usually their "first port of call", said UOB's head of group FDI advisory unit Sam Cheong.
"The amount of FDIs that the Chinese have in Southeast Asia is close to US$90 billion (and) it's still growing very fast," he added, while noting that nearly half of that is in Singapore.
"That is a very strong message that Singapore is a very attractive hub for Chinese companies … but Singapore is not their end market," said Mr Cheong. "It's just a springboard for many of them to expand ASEAN, and even beyond ASEAN."
SGX also believes that it has much to offer through its multi-asset fundraising, investment and risk management platforms.
"Chinese enterprises can also benefit from Singapore's position as a global wealth management hub and overseas RMB centre, while leveraging our strategic location in ASEAN as a springboard into the one of the world's fastest growing regions," said its chief executive Loh Boon Chye.
The newly signed pact will add value to enterprises tapping on the growth opportunities led by China's Belt and Road and other environmental initiatives, he added.
Its executive vice president Chew Sutat added at a briefing on Sunday that lingering trade tensions may prompt more Chinese companies to consolidate their overseas businesses in Singapore. They will be able to tap on SGX's risk management services.
"It does help using ASEAN as an export destination to be able to address some of these ongoing challenges," he said.
"Many CCOIC members are exporters. If you don't hedge your freight with the margins being so fine right now, a trade war tariff can kill your business model," added Mr Chew, who is also the head of equities and fixed income at SGX.
Apart from representatives from UOB, SGX and CCOIC, the signing of the MOU on Saturday was witnessed by Singapore's Trade and Industry Minister Chan Chun Sing and Senior Minister of State Koh Poh Koon.