No public transport fare adjustments this year
There will be no public transport fare adjustments this year, said Transport Minister Lui Tuck Yew.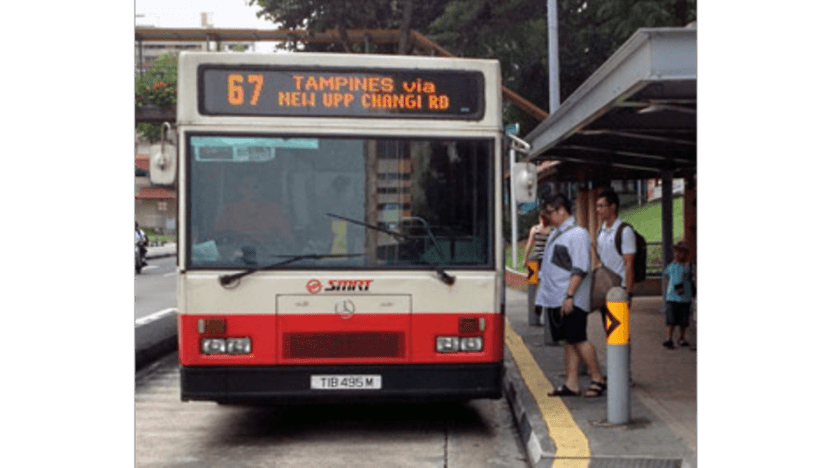 SINGAPORE: There will be no public transport fare adjustments this year as the fare formula undergoes a review, says Transport Minister Lui Tuck Yew.
And where bus services are concerned, commuters can expect significant improvements by end-2014, as capacity is ramped up with the government-initiated S$1.1 billion Bus Services Enhancement Programme (BSEP).
Public transport operators will also be subjected to higher service levels than those meted out by the Public Transport Council (PTC).
Speaking in Parliament on Wednesday, Mr Lui said the current public transport fare formula is due for review this year for implementation in 2013.
And while the review is ongoing, there should not be a rush to implement this year's fare adjustments.
He said this is even though the public transport operators are facing significant cost pressures, especially on their bus operations.
Minister Lui said he had discussed the matter with PTC chairman Gerard Ee, who agreed to suspend this year's fare adjustment exercise.
Instead, the new fare formula, which will be ready in 2013, could take into consideration the fact that fare adjustments were not made in 2012.
Mr Lui said he intends to appoint PTC member Richard Magnus to head the committee for the fare formula review.
Mr Lui said that Mr Magnus, having joined the PTC recently, will bring a new pair of eyes and a fresh mind to the task.
The fare review committee will seek views widely, study the possible options and propose improvements to the framework for the review exercise.
Minister Lui said the outcome of the review should be a framework that continues to achieve a good balance between affordable public transport fares and sustainable public transport operations and which continues to ensure productivity and efficiency.
The committee will complete its work within a year.
Meanwhile, public transport fare concessions will not be extended to the disabled and polytechnic students just yet. This is because there will be no fare adjustment this year, said Minister Lui.
Alex Yam, MP for Chua Chu Kang GRC, said: "The explanation that polytechnic students are tertiary ones have been oft-quoted and used. However, this perceived issue of semantics and of administrative pegging has been hardly palatable for many. As more and more of our students aim for poly education, their choice in education should not become an inequitable one when it comes to transport fares."
Mr Lui replied: "Now that senior citizens have been granted their full-day concessions, the next groups that I am sympathetic to are the disabled and polytechnic students. However, I urge Members to be patient as not all of these requests can be addressed immediately or entirely within a single fare revision exercise."
Concession hours for senior citizens were extended as part of the 2011 fare revision exercise.
Mr Lui also revealed that a survey conducted by SIM University (UniSIM) in October 2011 had shown that the overall satisfaction with public transport services fell slightly from a year ago, with the decline in satisfaction levels for bus services being more significant.
But commuters can soon expect improvements.
There will be more buses on the roads. Over the next five years, operators will pump in 250 buses while the government will fund 550. Overall, 70 percent of the 800 buses will be added over the first three years.
Mr Lui said: "It will take some time for the new buses to arrive, for supporting infrastructure like bus depots and bus parks to be built, and more importantly, for the PTOs (public transport operators) to aggressively ramp up their recruitment of bus drivers. By the end of 2014, with 70% of these new buses in operation, there will be tangible and significant improvements across the bus network."
Of the 550 new buses the government will pay to add, about 300 will go towards reducing crowding and improving the frequencies of existing bus services, while 250 will be for new bus routes.
Operators will also be expected to deliver higher service levels, beyond the current Quality of Service (QoS) standards required by the PTC.
Firstly, operators would have to ensure buses are less crowded during peak hours. Minister Lui elaborated: "The PTOs (public transport operators) will be required to reduce the loading levels for all basic bus services from the current 95% to 85%.
"Commuters can expect about 10% more capacity along the more crowded stretches of bus routes during peak hours. With more buses injected to spread the load, bus frequencies will also go up. Overall, this will mean shorter waiting times for commuters during peak hours, a higher likelihood of getting onto the first arriving bus, and a more comfortable ride."
Secondly, the PTOs will have to improve the peak-hour frequencies of feeder bus services. 95 percent of all feeder services must operate within 10-minute scheduled intervals or better and the remaining 5 percent, within 15-minute intervals compared to the current 30 minutes.
These must be sustained over two hours during the morning and evening peaks.
Thirdly, the PTOs must improve the frequencies of trunk routes.
While the focus in the initial years will be to improve service levels for existing bus services, commuters can also expect better connectivity.
40 new bus routes will be progressively added over the next five years, typically in new towns like Sengkang, Punggol and Yishun.
The new routes are also expected to enhance local connectivity in towns.
There will also be eight more parallel bus routes running along MRT lines and expressways to connect major towns to the city centre. Six have been identified so far.
Minister Lui also said his ministry will look into what more can be done to make MRT stations and major bus nodes more accessible for the elderly and disabled.
He said construction works for lifts at pedestrian overhead bridges next to six MRT stations will be completed by the end of next year.
The stations are Aljunied, Bishan, Khatib, Kranji, Sengkang and Yew Tee.