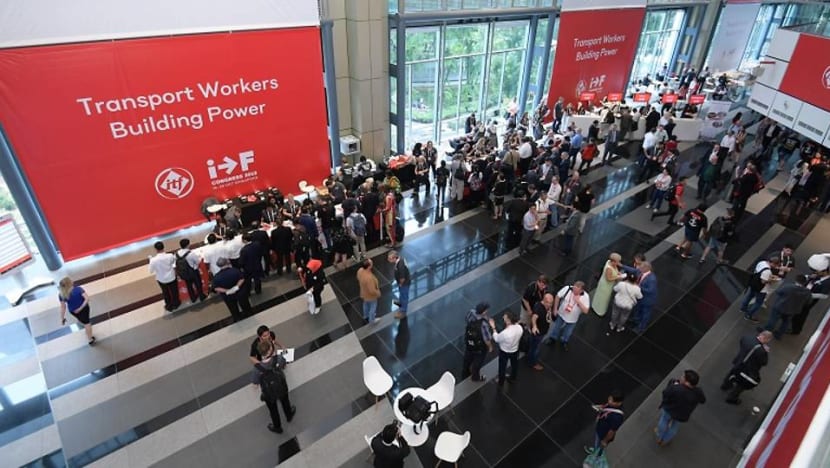 SINGAPORE: The International Transport Workers' Federation (ITF) and the Ong Teng Cheong Labour Leadership Institute (OTCi) are set to sign an agreement to help workers all over the world improve their skills as automation transforms transport industries globally, said ITF in a press release on Sunday (Oct 14). 
Over the next three years, ITF and OTCi, which is the training arm of the National Trades Union Congress (NTUC), will conduct research into Singapore's model of helping the workforce cope with the digital transformation, said ITF general secretary Stephen Cotton.

Training programmes will be developed for international union leaders to educate them on what workers need to do to be prepared for changes in their jobs.
Workshops or classroom sessions may be held in Singapore for these union leaders, said Mr Cotton.
The ITF will put in an estimated S$906,000 over the next three years for the programme, he said.
The agreement will be signed at the 44th Congress of the International Transport Workers' Federation, which is being held in Singapore this week.
Singapore's model of tripartite co-operation between unions, employers and the government has lessons that all can draw and adapt from, and is a big reason why the congress is being held here this year, said Mr Cotton.
"Part of the whole reason we brought the whole world to Singapore is because we wanted them to genuinely understand, with their own eyes … how you've merged together a diverse population that shares a collective vision that also has an economic reward," he said.
"You've got one of the highest average gross household incomes in the region. So the model works in Singapore. But that means we have to understand the model and look at how we can then use the best bits, or the bits that can help (others) in (their) own circumstances in (their) own countries, in (their) own set of parameters." 
In his opening address at the congress, NTUC secretary-general Ng Chee Meng shared Singapore's strategy of ensuring that the economy and businesses succeed in order to create the conditions to safeguard workers' wages, welfare and work prospects.
"The Singapore labour movement wants to ensure that our workers are prepared for the changes," he said. 
"We want to help transform our workers into Worker 4.0 who are relevant, and can also be plugged into redesigned or new jobs that are created. 
"For us, the Worker 4.0 is one who possesses adaptive skills, technology skills and technical skills. These would enable them to be ready for new jobs, relevant with new skills and resilient to new ways of working."
As for what Singapore can learn from the world, Alvin Cheong, executive secretary from the Singapore Maritime Officers' Union, said the congress will allow local unions to learn from global trends.
"We can understand the challenges that transport workers face globally, so that when we look within our own country, we'll be able to identify these challenges and tackle these challenges first before they become a huge problem," said Mr Cheong.
It is the first time the congress is being held in a Southeast Asian country since it was first convened 122 years ago. 
It is convened once every four years, but will meet once every five years in the future.
Around 2,400 participants representing over 600 unions from 140 countries will discuss issues in the maritime, aviation and land transport sectors, as well as greater inclusion of women and youth transport workers.