SINGAPORE: Malaysian Prime Minister Mahathir Mohamad received an honorary degree from the National University of Singapore (NUS) on Tuesday (Nov 13). 
Dr Mahathir was conferred the Honorary Doctor of Laws in recognition of his outstanding leadership of Malaysia, as well as his enduring contributions to the longstanding bilateral relations between Singapore and Malaysia, NUS said. 

His wife, Dr Siti Hasmah Mohd Ali, was also honoured by the couple's alma mater.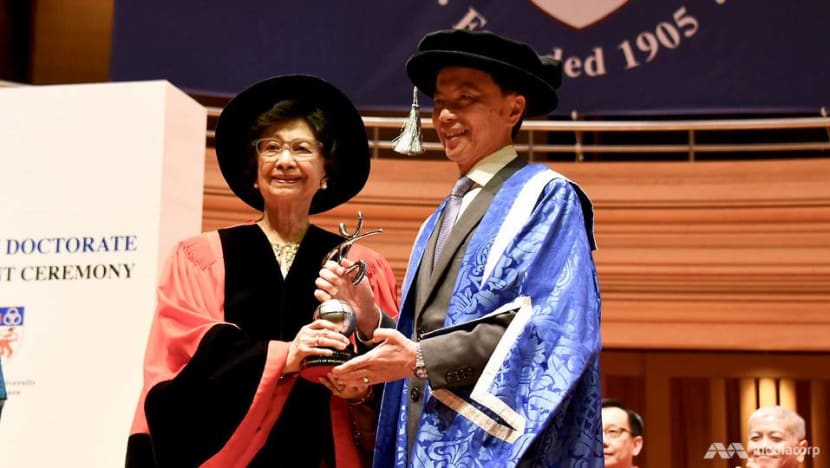 She was presented with the NUS Distinguished Alumni Service Award as a tribute to her impact as a pioneer and an inspiring role model for female doctors in Malaysia, and in recognition of her excellent and sustained service in the areas of public health in Malaysia and beyond. 

The two awards were presented at a special conferment ceremony held at NUS' Kent Ridge Campus. 
The ceremony was presided over by President Halimah Yacob, who is also NUS chancellor.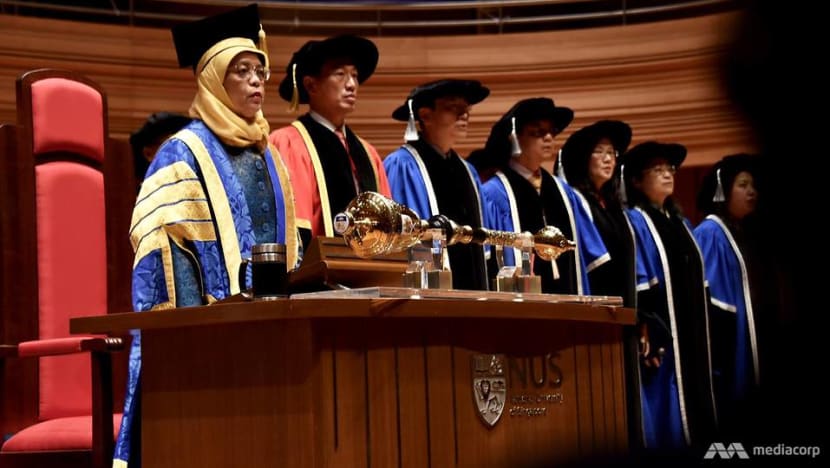 Both Dr Mahathir and Dr Siti Hasmah graduated from NUS' predecessor institution King Edward VII College of Medicine in the 1950s. 

NUS President Tan Eng Chye paid tribute to the pair, highlighting that NUS is "deeply honoured and privileged" to recognise their "outstanding achievements". 

"Dr Siti Hasmah is a pioneer and an inspiring role model for women doctors in Malaysia. She has also been a strong champion for public health issues in Malaysia and beyond," he said.

"Her life partner, Dr Mahathir Mohamad, is a charismatic and visionary statesman who has shaped the history of Malaysia and the region in many ways."
Prof Tan added: "In their golden years, this popular couple continues to serve their country and communities with dedication and distinction.
"Their amazing energy and the impact of their combined accomplishments serve as an inspiration for the NUS community."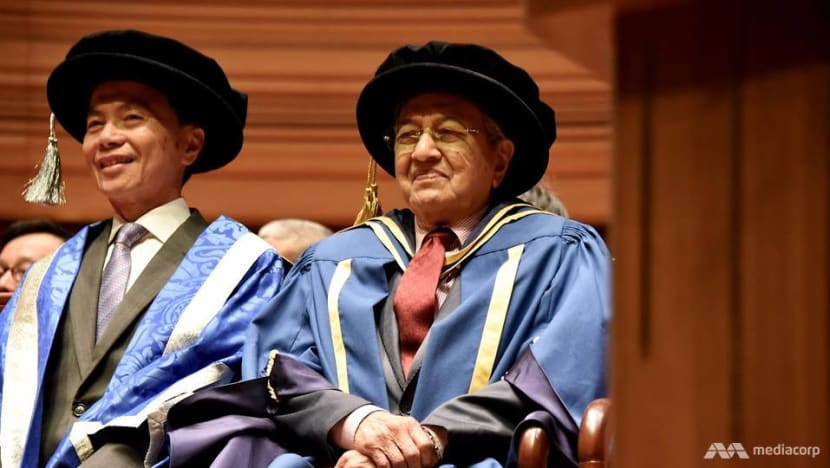 "I WILL ALWAYS VALUE MY STAY IN SINGAPORE"
In his speech after he was conferred the award, Dr Mahathir thanked NUS and said: "I will value this honorary doctorate for as long as I live." 

Dr Mahathir added that good relations between Malaysia and Singapore was what led to him being conferred the honorary degree.   
"This is an achievement for two countries. Normally when nations separate (in 1965), there will be violence. But in the case of Malaysia and Singapore, the separation was smooth and good relations continues," he said. 
"Singapore and Malaysia remain good neighbours. Yes there may be some problems, some competition between us, but by and large we have been able to resolve these problems in a very peaceful way," said Dr Mahathir. 
The 93-year-old prime minister also expressed hope that Malaysia and Singapore have set an example of how neighbouring countries can solve problems between them. 
"It is something that should be noted by a lot of countries. Because in many countries, when there are conflicts between them, they resort to violence and wars to resolve their problems."  
He also recalled his time spent studying at the King Edward VII College of Medicine from 1947 to 1953. 
"I will always value my stay in Singapore for nearly six years," he said.   

Dr Mahathir arrived in Singapore with Dr Siti Hasmah on Monday for an official two-day visit. 
Past recipients of the NUS Honorary Doctor of Laws include the late Singapore founding prime minister and alumnus Mr Lee Kuan Yew, Brunei's Sultan Hassanal Bolkiah, Emeritus Senior Minister and alumnus Goh Chok Tong, former United Nations Secretary-General Ban Ki-Moon as well as alumna Mdm Halimah. 

Among those who previously received the NUS Distinguished Alumni Service Award are former Singapore Senior Minister of State for Foreign Affairs Zainul Abidin Rasheed, Ambassador of Singapore to US Professor Chan Heng Chee, Ambassador-at-large Gopinath Pillai, Mayor of North-west district Teo Ho Pin and Chairman of DBS Group Peter Seah.