The power of online food reviews: Can negative reviews damage an F&B business?
Many of us rely on online reviews to give us the lowdown on a restaurant, but fewer of us feel the impact of a negative review. CNA spoke to F&B industry players to understand how online reviews can affect a business.
SINGAPORE: On any given day, Mr Joe Tan would rather receive a review criticising his eatery's food than one comprising a one- or two-star rating without additional feedback. The latter is, in his books, a "bad review". 
"To me, that's a bad review because I don't understand what I did (wrong). We're very clueless when we don't know what to do," the 38-year-old director and co-owner of The Tuckshop, a neighbourhood bar and cafe, told CNA. 
"A bad review is also from somebody we can't trace, like a reviewer who has no reviews before … or a reviewer who has mainly negative reviews in his profile. It's a bad review (if) you're not objective, or you leave no means for me to get back to you." 
Such reviews frustrate Mr Tan because it "statistically" takes "a long while" to recover from a one-star review. The effect of a one-star review is "much more intense" compared to four or five good reviews, as it takes about four to five five-star reviews to negate, he said. 
But while such negative reviews are part and parcel of being in the food and beverage (F&B) industry, he hasn't yet filed a lawsuit against a reviewer.
This, however, wasn't the case for two other eateries: Mentai-ya Japanese Cuisine and The Social Outcast. 
On Sep 15 and 16, the two eateries sent letters of demand to Japanese eatery, Ishiro, for allegedly posting a slew of false and defamatory comments and reviews about their food. 
In the incident first reported on Mothership, the letters stated that the two eateries were seeking compensation for "false and defamatory comments and reviews''.  These caused "significant damage to their business reputation" and caused the owners to suffer "emotional and mental distress". 
WHAT CAN THE LAW DO?
While many F&B businesses don't end up in legal disputes with a reviewer, Mentai-ya and The Social Outcast engaged commercial disputes and defamation lawyer Clarence Lun to fight their case. 
Speaking to CNA over the phone, Mr Lun, 38, the managing director of Fervent Chambers, explained the definition of a defamatory review in the eyes of the law.
"Essentially, for defamation, you need to prove that (information presented) is false and untrue, and whether the sender's defamatory remarks will lower your standing in the eyes of the ordinary person," he said.
"For a court to then determine how the words or language would be interpreted, they'll look at the plain and ordinary meaning of the words used. 
"While you can say something and subsequently say you don't mean to defame and that you meant something else, the question is, in the eyes of the public, when you make such a statement, would it have lowered the (company's) standing? What would members of the public have thought?" 
Mr Lun, who has been involved in similar F&B defamation lawsuits, said that while people are entitled to their opinion when posting online reviews, the more pertinent question is the premise for that opinion. 
"(For example), if you have another agenda in mind, like to bring the standing of a competitor down so that you can get more business on your own, or maybe you just really don't like the business." 
ONLINE REVIEWS IN COVID-19
Negative reviews sometimes crop up because customers are unhappy that eateries have to enforce COVID-19 safe management measures, said F&B business owners who spoke to CNA. 
Some unvaccinated diners also leave negative reviews when they are turned away by restaurants. Under current regulations, unvaccinated people are not allowed to dine-in at F&B outlets – except at hawker centres and coffee shops – unless they have tested negative for COVID-19 or are aged 12 and below. 
At Thai restaurant, 87 Just Thai, co-owner Eric Tan said there has been an increase in negative reviews that "have nothing to do with the restaurant" or are about "things we cannot control".
His restaurant received a one-star review on Google in August, where the reviewer was "very disgusted" at the restaurant's support for "the government's move to discriminate unvaccinated people". 
Such negative reviews do "a lot of damage" because it affects the algorithm and pulls down an F&B outlet's overall rating. 
For example, if a customer searches on Google for Thai food in the area, they would see eateries with four or five stars appear at the top of the list, explained Mr Tan. And when an eatery doesn't appear on the first page, it could lose a potential customer. 
In that sense, good reviews "help a business be more visible online", which can be extra important for a new establishment, he added. 
But Mr Tan said the "unfair" thing about Google reviews is that anyone can create an account to leave a review, even if they have not visited the restaurant. 
"I feel that's really unfair. When you try to contact Google about this, they would just say it doesn't go against their policies and they'd just leave the reviews there." 
Google told CNA that it has a reviews policy, and if users report that a review flouts the policy, it may be removed. But the tech giant also said it "doesn't get involved when businesses and customers disagree about facts".
"Users should only report reviews that violate Google's content policies and not report a review just because he or she disagrees with it or doesn't like it," it said. 
REVIEWS "QUITE IMPORTANT" FOR FRONTLINE EMPLOYEES
Negative reviews also impact frontline F&B employees, for whom reviews make up part of their KPIs (key performance indicators). 
Mr Darien Chow, a former assistant restaurant manager at a hotel (which he declined to name), cited the example of travel reviews website TripAdvisor. 
"Customers say, if you don't give me what I want, I'll write on TripAdvisor; if you don't give me a table, I'll write on TripAdvisor," he said. 
"You cannot satisfy everyone, you can just do your best."
To make up for a customer's bad experience, Mr Chow, 30, used to reach out to them personally, giving them his email or mobile number. He'd tell them that they could contact him personally, and he'd ensure they got "the best experience possible" on their next visit.  
"Online reviews are quite important. They're actually part of our KPIs. Back then, the management used that to motivate our staff to do better, such as by seeing how many good comments you get on TripAdvisor," he said.
"(Customers) may write that you provide good service throughout their experience, then (it will make you) go the extra mile to make sure they know your name. That also helps us keep tabs on ourselves to provide good service." 
Mr Chow recalled friends in the industry who went for job interviews at restaurants, where the general manager pulled up TripAdvisor to see if they received positive reviews about their customer service on the site. 
"It's like your online portfolio," he said. 
Getting employees involved in obtaining positive reviews from customers is one way that an F&B business can recover from negative comments, noted Ms Cho Pei Lin, 43, managing director of public relations firm APRW.
After all, while a restaurant can write to, say, Google, to remove negative reviews, it can be difficult to anticipate how long these companies would take to respond, she added.
In the meantime, F&B businesses can encourage "genuine customers" to leave a positive review immediately. 
"It is not something new. Restaurants have been doing that. Hotels, especially. They would take special effort to say, 'Please leave me a review, and if you can, put my name there,'" she said. 
"Because if the staff's name is listed in the reviews they get, it reflects in their performance appraisal, and possibly has an impact on their bonus."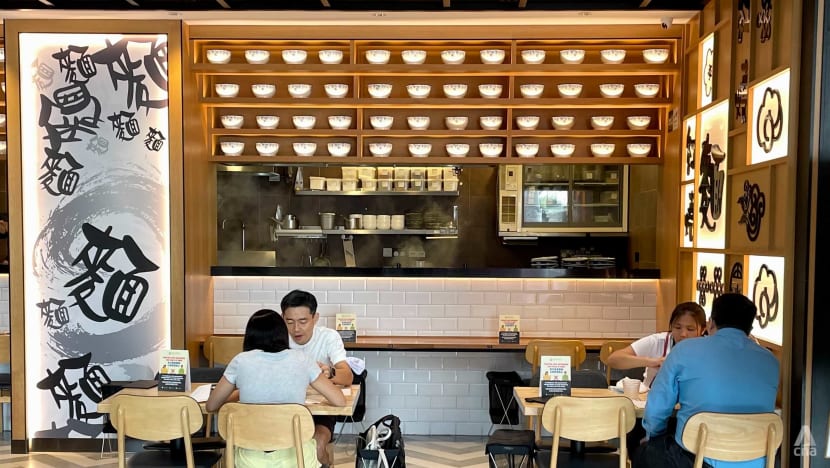 GOOD SERVICE RECOVERY IS KEY 
Despite the power that negative online reviews hold, F&B business owners told CNA that the service recovery process can turn things around. 
For a start, it's important for F&B businesses to reply to a negative review publicly, so that people who read the reviews can read their response as well, said Ms Cho. 
"You acknowledge that there may have been a not-so-ideal incident. You say sorry, explain yourself if there's a good explanation for what happened, or call the bluff. For example, if someone says they've come to the restaurant on a certain day, but it wasn't even open that day," she added. 
"Of course if the incident truly happened, like the service staff was rude or the food wasn't up to standard, then you apologise for it. You can ask the reviewer to get in touch with you privately. I've seen restaurants offer customers vouchers so they can return, or offer a refund." 
At The Tuckshop, Mr Tan investigates all negative reviews, beginning with calling a team meeting to understand when certain incidents took place. If no one can recall what happened, they would check their CCTV footage.
"Regardless of whether we can find the evidence of anything that happened, I'll reply to the reviewer. If you look at my reviews, I'd usually give my email and write personally to them, tell them I'm going to reach out to them and understand what's going on. I'd like to see how we can make our service better. We don't take them for granted," he said. 
"Sometimes, it could be that the person genuinely had a bad experience. But I can tell you, when I put out that comment, I've never gotten a reply back." 
The only time Mr Tan gets a reply is when people leave negative reviews on his reservation system, which requires them to leave their name and mobile number. That allows him to carry out his service recovery. 
But even without a response from the reviewer online, he wants others to see that The Tuckshop "genuinely values customer feedback" and that they will get back to customers on every piece of feedback.
For established eateries like Mr Tan's, he doesn't think a negative review would destroy the business because word of mouth from customers still plays a large part in its success.
"If we are really good, we are really good. As long as our product and our service that's delivered to customers is consistently good, I think one bad review won't hit us down. People will stand up for you when you're genuinely a good business," he said. 
"A Google review is a good litmus test, but I feel that … being able to be consistently good in what we do and having a regular flow of customers is much more powerful than the typical online review."
But on top of good service recovery, F&B business owners must remain open to negative feedback.
Ultimately, that mindset will be what makes a business, according to Mr Han Li Guang, owner and chef of one-Michelin starred restaurant, Labyrinth. 
"Reviews won't make or break a business directly, but as a restaurant owner, we've got to be a little bit more open-minded," the 36-year-old told CNA. 
"It doesn't feel good to (receive negative reviews), and we're not intending to serve rubbish to customers.
"Positive feedback is always easier to hear (and it's) encouragement, but it doesn't really help us improve ourselves so to speak. I will say negative constructive feedback (is helpful), like if they tell you certain things can be improved in a constructive manner." 
It is the "inability of a restaurateur to take in that kind of feedback to improve yourself" and choosing to "bask yourself in glory" that would break a business, added Mr Han. 
"What makes a business is how much knowledge you have, how on the ground you are, how much you grasp and understand what the public is saying about it, how confident you are about your product, and the never-ending drive to improve yourself further."