Phased nationwide roll-out of Open Electricity Market begins: 5 things to know
Confused about what the Open Electricity Market entails? Not sure how to sieve through the buffet of price plans? Here's what you need to know.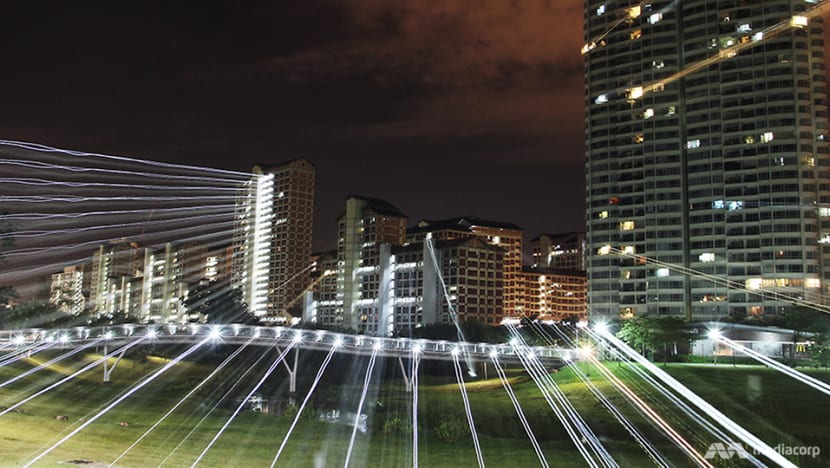 SINGAPORE: Some 350,000 consumers will now be able to switch electricity providers for the first time, as an initiative to liberalise the local retail power market kicked off a phased launch on Thursday (Nov 1).
These refer to the households and businesses with postal codes that begin from 58 to 78 in districts such as Choa Chu Kang and Yishun.
Other parts of the island will get their turn over the next six months, with the Open Electricity Market – a move that authorities hope to spark competitive pricing and innovative offers – being progressively rolled out. 
If you're still in the dark about this, read on:
WHAT IT IS ABOUT
Simply put, buying electricity will become similar to choosing mobile phone plans.
Instead of getting power solely from SP Group at the quarterly-reviewed regulated tariff, the Open Electricity Market will allow you to pick and choose from a buffet of price plans offered by a dozen or more approved retailers.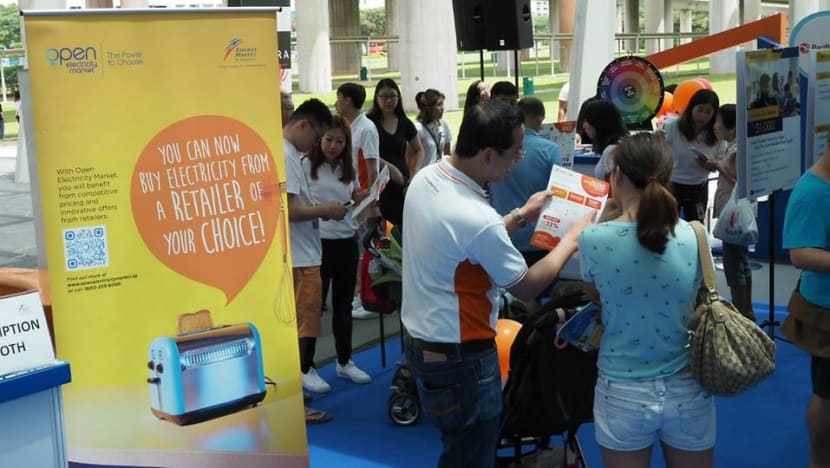 This comes after a gradual process of opening up the electricity market here since 2001. At the start, it was just heavy industrial users before more businesses were allowed to go shopping for electricity. 
Currently, this refers to business accounts with monthly electricity consumption averaging at least 2,000 kilowatt hours (kWh), equivalent to a bill of about S$400.
Homeowners were given that flexibility for the first time when the pilot test of the Open Electricity Market began in Jurong on Apr 1. According to the Energy Market Authority (EMA), more than 30 per cent of consumers there have made the switch as at end-September, and managed to trim their electricity bills by about 20 per cent. 
But it's fine if you prefer to stick with status quo. This new initiative is not compulsory and there is no deadline for switching.


CONSUMERS AND RETAILERS: WHO'S INVOLVED? 
With the extension being done in four batches according to postal codes, consumers with codes from 53 to 57, 79 to 80 and 82 to 83 will be the next zone to be included in the Open Electricity Market from Jan 1. 
The third zone, marked by postal codes starting with 34 to 52, and 81, will receive the green light next March, while the final area, that comprises codes from 01 to 33, is scheduled for May 1.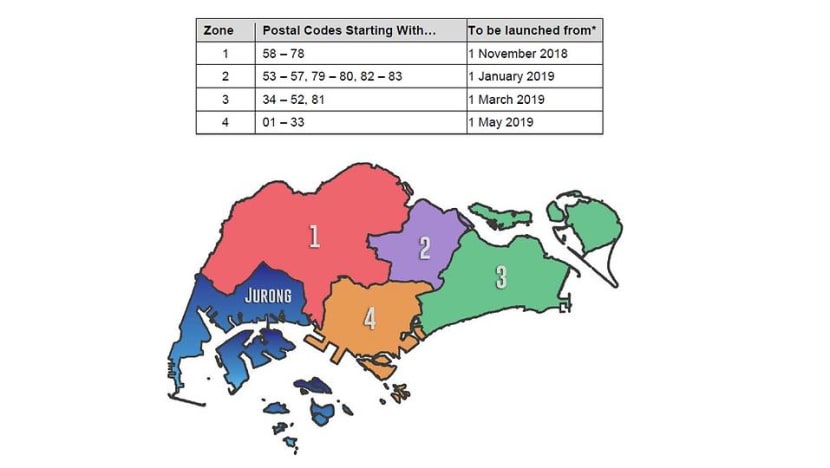 As for retailers, EMA's latest update shows 13 of them vying for a slice of the local market.
That's more than the initially announced 12 with Diamond Energy and Sunseap being added to the list.
Meanwhile, SingNet, which was in the retailers' list announced previously, has decided to pull out.
"We will take a partnership approach to offer electricity to our customers and are in discussions with potential partners," said a Singtel spokesperson in response to queries from Channel NewsAsia. 
"We believe the combination of our large customer base and a power generation company's competitive pricing will allow us to deliver a better value service option to Singapore households." 
Going forward, this list looks set to change as other providers have also indicated their interest to re-join the market when ready.



WHAT TO LOOK OUT FOR?
With more than 10 retailers, comparing price plans on offer can sound like a daunting task. 
To help consumers, the EMA has streamlined the standard price plans to just two: a fixed price plan and a discount-off-the-regulated-tariff plan. 
The former means that you pay a fixed rate for electricity throughout your contract duration, which can range from 6 months, a year to two years. Prices seen thus far are about 18 cents per kWh for a 12-month plan, and around 16 to 17 cents per kWh for 24 months.
This is comparatively cheaper than the quarterly-reviewed tariff, which stands at 24.13 cents per kWh for the three months to Dec 31. 
For the latter, it involves a fixed discount off the existing tariff during your contract. For now, many retailers seem to be dishing out a discount of about 21 per cent.
To be sure, you can always check out non-standard price plans, such as the peak and off-peak plan where you pay more for electricity during the peak period and vice versa, as well as clean energy subscriptions if you are eco-conscious. 
For better deals, keep an eye out for sign-up promotions and other perks that may come from retailers' partnerships with other merchants or banks.
POSB Everyday cardholders, for instance, can enjoy rebates with a couple of retailers like Tuas Power and Union Power.
DBS also has its own "marketplace" that will feature price plans from seven retailers by the end of this month. It promises to be "hassle-free" by allowing sign-ups through the bank's Internet banking service. 
As a start, watch out for the notification package and information booklet that will come your way when the roll-out begins for your zone. You can also compare prices at compare.openelectricitymarket.sg.
I'M KEEN - WHAT DO I DO NOW? 
Start by contacting your preferred retailer for more details, as well as ask for a fact sheet and a consumer advisory that will contain the key information you should be aware of.
Before signing any contracts, scrutinise contractual terms such as contract duration, payment terms, security deposit, early termination charges and auto-renewal clauses, and ask if there are terms and conditions associated with bundled products or services. 
Also take note of the billing arrangements offered by retailers. If you prefer to continue receiving a single bill for both electricity and non-electricity charges, you should consider signing up with a retailer that bills their customers via SP Group. 
Always remember to take your time to understand the options before making up your mind.
Should you decide to sign up, your preferred retailer will work with SP Group to make the switch for you. Your contract will start as early as five business days after your retailer informs SP Group. 
There is no need for households to change their meters, unless you wish to install an advanced meter to monitor your consumption every 30 minutes. For that, you may have to pay a one-time installation fee of S$40, excluding GST. 
The EMA has put in place safeguards for consumers so you should not be receiving any unsolicited calls, messages or visits by any retailer. If you do, inform the authorities at ema_enquiry [at] ema.gov.sg or call 6835-8000.
WHAT HAPPENS IF I CHANGE MY MIND? 
You can make the switch back to SP Group or another electricity provider, but be sure to check on early termination charges or related fees before doing so.
Regardless, your electricity supply will not be affected as the national power grid remains operated by SP Group.