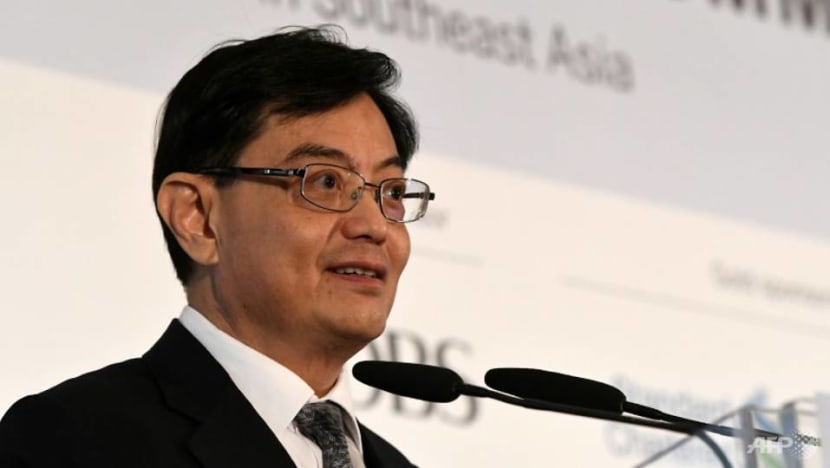 SINGAPORE: Finance Minister Heng Swee Keat has been appointed the People's Action Party (PAP) first assistant secretary-general, an indication that he is the frontrunner to be Singapore's next prime minister.
The 57-year-old's appointment was announced on Friday (Nov 23) along with other key office holders of the PAP Central Executive Committee (CEC), the party's top decision-making body. 
Minister for Trade and Industry Chan Chun Sing, 49, who has also been seen as a potential prime minister, was appointed the second assistant secretary-general.
The post of party chairman was filled by Health Minister Gan Kim Yong, while Prime Minister Lee Hsien Loong remains the party's secretary-general.
Education Minister Ong Ye Kung, the third person identified as a possible successor to Mr Lee, was appointed assistant treasurer.
Law and Home Affairs Minister K Shanmugam was appointed treasurer.
The PAP had on Nov 11 elected a new slate of members into its CEC, which saw more of Singapore's fourth-generation leaders stepping up to the party's core leadership.

Several senior leaders had also stepped down as the party gears up for renewal ahead of general elections due to be called by 2021. Mr Lee, 66, has said he wants to step down by age 70.
FOUR MORE MEMBERS CO-OPTED INTO CEC

The PAP also announced on Friday that four more members have been co-opted into the CEC - Minister for National Development Lawrence Wong, Minister for Social and Family Development Desmond Lee, Mr Sitoh Yih Pin and Mr Christopher de Souza.

Apart from office holders within the CEC, several other appointments were announced, including Mr Chan as HQ Exco chairman. 
Speaker of Parliament Tan Chuan-Jin was appointed chair of pap.sg, while Senior Minister of State Janil Puthucheary was appointed chair of the PAP's youth wing. 
Minister for Manpower Josephine Teo is chair of the PAP Women's Wing.
"A DIVERSE TEAM"
In a statement on Friday, a group of 32 younger political office-holders said they endorse and support Mr Heng and Mr Chan as their leaders. 

"We have been carefully considering the issue of leadership for the team. In January, we issued a statement that we will choose a leader 'in good time'. Now we have a consensus that the team will be led by Swee Keat.

"We also note that Swee Keat has asked Chun Sing to be his deputy, and that Chun Sing has agreed to do so," said the statement.

"We have a diverse team, comprising members with different experiences, as well as complementary skills and strengths," the statement added. 

"We will continue to work cohesively as a team, and forge a strong partnership with all Singaporeans. We are united in our purpose of serving Singaporeans to the best of our abilities." 
Speaking on the sidelines of a press conference chaired by Mr Heng and Mr Chan, PAP CEC member Indranee Rajah said the process of choosing a leader amongst 4G leaders was "amicable" and "friendly". "We were very conscious of the fact that this is a leadership transition. We are also conscious of the fact that Singapore has challenges ahead, so we wanted to make sure that we have the best team possible."

PAP organising secretary Grace Fu said the focus of the team is to work together, still under the advice of the prime minister and senior ministers. "I would like to give a word of thanks to our senior ministers. This is a unique party where we do not have any squabbles, indecisiveness or any ... light and sound in the process of renewal.

"It is unique because all of us put the interest of the people and the future of the country ahead of ourselves," she said.
Dr Maliki Osman noted that Mr Heng, who has worked closely with many 4G leaders on various committees such as for Our Singapore Conversation, the Committee on the Future Economy and SG50 efforts, has shown his "consultative approach" and his leadership. "I think all of us are very confident that he will be able to lead us moving forward," he said.
Prime Minister Lee Hsien Loong said in a Facebook post that he supports the decision made by the younger ministers in the Cabinet and is "happy with this outcome".
"I have known and worked with Swee Keat and Chun Sing for some years now, and watched them grow in their different responsibilities. They have complementary strengths, and make a strong pairing."