SINGAPORE: Foreign visitors to Singapore will soon not have to fill up paper arrival cards, and can instead submit their information online before their trip.
The disembarkation/embarkation cards, which foreigners entering Singapore are required to submit on arrival, contain information such as travellers' flight numbers and their addresses while in Singapore.
With the electronic arrival card, travellers can submit their personal information and trip details through the Immigration and Checkpoints Authority's website or via a mobile application before arriving in Singapore, ICA said in a news release on Wednesday (Oct 3). 
Only passports need to be produced for immigration clearance upon arrival. The electronic arrival card which they had filled up in advance will then be called up by ICA's immigration system.

A trial of the new electronic arrival card will be conducted for three months starting on Thursday, said ICA. The trial will be conducted at the Woodlands and Tuas Checkpoints, Changi Airport and Singapore's four cruise/ferry terminals.

Foreign visitors who arrive at these checkpoints but have not yet completed the paper arrival cards may be approached by ICA officers to participate in the trial, and to provide feedback.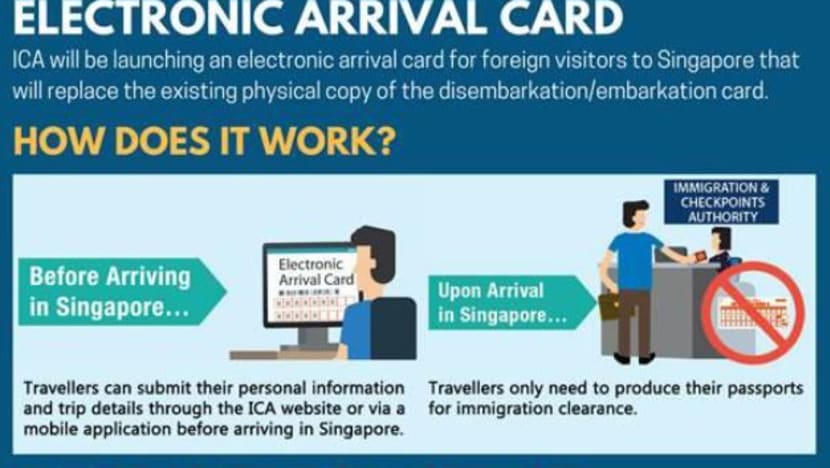 The trial will not affect Singaporeans, permanent residents and long-term pass holders such as students and workers who are returning to Singapore, as they do not need to submit any arrival cards, ICA said.

TRAVELLER-FRIENDLY FEATURES
Available in various foreign languages, the electronic cards allow those travelling with families or in small groups to make a one-time group submission. 
Travel information such as flight details, last port of embarkation and address in Singapore will automatically replicate for every person in the group. 
The mobile app will also allow travellers to save information submitted from previous trips for future trips to Singapore.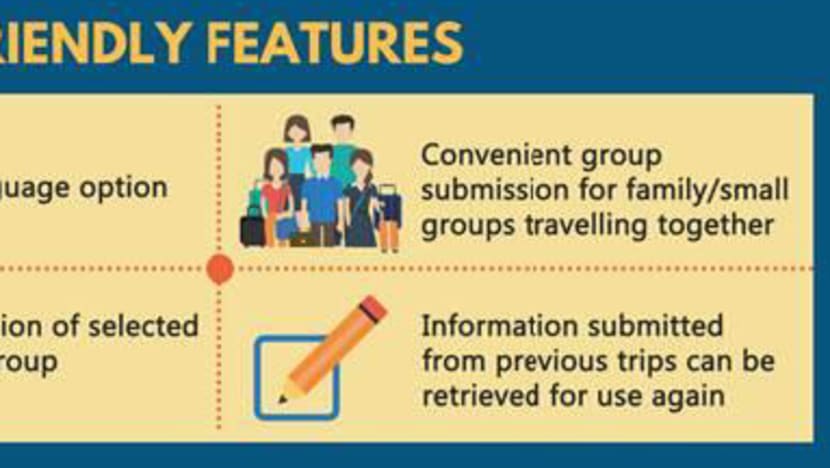 "The electronic arrival card will enhance operational efficiency and is a significant step towards ICA's vision of paperless immigration clearance," ICA said, adding that the move will also save up to 48 million paper cards a year.

More details of the implementation of the electronic cards will be announced after the completion of the trial, ICA said.