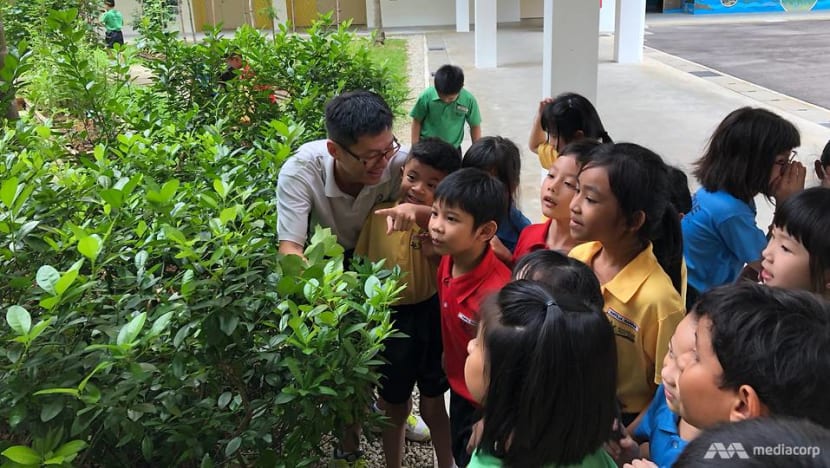 SINGAPORE: The move to shift away from academic results by having fewer exams in primary and secondary schools has been commended by parents Channel NewsAsia spoke to as a "good first step".
However, they pointed out that it is still too early to tell if the move will truly make a difference in reducing the over-emphasis on grades. They added that even though the changes will be implemented progressively from next year, they hoped that at the school level, more details would be given about how the changes would be carried out.
On Friday (Sep 28), the Education Ministry (MOE) announced that all weighted assessments - which could take the form of class tests, presentations or group projects - would be removed for all Primary 1 and 2 students from next year.

Mid-year examinations would also be removed for Secondary 1 students from next year. By 2021, the same will be done for Primary 3, Primary 5 and Secondary 3 students.
The levels were chosen, according to MOE, because they are "transition years" where students will be exposed to new subjects and higher content rigour.
TARGETING 'TRANSITIONAL YEARS' WELCOMED BY PARENTS
Mother-of-one Teo Kei Hoong said the move to have exams only from Primary 3 onwards is a good one because some children experience adjustment issues going from kindergarten to a primary school environment.
Madam Teo, who volunteers at a parent reading programme at a primary school, said she observed that students do not enter primary school with the same levels of literacy.
"The programme is run by parents for those who are weaker in reading. They went through kindergarten but perhaps did not get the right education. So when they come to us, some of them cannot even spell simple words like three-letter words," said Mdm Teo, who is a part-time fitness instructor and homemaker.
"Going to Primary 1 is a very steep learning curve for them and to actually have to go through exams, especially the final-year exam, I don't see it as necessary," she added.
Another parent Evelyn Liu, who works as an associate lecturer, said that the scrapping of mid-year exams from the so-called "transition years" would have been especially helpful for her daughter a year ago when she was in Primary 5.
Currently, some schools carry out subject-based banding to match a child's competency in a subject to the appropriate class combination.
"The challenge we had from the system that she is in right now is that from Primary 4 to Primary 5, there is that streaming and then Primary 5 was a very big jump in terms of the curriculum and in her performance," Ms Liu said.
Teachers even told her to taper her expectations of her daughter's results and that it is "very normal" for the child to experience a drop in her results.
"Why should parents be told to 'expect a jump or drop in performance' come the beginning of Primary 5? The curriculum should be delivered gradually across all six years rather than the sudden jump in Primary 5," Ms Liu added.
Ultimately, whether the shift is a beneficial one or not will depend on how schools implement the changes and how they spread the curriculum wider with the extra time, said Ms Liu. She agreed that more time, even just three weeks, will be helpful for students.
PARENTS PREFER TESTS OVER EXAMS
In a bid to move away from over-emphasising academic results, MOE has reduced the number of school-based exams but added that teachers can continue to assess students through tools such as worksheets, classwork and homework.
Removed exams can be substituted with class tests as well, but the ministry will set guidelines so that there will only be one class test per subject per term that will count towards the final score, said Minister Ong.
Lawyer and mother-of-two Anna Quah welcomes the shift from exams to tests, but said that it must be made clear to all that class tests should only act as "checkpoints".
Class tests, she observed, are on a smaller scale and are usually interspersed throughout the year.
"When it's a bite-sized chunk that way, it becomes a true assessment of what they have learned … as opposed to an exam where you cram and go for tuition or enrichment," Ms Quah said.
"It just becomes an artificial representation of your ability to perform in an exam setting as opposed to an accurate depiction of whether the child has learned and absorbed, and his ability to apply," she added.  
Ms Quah also said that the latest changes will help in a certain way, but more attention should be put on shifting the objective of exams from one of scoring to one of learning. 
Another parent Samantha Anderson said that her daughter found it less stressful when her school, Ngee Ann Secondary, removed mid-year exams last year.
"Actually having no exams in primary schools wouldn't hurt our kids. The teachers would have much longer to teach the students more, with more opportunities to make learning fun," Ms Anderson said.
"Let's give teachers the much-needed space to breathe," she added.
MOE will be sharing guidelines with schools at a later date to support them in the implementation of these changes.