Government agrees 'in principle' to livestream Parliament proceedings, MCI to study details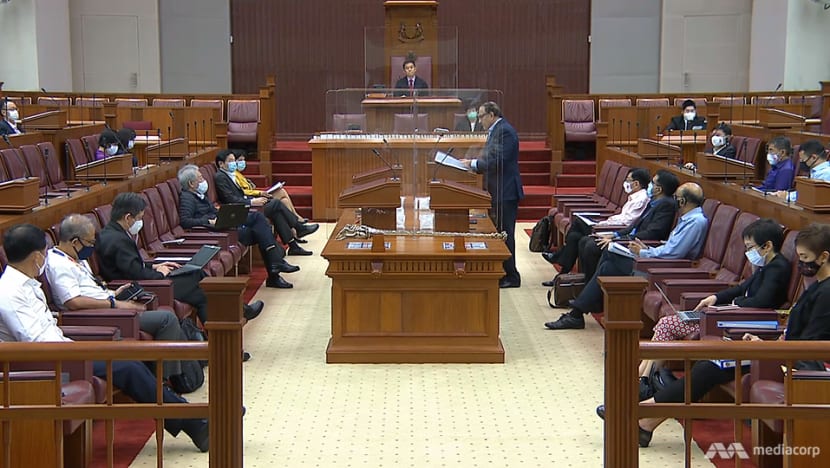 SINGAPORE: The Government agrees "in principle" to the livestreaming of parliamentary proceedings, and the Ministry of Communications and Information (MCI) will study the technical and implementation details, said Communications and Information Minister S Iswaran on Friday (Sep 4).  
"Our aim, as always, will be to achieve transparency, accountability and accessibility while preserving the integrity and dignity of parliamentary proceedings," he said in Parliament.
The issue of livestreaming parliamentary proceedings had previously been raised in the House, most recently in May. 
Former Leader of House Grace Fu had said on May 5 that parliamentary proceedings are uploaded online in a "timely, comprehensive and easily accessible manner", and these are available to members of the public, including students and overseas Singaporeans.

She was responding to questions from MPs during a debate to amend the Constitution to create a mechanism for Parliament to meet at two or more places in the case of exigencies such as the COVID-19 outbreak.

In Parliament on Tuesday (May 5), Leader of the House Grace Fu responded to clarifications sought by several MPs on the Constitution of the Republic of Singapore (Amendment) Bill. The Bill was then passed.
Mr Iswaran spoke on Friday of the important roles that Parliament plays: To express the aspirations and concerns of citizens; to hold reasoned debate; and to be a "voice of hope" as the country deals with unprecedented challenges and seek solutions.
"If we do this, then I think we would have made a signal contribution to our nation building efforts, with a deep engagement of our citizens," he said.
In that spirit, the Government had made close attention to calls to broaden access to parliamentary proceedings, such as through live broadcasts or streaming online, despite its reservations.
"Anyone can watch these proceedings in person from the Strangers' Gallery. Every speech and exchange in Parliament is recorded and made available online. Clips, categorised by topic and speaker, are uploaded within hours of each sitting.
"The Hansard provides a full written record of parliamentary proceedings and is available online. These already give us the full benefits of transparency, accountability and accessibility. We have been reluctant to go further for both practical and policy reasons."
Demand for such live broadcasts, even of major speeches, is low - only 10 per cent of that of free-to-air television news - he said, adding that livestreaming increases the risk that MPs will "play to the gallery".
"An element of cut-and-thrust is unavoidable, even necessary, because members want to show Singaporeans that their concerns are being expressed, and questions asked and answered in Parliament," said Mr Iswaran.
"However, it is equally important that members must come to grips with the issues and their complexities and not simply play to the gallery. Live broadcasts risk compromising this ... I want to say that we still hold these reservations."
However, noting the global and technological trends, which have made online streaming commonplace and seen legislatures livestreaming their proceedings in many countries, he said that the ministry will study the details and announce them soon.

On the point of parliamentarians playing to the gallery, Leader of the Opposition Pritam Singh said: "It is our view that the element of theatre will be exposed also. And the public will conclude fairly quickly, if not immediately ... who is here to turn Parliament into a theatre and who is here to be serious about Parliament as a forum where serious matters are discussed."
Mr Iswaran said the experience of other countries did not give much reason to be optimistic in this respect, which was why he voiced his reservations.
"What it means is that at the end of the day, it is not axiomatic one way or the other. It depends on all of us as parliamentarians to maintain the decorum, the dignity and the integrity of our proceedings through vigorous debate, based on facts and focused on the long-term interests of Singaporeans," said the minister.
INFOCOMM A "PROMISING GROWTH AREA"
Mr Iswaran also said in his speech that COVID-19 has given the infocomm sector in Singapore, which was already doing well, a further boost.
"It is one of our most promising growth areas, offering interesting and attractive jobs and careers for Singaporeans," he said.
The total employment in the sector has grown more than 11 per cent from 2016 to 2019, with an estimated 22,000 jobs created with a median gross salary of S$6,000. Despite this rapid growth, the proportion of locals has held steady at 70 per cent, he said.
"We want to further increase opportunities for Singaporeans in the sector. But, our talent policy must take into account the variegated landscape of the tech ecosystem," he said.
There are firms with varying sizes and business models, at different stages of growth, with diverse needs, and thus different staff profiles, he added.
For example, digital giants like Google, which have regional headquarters in Singapore, need a globally diverse talent pool because of the scope and nature of their business; while local unicorns like Grab and SEA started with and maintain a Singaporean core.
But these companies also need regional and global talent to compete.
"Our challenge is to work with these companies to continue creating career opportunities for Singaporeans, while recognising that we must allow them to have the necessary access to talent that's diverse, especially in emerging areas, to strengthen our position as a digital tech hub," he said.
He emphasised that with the digital transformation of the economy, Singapore must also be inclusive and ensure that people and businesses can remain connected and empowered.
"We are intensifying our efforts, working with the industry and unions to transform sectors, ease business transitions, create opportunities for job seekers and re-skill workers," he said. 
"Indeed, the digital economy is a bright spot, offering more than 18,000 jobs and skills opportunities under the SGUnited Jobs and Skills Package."