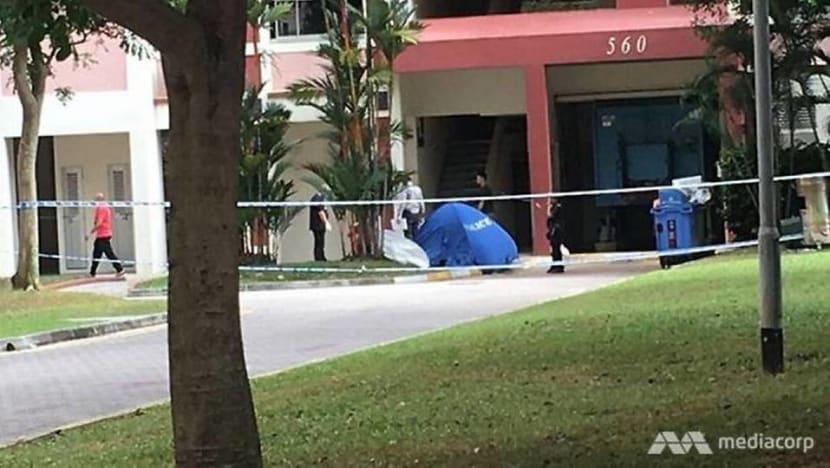 SINGAPORE: The father of an intellectually disabled daughter stabbed her to death before jumping to his demise because he believed that ending their lives would solve his concerns over her future, the State Coroner said on Friday (Sep 7).
On Aug 20 last year, 69-year-old Tang Soh Ha was found dead at the foot of Block 560, Pasir Ris Street 51, where he lived with his wife and three children.
His 27-year-old daughter Tang Hui Yee, who was autistic and intellectually disabled, was found lying in a pool of blood in the kitchen of their second-storey home.
Delivering her findings on Friday afternoon, State Coroner Kamala Ponnampalam said that Mr Tang had been treated for depression and was previously diagnosed with bipolar mood disorder and delirium.
About two weeks before the double deaths, Mr Tang consulted a doctor at the Institute of Mental Health (IMH) after being referred by a polyclinic for having suicidal thoughts.
He said he was having sleep problems and experiencing low mood, with "fleeting passive suicidal thoughts of dying by jumping from height". He was unable to sleep and would think about the future of his daughter.
Mr Tang was diagnosed with insomnia with secondary depressive features and prescribed a low dose of diazepam to aid his sleep.
He was also given a follow-up appointment date and advised to return to the IMH emergency room if he felt suicidal or unable to cope with his symptoms.
MR TANG WAS ILL FOR TWO WEEKS BEFORE THE DEATHS: SON
According to Mr Tang's son, his father had felt very sick about two weeks before his death. He also had thoughts of suicide, which prompted Mr Tang's son to take him to Pasir Ris Polyclinic.
After being referred to IMH and receiving prescribed sleeping pills, his father was able to sleep at times. 
However, he would complain that he felt tired easily and also made negative remarks such as "he was burdening the family and who would take care of Ms Tang if he was not around".
The night before the incident, Mr Tang's son returned home to find his father lying awake on the sofa in the living room. At about 3am, he saw his father reading the bible in the kitchen.
At about 9am the next day, he saw his father playing with his granddaughter in the kitchen.
Almost two hours later, the son left the house with his mother to buy some furniture and groceries. That was the last time he saw his father alive.
At about 2pm that day, Mr Tang's son received a call from the police, who told him that something had happened to his family.
He rushed home with his mother and saw his father's body on the ground floor. When his mother went up to their home with a police officer, they discovered Ms Tang lying motionless in the kitchen.
Mr Tang's son revealed that his dad was the one who generally took care of his sister, and had recently been stressed that he could not care for her properly due to his poor health.
HUSBAND WORRIED THAT HIS HEALTH WAS FAILING: WIFE
Mr Tang's wife, Madam Yeo, said that "everything was normal" when she left the house with her son on the morning of the deaths.
Before the incident, however, she noticed that her husband had not been sleeping well and was not his usual self.
She said he "kept thinking of a lot of things" and was worried about their daughter. He worried that his health was failing, and that there would be no one to take care of her in the future.
Ms Tang had moderate intellectual disability and had been diagnosed with Autism Spectrum Disorder at a young age.
One week before her death, she went for a review at IMH. She appeared to have a relapse of certain behavioural issues, and would frequently play with water and stand under the shower head with the water running for hours at a time. 
She had also hit other people a few times when she did not get her way.
NO BASIS TO BELIEVE THIRD PARTY WAS INVOLVED: STATE CORONER
The State Coroner said that there was "no basis to believe that any third party was involved in Ms Tang's demise", as there were no signs of the home being ransacked.
The DNA profiles of the swabs taken from their home belonged either to Mr Tang or his daughter, while blood spatters found on Mr Tang's hands and legs were a match to Ms Tang.
Additionally, a blood-stained footprint found next to Ms Tang's body was a match to Mr Tang's right foot.
The evidence suggested that Mr Tang had struck Ms Tang from behind with a kitchen knife, causing stab and incised wounds that led to her death. He then killed himself by falling from a height.
"Regrettably, Mr Tang had seemingly decided that the joint demise of both him and his daughter was the solution to his concerns for his daughter's welfare," said the State Coroner.
"I extend my condolences to the family of Mr Tang and Ms Tang for their sad loss," she added.
Where to get help: Samaritans of Singapore operates a 24-hour hotline at 1800 221 4444, or you can email pat [at] sos.org.sg. If someone you know is at immediate risk, call 24-hour emergency medical services.