SINGAPORE: The Ministry of Health (MOH) has asked a number of passengers who took Singapore Airlines flight SQ25 to New York via Frankfurt on May 13 and 14, as well as the return flight SQ26 on May 27, to go for tuberculosis (TB) screening as they might have got into contact with a person with an infectious form of the disease.
The passengers were asked to go to the Tuberculosis Control Unit (TBCU), located at Tan Tock Seng Hospital, for screening.
MOH said on Friday (Oct 5) that it was notified of a suspected TB case on Jul 27, but contact investigation was not initiated as the case was classified as "nontuberculous mycobacteria", which the ministry said is typically non-infectious.
MOH said: "In line with standard medical practice, the case was started on TB treatment from 27 July 2018 until TB could be definitively determined or ruled out with the results of a sputum culture, which takes up to six to eight weeks. 
"The case's culture returned positive in August for mycobacterium tuberculosis (ie TB diagnosis) and contact investigation was immediately initiated." 

Passengers sitting in the vicinity of the case who were potentially at risk were asked to go to TBCU for screening. Besides the passengers, the case's close contacts were also contacted.
They were contacted by phone, text message or email, a screengrab of which was shown to Channel NewsAsia by a reader.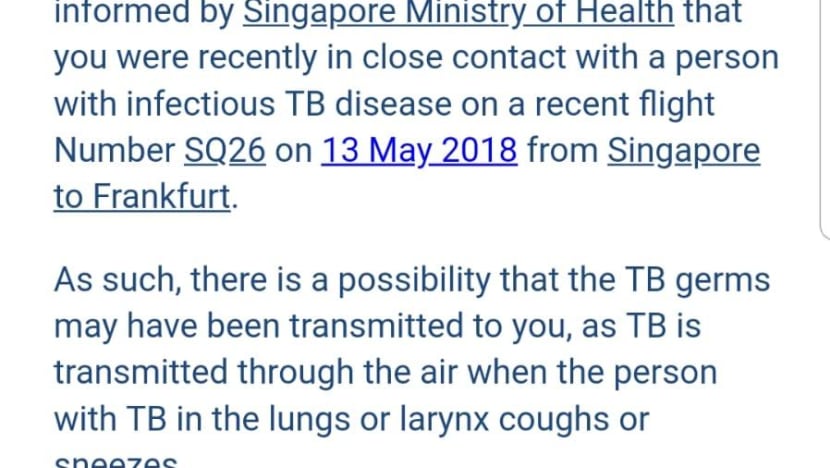 "NO ACTIVE TB CASES"

"Only those who have been contacted by TBCU have been assessed to be at risk of TB transmission. To date, all those identified by TBCU have been contacted," the ministry said. 
"In line with the International Health Regulations, MOH has also alerted the authorities of other countries whose nationals were identified as close contacts, so that they can take the necessary public health actions.

"Passengers who were on board the flights but were not identified and contacted for screening are not at risk as they did not have close and prolonged contact with the individual."

The ministry added that there are no active TB cases among the close contacts identified for screening to date.