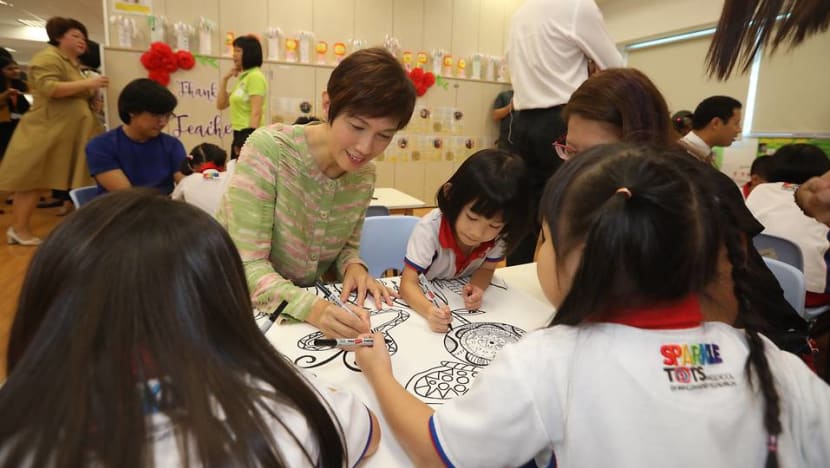 SINGAPORE: PCF Sparkletots has set aside S$20 million for the development of its teachers over the next three years, the preschool operator said on Tuesday (Sep 25).
This is to support the government's efforts in transforming the early childhood education sector, it said in a news release. 
It added that, over the last two years, it has increased its spending on training and development with more than 4,000 teachers with diplomas or higher qualifications. 
"To support the national effort to grow preschool capacity to meet the needs of young families, PCF Sparkletots also expects to grow its pool of teachers to 6,300 by 2022," said PCF Sparkletots. 

These plans were also announced on Tuesday at the official opening of PCF Sparkletots @ Bishan North Blk 409 by the Minister for Manpower and Second Minister for Home Affairs Josephine Teo.
In her speech, Mrs Teo acknowledged PCF Sparkletot's efforts to develop its educators. 
"As the largest employer of preschool teachers in Singapore, PCF Sparkletots has charted an ambitious learning and development road map for educators which includes not just professional but soft skills as well,"  she said.
"For every teaching role, we have a matching learning and development strategy."

She also added that teachers will also receive help developing new capabilities like using digital tools to stimulate learning and be more engaging with their pupils.
She said: "We know that these are critical to nurture a generation of children who can face the future with confidence."

The PCF Sparkletots in Bishan North will offer full-day childcare and infant care services and children will also have access to facilities like a garden.
"At PCF Sparkletots we are always looking at opportunities for children to be involved with the wider community," said PAP Community Foundation CEO Victor Bay.
PCF Sparkletots currently operates more than 360 preschools and enrols more than 43,000 children.