Fatal abuse of Myanmar maid: Court of Appeal dismisses woman's plea to halve 30-year jail term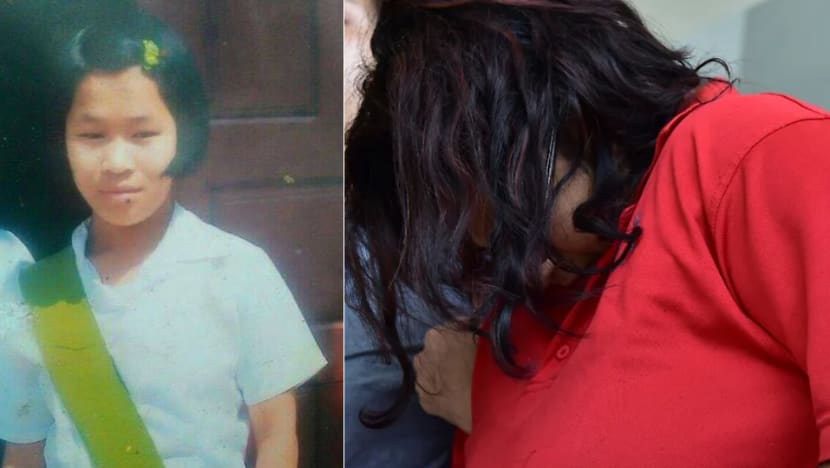 SINGAPORE: The Court of Appeal on Wednesday (Jun 29) dismissed an appeal for a shorter sentence by a woman who was sentenced to 30 years' jail last year for abusing and killing her domestic helper.
Gaiyathiri Murugayan, who admitted to the fatal abuse of her domestic helper Piang Ngaih Don in what a High Court judge called "among the worst cases of culpable homicide", had sought to reduce her jail sentence to between 12 and 15 years.
Gaiyathiri, 42, had pleaded for judicial mercy on the grounds that her psychiatric disorder would cause disproportionate suffering.
The three-judge panel rejected her appeal, upholding the sentence imposed by High Court Justice See Kee Oon.
They said that that given the severity of her offences, judicial mercy could not be justified given the significant public interest in condemning her crimes.
After their decision, Gaiyathiri informed the court that she would petition Prime Minister Lee Hsien Loong.
Ms Piang Ngaih Don, a 24-year-old Myanmar national, died of brain injury with severe blunt trauma to her neck on Jul 26, 2016, after 14 months of repeated abuse.
She weighed just 24kg when she died. In the days before her death, she was starved, tied to a window grille at night and assaulted if she tried to rummage for food from the dustbin.
Gaiyathiri appeared via video-link from prison and addressed the court herself on Wednesday. Her lawyer Joseph Chen also appeared before the court to observe proceedings.
The appeal was heard by Justices Andrew Phang, Judith Prakash and Steven Chong.
GAIYATHIRI'S PETITION
Gaiyathiri's petition canvassed some similar arguments from a previously dismissed application before the Court of Appeal, related to her psychiatric condition and treatment in prison.
She argued that Justice See had failed to consider the opinion of defence psychiatrist Dr Jacob Rajesh, who had diagnosed her with obsessive-compulsive disorder.
Gaiyathiri had qualified for the defence of diminished responsibility. She was found to suffer from major depressive disorder and obsessive-compulsive personality disorder, both of which substantially contributed to her offences.
She claimed that her condition had improved since being remanded and given treatment, as she refrained from violence towards other inmates despite "bullying".
She argued that this showed her treatment of the victim was due to her psychiatric condition and lack of access to medicine.
In her petition, she also claimed that she felt pressured into hastening her plea of guilt last year to expedite proceedings against her mother.
She also argued that the judge did not give sufficient weight to her stressors in the form of her children's health, and her feelings of remorse during sentencing.
Gaiyathiri then repeated claims she had previously made about verbal and sexual abuse by prison officers and other inmates, saying it was not a matter of the length of her sentence but how she would go through it.
"If you tell me I will be well and alive for the 30 years I will have nothing to say," she told the judges.
Justice Prakash responded: "It's useless to make the complaint to us because we do not control the prisons. What we are here to decide is simply how long the sentence should be."
The prosecution told the court that it had previously obtained an affidavit from the Singapore Prison Service and shown that the allegations about mistreatment in prison were false.
Deputy Public Prosecutor Mohamed Faizal went on to argue that Justice See found that Gaiyathiri's actions were "heinous" based on the circumstances of the offence.
"The facts speak for themselves," said the prosecutor, citing the fact that the victim lost almost 40 per cent of her body weight during her employment and that dozens of scars and external injuries were found on her body.
COURT OF APPEAL'S JUDGMENT
Delivering the judgment on behalf of the three-judge panel, Justice Phang said two issues arose from Gaiyathiri's petition.
The first issue was whether she was allowed to rely on Dr Rajesh's report on her psychiatric condition in her appeal.
The court found that she was not allowed to do so because this would qualify her plea of guilt, as the report contradicted the findings of another psychiatrist to which she had admitted.
The second issue was whether Gaiyathiri had demonstrated any grounds to intervene in Justice See's sentence.
The Court of Appeal found that the mitigating factors she raised were "wholly without merit", and upheld Justice See's findings on the appropriate weight to place on Gaiyathiri's psychiatric condition, alleged mental stressors and alleged feelings of remorse.
Psychiatrist Dr Derrick Yeo had found that while Gaiyathiri's mental responsibility was impaired, she remained capable of exercising conscious deliberation and volitional control throughout her offences.
Justice Phang said this was also supported by the facts of the case, as Gaiyathiri would hurt the victim due to perceived lapses, which meant she was purposeful in her criminal conduct.
The judges also found that her alleged improved condition on remand was irrelevant, since it was already accepted that her psychiatric condition contributed to her offences, and post-offence conduct cannot be a mitigating factor.
On Gaiyathiri's contention that she felt pressured into pleading guilty to hasten proceedings, the Court of Appeal said this was "an afterthought concocted after receiving what she perceived to be an unfavourable sentence".
The judges also rejected Gaiyathiri's allegations that insufficient weight was given to her mental stressors, namely her children's ill health that she claimed was due to the victim's purported poor hygiene.
Justice Phang said that this claim "goes to demonstrate her patent lack of remorse as she seeks to blame anything and anyone but herself for her offending behaviour".
Gaiyathiri's husband, suspended police officer Kevin Chelvam, faces five charges linked to the case. Gaiyathiri's mother, Prema Naraynasamy, also has pending charges.
The penalties for culpable homicide not amounting to murder are life imprisonment and caning, or up to 20 years' jail, a fine and caning. Women cannot be caned.