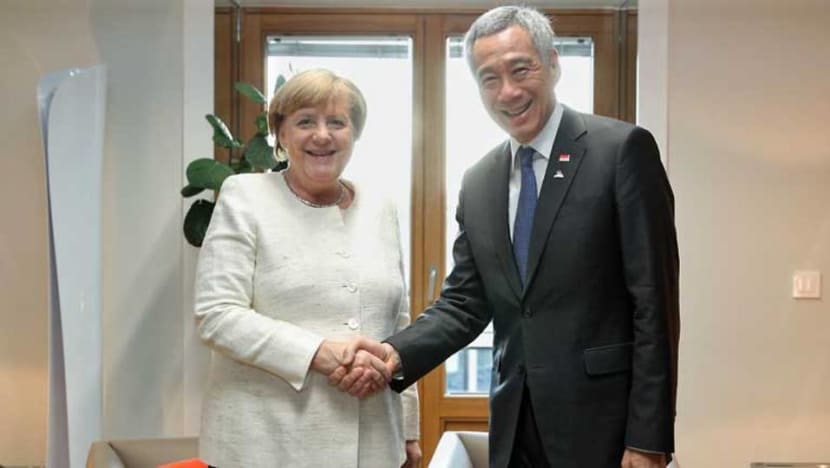 BRUSSELS: Prime Minister Lee Hsien Loong and German Chancellor Angela Merkel on Thursday (Oct 18) welcomed the upcoming signing of the European Union-Singapore Free Trade Agreement (EUSFTA) when they met on the sidelines of the 12th Asia-Europe Meeting Summit in Brussels. 
The landmark trade deal – which aims to remove import duties and taxes, improve protection and market access for services providers, investors and firms, among other things – is set to be inked by Mr Lee with European Council president Donald Tusk and European Commission president Jean-Claude Juncker on Friday evening in the Belgium capital. 
During their meeting, both leaders also reaffirmed the strong bilateral relations between Singapore and Germany that spans trade and investment, science and technology, education and cultural sectors, a statement from the Prime Minister's Office (PMO) said.
Both Mr Lee and Ms Merkel also underscored their shared commitment to multilateralism, free trade and the rule of law, and had a frank exchange of views on developments in their respective regions. 
Mr Lee also met UK Prime Minister Theresa May, whom he last met in April on the sidelines of the Commonwealth Heads of Government Meeting in London.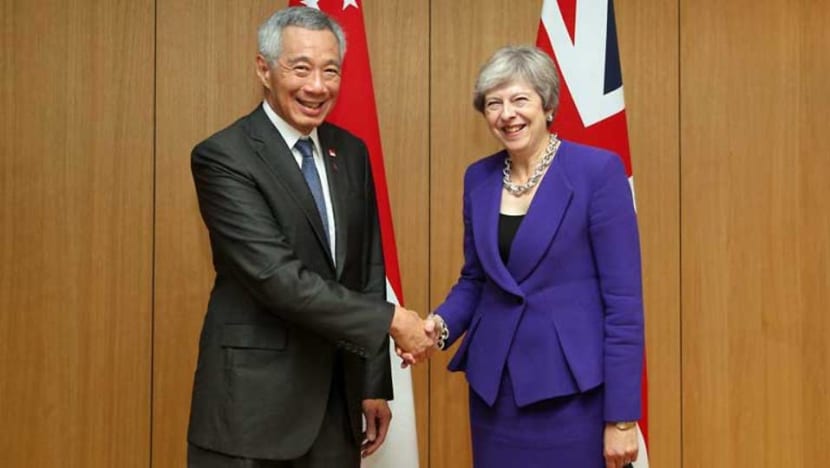 They reaffirmed the close and excellent ties between Singapore and the UK, and welcomed closer cooperation between the UK and ASEAN. 
Regional developments were also discussed and both leaders reiterated their shared belief in the rules-based multilateral system, according to the PMO statement. 
Mr Lee also had his first meeting with Portuguese Prime Minister Antonio Costa on Thursday.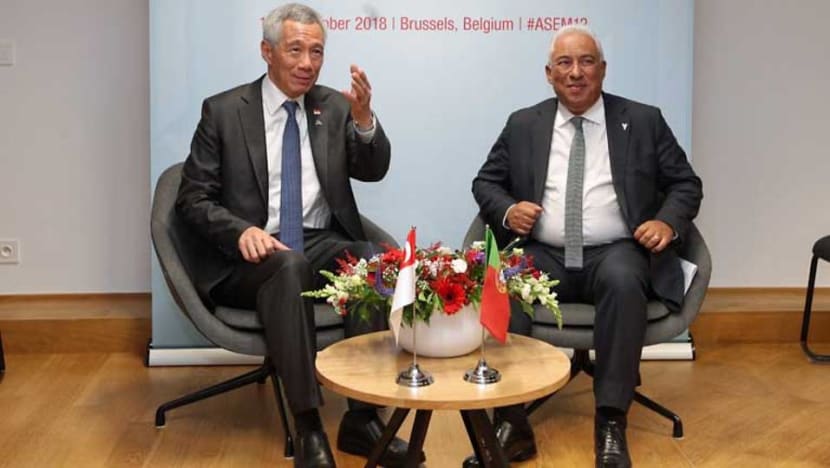 With both countries serving as gateways for their respective regions, both leaders looked forward to closer economic cooperation. 
Mr Lee arrived in Brussels on Thursday morning after a one-day visit to Vienna, where he witnessed the signing of a memorandum of understanding between Singapore and Austria. The newly signed agreement aims to bolster the exchange of information and best practices in key areas of digitalisation and information and communications technology (ICT). 
Apart from the ASEM summit, Mr Lee will also attend a leaders' meeting between the EU and the Association of Southeast Asian Nations (ASEAN) in Brussels.