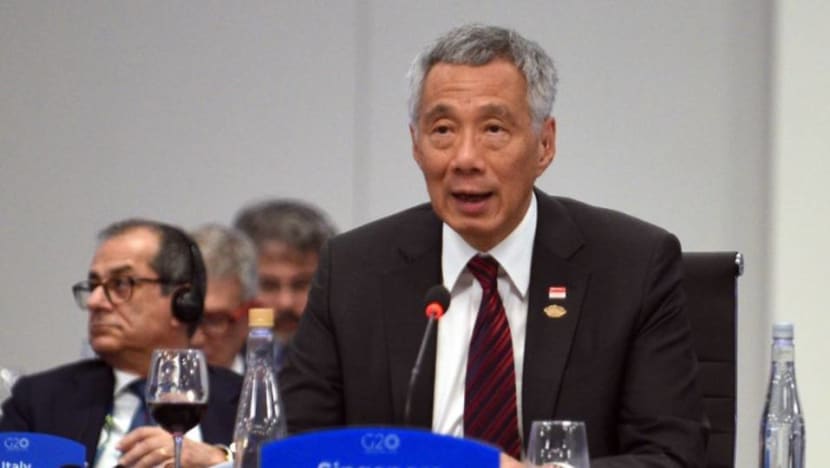 BUENOS AIRES: Issues such as the trade dispute between the United States and China, and straining geopolitical relations in the West took centre stage at the G20 Leaders' Summit.  
And as tensions between super powers grow, Singapore "must be on its toes" and be prepared to react accordingly, Singapore's Prime Minister Lee Hsien Loong said on Saturday (Dec 1). 
Speaking to the media at the end of his five-day visit to Argentina, Mr Lee said he hopes the high-profile meeting between Chinese President Xi Jinping and US President Donald Trump will result in a "constructive outcome." 
He said: "It doesn't mean all the problems will be solved tonight, but some constructive directions can be pointed, and further steps hopefully later on can be taken." 
When asked if he thought a new Cold War between the two superpowers could be on the horizon, Mr Lee said the current tension cannot be a "direct comparison" with the Cold War. 
He said that back then, it was the "Soviet Union against the rest of the world". 
He added: "But to think that there could be a period of tensions, frictions and difficulties between the two countries, which can be quite extensive and far-reaching, and may take a long time to overcome, I think that is entirely possible if the differences are not well-handled by both sides." 
This means Singapore needs to get used to a "more uncomfortable world", with greater uncertainty and less stability. 
"We have to be on our toes more. It means you can't just cruise along and expect that every year we will live safely and soundly and the economy will just grow," he said.
"It means you can't predict what is going to come, and we must be prepared for things to come our way and for us to be able to react."
Singapore was invited to the Summit as the 2018 chairman of ASEAN. It also represents the Global Governance Group, an informal coalition of small and medium-sized states. 
G20 LEADERS ISSUE A JOINT COMMUNIQUE

But amid the rising tensions, world leaders in Buenos Aires were still able to come to a consensus to issue a joint statement at the end of the two-day Summit.

While they noted the geopolitical concerns and current trade issues, the G20 leaders reaffirmed their commitment to work together to improve a rules-based international order.
Mr Lee said this was a positive outcome, especially after the APEC Summit in November, where leaders failed to reach an agreement.

He noted that the G20 leaders at the table had the desire to issue a joint statement, even as they made clear their positions on various issues.

"Basically, the countries have not moved. We know each other's positions, it's just a matter of how politely we express it, but there has been no negotiation in the sense of positions shifting, coming together gradually, joining issues and then seeing how you can work things out," said Mr Lee.

"The negotiation was not to bring positions together, the negotiations was just to agree on a form of words which was not objectionable to anybody and I think there's some value in that, because hard words stated make it harder for countries later on to come together and to reconcile the differences, which eventually will have to be done"

In the joint communique, world leaders also called for reforms to the World Trade Organisation. Mr Lee said there is "no doubt that the rules will have to be revised", although negotiating a fair deal for everyone will be tricky.

"That means you do not just work out the rules. Some countries must decide what are the substantive issues which you are prepared to move on, and then it is reflected inside the new rule book," he said.

"When you change the language, the game moves and then you are engaged and locked in struggle in the new arena again."